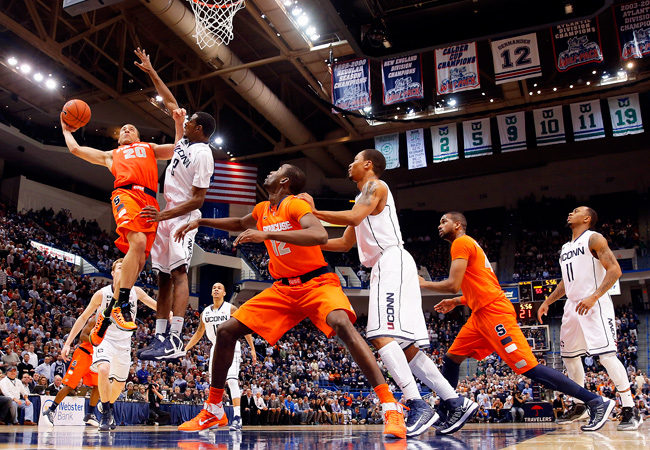 Las Vegas is a slam dunk for college basketball fans during the 2015 NCAA Men's Tournament.
It's college basketball tournament time and Las Vegas offers the ultimate experience for fans. From the world's largest race and sports book at Westgate Las Vegas Resort & Casino to a multitude of viewing parties on and off the Strip, this destination provides the perfect backdrop for fans to cheer on their favorite team.
Free "Play of the Day" for Tuesday via John Fisher, our top handicapper in college basketball:
Ball State has lost 14 straight games. Their last win was January 10th. They struggle putting consecutive posessions together as they turn the ball over 20% of the time. They actually beat Eastern Michigan in OT after being behind for pretty much the wholle contest. I pretty much stay away from stinky teams like this but when you see 14 losses in a row by Ball State and a team looking for revenge in Eastern Michigan it's difficult to pass this game up. Eastern Michigan has played some good teams and beat Michigan earlier though that was a long time ago. I like the Eagles depth here. 4 stars Eastern Michigan
Other John Fisher notes from the last few days:
This could be the first team to hit 50. Cavaliars defense is almost historic. Unless your name is Duke and can fire away 10+ 3 pointers and have swing players that can penetrate Virginia will just turn you inside out on defense. Christmas is Cuse one consistent player. However, he will also find the difficulties of cracking through the UVA defense. Syracuse has no bench and that will be a problem versus a Cavaliars team puts constant pressure on you. I see this game going back and forth until finally Perrantes who is recovering from a broken nose hits a couple of threes and Brogdon takes over the game. Virginia 59-49 5 stars
Cuse are 5-10 ATS AT HOME VIRGINIA 8-2 ATS AWAY
VIRGINIA -6
After going 13 minutes with just two points Virginia turns it up and blows away Cuse 59-47 WINNER
IOWA State has loss two, games in a row for the first time all year. They will be hungry and bitter to say the least. They were bombarded in the 4th frame versus Baylor at Home. These two teams played an NBA style game last time as the Sooners outlasted the Cyclones. Big like most teams Sooners are a shell of themselves away from Home. Their last two road games were less then impressive. They needed overtime to beat a Texas Tech team and lost to undermanned K State. Iowa State will get a DD lead but Oklahoma has a lot of firepower and will cut it to 4-6 to make it interesting. 4 stars
Iowa State -4.5 Iowa State 77 Oklahoma 70
WINNER An incredible comeback. Down 48-28 with 15 minutes left Cousins of Oklahoma started talking trash. Big mistake a technical foul then 20 straight points later and a 31-4 run blows away Sooners. Gives an over rated Kansas team another title.