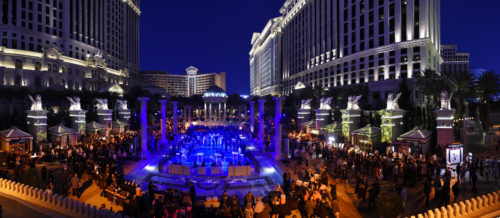 LAS VEGAS – This past weekend, Las Vegas hosted the 11th annual Vegas Uncork'd by Bon Appétit culinary festival. See a full recap of the weekend's events below.
Daily Dish – April 27, 2017
The 11th annual Vegas Uncork'd by Bon Appétit, presented by the Las Vegas Convention and Visitors Authority, Chase Sapphire® and Southern Glazer's Wine and Spirits of Nevada, started with a splash as acclaimed chefs Mary Sue Milliken and Susan Feniger ceremoniously sabered a bottle of Perrier-Jouët champagne at The Vortex at The LINQ Hotel & Casino. A part of the epicurean extravaganza for the past 11 years, the "Too Hot Tamales" are the first female chefs to lead the saber off and, to recognize their support, they were given personal sabers to do the honors during the inaugural event.
Chef-duo Mary Sue Milliken and Susan Feniger were back in action at Border Grill in the Forum Shops at Caesars Palace as guests competed in a fun-filled quickfire challenge. The "Too Hot Tamales" coached excited diners as they were tasked with making a margarita, identifying secret ingredients and creating the perfect guacamole. Throughout the competition, guests enjoyed Border Grill's signature dishes and cocktails including the Blanco Margarita, Mexican Mai Tai and Border Sangria accompanied by mini rajas tacos with creamy roasted peppers and Mexican cheeses, quinoa fritters with crunchy Aztec grain and Aji Amarillo aioli, oyster shooters with Serrano blood orange and jalapeño pineapple and Yucatan pork sopes with achiote rubbed pork shoulder and pickled onions.
Over at The Venetian, Chef Timon Balloo invited guests to kick back, eat well and stay awhile at SUGARCANE raw bar grill. Throughout the evening, diners sampled a variety of small plates including Spanish octopus with Aji Panca, goat cheese croquettes with Membrillo marmalade, blue fin tuna tartare with Yuzo Kosho and avocado purée, West Coast snapper ceviche with Aji Amarillo, sweet potato and crispy maiz cancha and pig ear pad Thai with papaya salad and beef short rib, Korean style. To accompany each dish, guests sipped on Tobacco Rum Old Fashions and Frosé.
Restaurant visionary Frank Pellegrino Jr. celebrated the 10th anniversary of the Las Vegas location of Rao's and the family's newest cookbook "Rao's Classics" with a special dinner at Caesars Palace. Diners indulged in timeless staples and legendary Italian fare including Frank Sr.'s stuffed artichokes, warm octopus salad, linguine carbonara al dente, Rao's world-famous traditional meatballs and braised beef short ribs.
Steak connoisseurs indulged in a delicious evening with Greg and Marc Sherry at Old Homestead, the New York City landmark's Las Vegas outpost at Caesars Palace. The evening started with prime beef carpaccio salad with chocolate olive oil vinaigrette, cocoa nibs and pinot gel followed by white chocolate poached Maine lobster with black truffle gnocchi and Meyer lemon foam. For the main course, diners enjoyed dark chocolate rubbed New York strip with foie gras bread pudding and chocolate molet. The dinner finished with a chocolate flight including single origin chocolate terrine with sea salt, mille feuille of malted milk chocolate, salted caramel cremeux and caramel bananas and chocolate budino with bittersweet chocolate jus and chocolate olive oil ice cream.
Inside the elegant Restaurant Guy Savoy, the famed Michelin-starred chef served a multi-course dinner highlighting dishes normally found at his Paris location. Chef Guy Savoy invited guests on a journey of the senses, showcasing his exclusive empire of tastes and influences. Diners enjoyed lobster salad "Bellevue," artichoke and black truffle soup with toasted mushroom brioche and black truffle butter as well as whole roasted veal saddle topped with a spring garnish and natural jus. To elevate the intimate dining experience, the world-renowned chef hosted the only Krug Chef's table in the United States where six lucky patrons sipped on luxurious Krug champagne and dined on dishes personally prepared by the legendary chef.
Celebrating the ultimate throwback, Maximillian Chow hosted the first anniversary party for the only Las Vegas location of the internationally renowned MR CHOW restaurant inside Caesars Palace. Leading diners through an exotic culinary experience, the amplified menu featured dishes from the original UK location (now celebrating its 49th anniversary) including prawn toast with sesame seeds, sweet and sour pinefish, Beijing shredded pork served with a lotus leaf bun and original Emperors Crab with sautéed bok choi and black mushrooms accompanied by a side of MR CHOW's special fried rice. The main course featured Beijing duck and the evening concluded with a selection of fresh cakes, lychees and Grand Marnier marinated oranges.
Daily Dish – April 28, 2017
Foodies rejoiced inside Yardbird at The Venetian during a potbelly brunch fit for a carnivorous king with Chef John Kunkel. Featuring a spread of inventive Southern comfort dishes such as a fried green tomato BLT, Yardbird Benedict and Lewellyn's fine fried chicken '27-hour recipe,' the brunch concluded with candied bacon beignets and raspberry coulis. Throughout brunch, guests experienced feasted on all things bacon and pork belly and sipped on Yardbird's classic Bloody Mary made with bacon-infused vodka, pork belly, pickled okra and pickled green bean topped with lime and bleu cheese olives.
Over at Caesars Palace, foodies were taken on a culinary journey around the world with "Lifestyles of the Rich and Famous" host Robin Leach and Caesars Palace President Gary Selesner at Bacchanal Buffet – named the No. 1 buffet in Las Vegas. During the social soiree, attendees were treated to cuisine from different countries alongside premier global wines and an array of sweets provided by Bacchanal Buffet.
Internationally acclaimed culinary pioneer and innovator, chef José Andrés allowed guests to lunch like a Spaniard during an unforgettable "dish-and-tell" session inside Jaleo at The Cosmopolitan of Las Vegas. The interactive presentation gave foodies an inside look into the chef's favorite stories about how his famed menu items came to fruition while he prepared widely recognized menu items over the restaurant's renowned live fire pit.
Acknowledged as the spark that ignited the city's culinary phenomenon, Spago by Wolfgang Puck opened its doors to Vegas Uncork'd goers to celebrate the 25th anniversary of the iconic eatery. Guests enjoyed an interactive lunch that featured the restaurant's globally acclaimed cuisine including tuna with sea beans and succulents, carrot with miso and fermented garlic, Sonoma duck breast with ancient grains, brown butter, blueberry and burnt citrus, as well as white chocolate, rhubarb, citrus cake and fennel for dessert. Additionally, guests enjoyed Spago's classic artisanal bread collection paired with exquisite wines selected just for the occasion.
Located inside the Forum Shops at Caesars Palace, Border Grill was home to the afternoon's most Instagram-worthy event as celebrity chef duo Mary Sue Milliken and Susan Feniger got up close and personal with guests during a live cooking demonstration inspired by #FoodPorn. With cameras in hand, guests laughed and sipped as the "Too Hot Tamales" prepared a feast for the eyes including crab passion fruit aguachile, three potato causa, sabana salad, guacamole with seeded chips and coconut flan. The signature bites were accompanies by specialty cocktails including the Border Sparkler made with Mezcal, St. Germain, aperol and passion fruit and a Mango Cilantro Margarita made with Tequila blanco, mango, cilantro and a tajin rim.
The luxurious Garden of the Gods Pool Oasis at Caesars Palace hosted the ultimate culinary event, The Grand Tasting. Food enthusiasts gathered for an epicurean experience of a lifetime with a staggering variety of signature dishes, free-flowing wines and spirits while mingling with more than 50 award-winning chefs including Bobby Flay, Buddy "Cake Boss" Valastro, Charlie Palmer, Chris Santos, Giada De Laurentiis, Gordon Ramsay, Guy Savoy, Lorena Garcia, Michael Mina, Nobu Matsuhisa, Rick Moonen and more.
Daily Dish – April 29 & 30, 2017
Kicking off the third day of food and fun, Bobby Flay hosted two intimate brunches at Mesa Grill at Caesars Palace. The beloved chef treated guests to a three-course meal complete with Greek Yogurt Panna Cotta with Clementine and blood orange honey and toasted almond crunch, a choice between charred beef and scrambled eggs or shrimp and toasted polenta with poached eggs, pomegranate-glazed black pepper bacon, smoked paprika home fries and cinnamon crusted French toast.
Celebrity chef and New York Times best-selling author Giada De Laurentiis hosted an exclusive brunch at her award-winning first and only namesake restaurant, GIADA at The Cromwell. Guests were treated to an unforgettable four-course brunch showcasing her California-inspired Italian cuisine with Chia Seed Parfait, Waldorf Panzanella Salad, Salmon Cake Benedict and Rose Semifreddo, alongside bottomless mimosas, live entertainment and spectacular views of the Las Vegas Strip.
Over at Nobu at Caesars Palace, sushi aficionados learned about the philosophy of sushi making from one of the world's foremost artisans and restaurateurs, Nobu Matsuhisa. Guests learned about Chef Matsuhisa's travels around the world and the inventive "Nobu Style," which fuses classic sushi-making techniques with unexpected ingredients, all while sampling fresh sushi and premium sake.
Cocktail connoisseurs took a journey through the iconic bars and lounges of The Cosmopolitan of Las Vegas with The Cosmopolitan's Chef Mixologist Mariena Mercer. Guests started in The Study with The White Rabbit cocktail before enjoying The Paradigm Shift at Vesper Bar. Next, guests sipped on Benny Blanco over at CliQue Bar & Lounge before ending the cocktail journey with The Verbena at The Chandelier and key lime and strawberry shortcake mini cupcakes for dessert.
At MGM Resorts' new outdoor dining, and entertainment district, The Park, culinary masters including Alain Ducasse, Charlie Palmer, Michael Mina, Julian Serrano, Rick Moonen, Tom Colicchio, Shawn McClain, Roy Ellamar, Akira Back and more came together for a one-of-a-kind daytime soiree during Picnic in The Park. Guests enjoyed the interactive picnic, which featured creative twists on classic picnic dishes including Alain Ducasse's country terrine, pickles and country bread, Julian Serrano's wood-fired paella, Rick Moonen's grilled smoked rainbow trout, Charlie Palmer's "California" crab and avocado roll, Roy Ellamar's Hawaiian-style pig roast , Akira Back's Korean BBQ short ribs, Michael Mina's spit-roasted Moroccan-style lamb, Tom Colicchio's Tabasco-rubbed skirt Steak and Sean McClain's grilled Spanish octopus. Throughout the event, picnic-goers snapped selfies in front of Bliss Dance, a 40-foot-tall sculpture by artist Marco Cochrane, and sipped Veuve Clicquot while taking advantage of The Park's Edible Gardens and social games including giant Jenga, cornhole and croquet.
Guests gathered for an educational soiree at the swanky Montecristo Cigar Bar at Caesars Palace for curated pairings of premier single malts including Bowmore 18, Talisker Storm, Lagavulin 16, Highland Park 18, Bruichladdich Port Charlotte and Octomore by Bruichladdich, with Montecristo White Series Cigars and four courses of mouthwatering bites from Old Homestead.
Guests were given the ultimate teppan experience at Nobu at Caesars Palace as Chef Nobu Matsuhisa prepared multiple courses for the group. Using the restaurant's traditional Teppanyaki grills, fans of Chef Matsuhisa enjoyed dinner and a show as Chef gave guests a live view of their food being prepared. In addition to the delicious meal, guests also had the opportunity to meet and mingle with Chef Matsuhisa.
Gordon Ramsay turned up the heat at his dinner at Gordon Ramsay Pub & Grill. Throughout the five-course meal, guests indulged in Belgian endive salad, risotto with butternut squash, butter poached lobster tail and fried sage, wild caught halibut with carrot turmeric emulsion, kumquat, bright lights chard and hibiscus gastrique, boneless beef short rib with wagyu strip loin and smoked chocolate mousse with blood orange marmalade and almond crumble.
Over at Boarder Grill inside The Forum Shops at Caesars Palace, celebrity chefs Mary Sue Milliken and Susan Feniger spiced things up with a fabulous fiesta, fueled by tequila and tapas and lively conversation during their Master Series Dinner. Foodies embraced savory Latin fare including Alaskan halibut, chipotle lamb chops, wagyu beef short rib, ciudad chicken lollipops and chocolate truffle cake while sipping free flowing and expertly paired Latin wines and top shelf tequila cocktails.
Those with an affinity for the sweeter side of life enjoyed a unique take on bonbons and beignets during "Sweet Escape" at The Aquatic Club at The Palazzo. Following an appearance on the red carpet, which featured a backdrop of more than 2,000 doughnuts, Buddy "Cake Boss" Valastro and Lorena Garcia addressed the crowd and thanked them for all of their support. A variety of restaurants from The Venetian and The Palazzo took part in the epic affair, including Buddy V's Ristorante, Bouchon, Carnevino, Chica, Hong Kong Café, Lagasse's Stadium, LAVO, Mercato della Pescheria, SushiSamba, and TAO restaurants.
Guests at The Dorsey inside The Venetian celebrated the evening with the ultimate after-party featuring signature cocktails including a Van Brunt Gimlet, Penicillin, Coney Island Express and Ginger Rogers. Additionally, guests were surprised with a cake presentation by the Cake Boss himself, Buddy Valastro.
A Vegas Uncork'd tradition, the epicurean extravaganza closed out with Rao's Italian brunch hosted by Frank Pellegrino Jr. and Ron Straci on Sunday, April 30. Diners were transported to Southern Italy as they enjoyed a three-course brunch including Caesar salad, roasted red peppers, lobster oreganato, pan-seared steak with sautéed mushrooms and onions, baked beefsteak tomatoes, asparagus and parmigiano reggiano, Luigi righetti, valpolicella classic superior, campolieti, zeppoles and blackberry gelato.