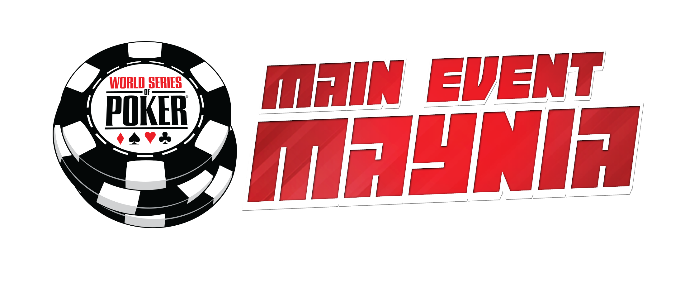 2023 WORLD SERIES OF POKER® GOES ALL-IN TO SHATTER RECORDS
WITH FIRST-EVER MAIN EVENT MAYNIA, MAY 20 & 21
Upcoming global qualification weekend offers unprecedented opportunity to
secure a seat at poker's undisputed World Championship in Las Vegas
LAS VEGAS (May 10, 2023) – After falling just 110 entries short of "The Main Event®" record in 2022, the 54th annual World Series of Poker (WSOP®) is going all-in to shatter the record field of 8,773 set in 2006 with its first-ever Main Event Maynia Global Qualification Weekend taking place on May 20 and 21. Main Event Maynia offers players an unprecedented chance to earn a seat at the Main Event on the Las Vegas Strip at Horseshoe Las Vegas (formerly Bally's) and Paris Las Vegas, which returns from July 3 to July 17.
"History is only a few months away and Main Event Maynia is a big part of making sure this is the biggest field in the history of the WSOP," said World Series of Poker Executive Director Ty Stewart. "The reigning Champion Espen Jorstad earned his Main Event seat by winning a satellite event, so there's plenty of reason to believe this year's champion might just be a regional player who wouldn't otherwise be heading to Vegas. Main Event Maynia is long overdue, and we thank our global network of satellite partners for giving players a chance to take their shot from their own backyard."
Live poker rooms at Caesars Entertainment destinations and partner casinos on four different continents – including North America, South America, Europe, and Africa – are joining forces to host Guaranteed Seat Satellite "Step" tournaments for Main Event Maynia with $140 buy-ins culminating with a guaranteed Main Event seat, a mega of $1,175 and a travel stipend to Las Vegas. Should the Main Event attendance record be broken, all entrants in the field will be placed into a drawing that awards a non-transferable Main Event buy-in for the next 30 years.
Main Event Maynia participating host destinations include the following:
Domestic Locations
*all times local; tournament flyers hyperlinked below
International Locations
**all times local; tournament flyers hyperlinked below
For additional information, follow @WSOP on Twitter, Instagram or check wsop.com/mainevent for the latest news and updates on Main Event Maynia.