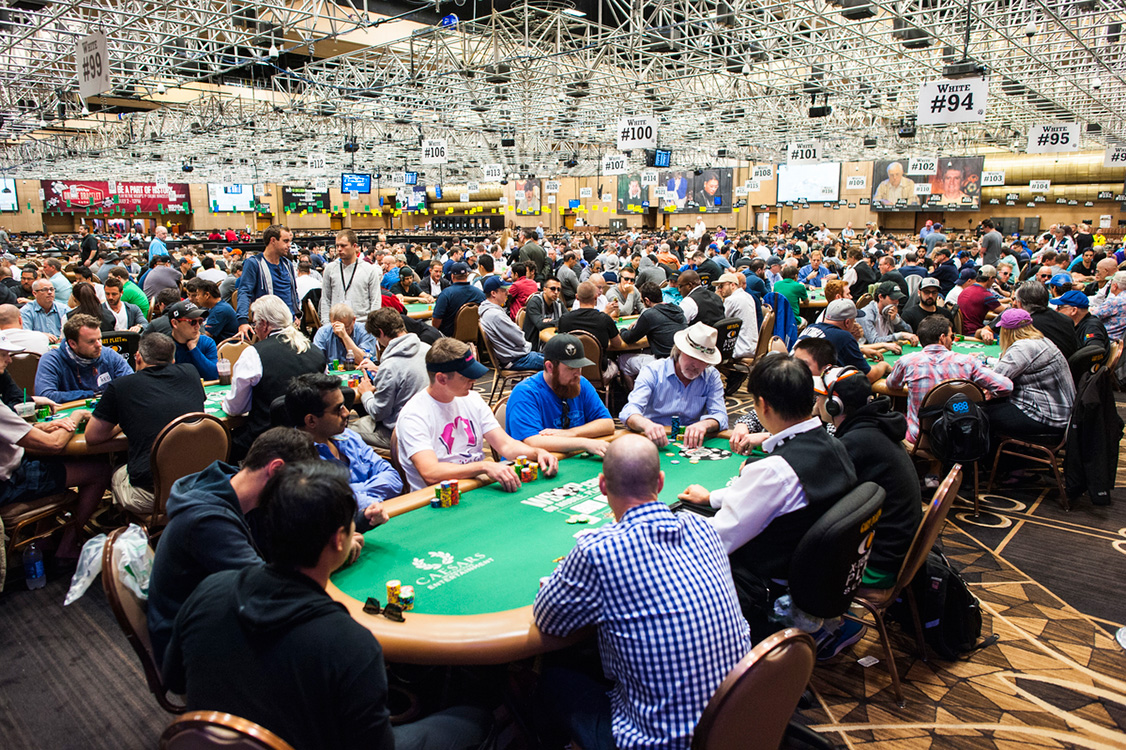 46th Annual World Series of Poker® Becomes Most Attended in Event's History, Up 25% Year-Over-Year
Total Entries Pass 100,000 for 1st Time, Prize Money Awarded Exceeds $200 Million for just 3rd Time in History
 LAS VEGAS (July 11, 2015) – It was another record-breaking year at the World Series of Poker (WSOP) at the Rio All-Suite Hotel & Casino in Las Vegas, where the 46th annual event continued to show a strong global poker business with attendance up 25% to a new record in 2015.
 A whopping 103,512 entries participated this year, the first time the event has ever attracted over 100,000 entries – and shattering the previous record set last year when 82,360 attended poker's biggest annual festival.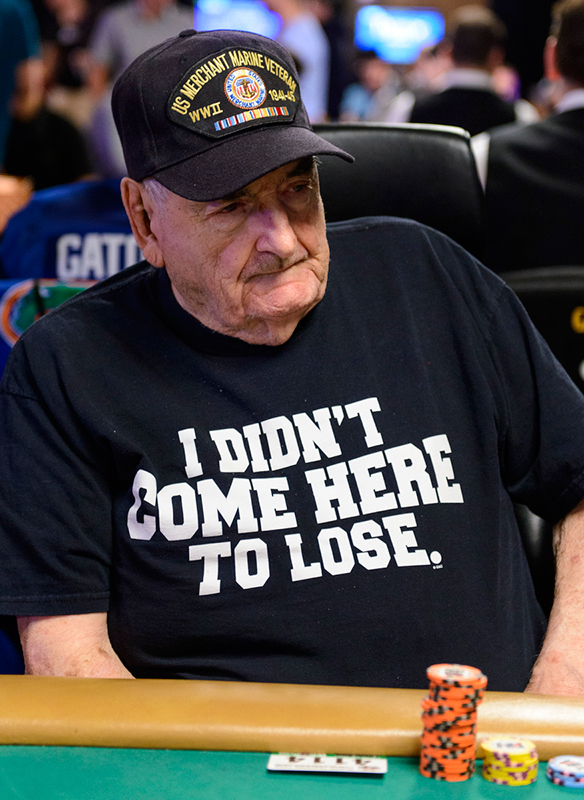 This WSOP established a host of new records as poker enthusiasts from 111 different nations traveled to Las Vegas to compete in the game's grandest spectacle, and a record 11,638 players received prize money this year – which was actually more than the number of entries the event had in any of its first 33 years.
The WSOP remained the industry leader in terms of prize money awarded, with this year's tally amounting to $210,379,285 – the third most in history – only behind the two WSOP's that featured a $1,000,000 buy-in tournament.
The Main Event in 2015 had 6,420 entries, creating the largest prize pool of the 2015 WSOP at $60,348,000.  The winner will receive $7,680,021.
"2015 was a Colossal success thanks to the players and their continued passion for the World Series of Poker and 2016 will be even better," said World Series of Poker Executive Director Ty Stewart.   "It's a new era at the WSOP and we hope it is clear that all poker enthusiasts are welcome here."
For the eleventh consecutive year, the WSOP generated a total prize pool well in excess of $100 million, and for only the third time in its history, topped the $200 million mark.
In the 46-year history of the WSOP, the game's most prestigious tournament series has now awarded an incredible $2,278,264,214 in prize money.  This year's total prize pool dipped slightly from last year's record-breaking $227,718,875 that included $37,333,338 for the second iteration of the Big One for One Drop million-dollar buy-in tournament.
It was another successful year in terms of raising money for charity as well, as the two featured charity-linked tournaments, the Little One for ONE DROP and the High Roller for ONE DROP, which go to support the WSOP's official charity partner the ONE DROP organization (www.onedrop.org), raised a combined $1,255,530.  ONE DROP uses donations to directly implement water access projects, where an average of $100 can transform someone's life forever. With the High Roller for ONE DROP (Event #58), the Little One for ONE DROP (Event #61) and the All In for ONE DROP campaign, where players can donate 1% of their winnings to the cause, the poker community via the World Series of Poker has donated more than $13,500,000 since the partnership began in 2012 – enough to directly impact the lives of over 135,000 people.
Legions of amateur players competed alongside legendary poker pros, Hollywood A-listers and international sports figures to establish the new milestones.  Among the notable non-poker playing names competing during this year's WSOP Main Event included: French actor and singer Patrick Bruel, Movie director Nick Cassavetes (Notebook), actor and comedian Brad Garrett, Emmy-award winning Tonight Show with Jimmy Fallon writer J.R. Havlan, actor Aaron Paul (Breaking Bad), Curb Your Enthusiasm producer Gavin Polone, professional soccer player John Arne Riise, actor and comedian Ray Romano,  NFL defensive star and Super Bowl champion Richard Seymour, actress Jennifer Tilly, cricket superstar Shane Warne, NASCAR driver Jason White, actor James Woods and three-time Olympic medalist Fatima Moreira de Melo from Netherlands.
The youngest player in this year's WSOP Main Event was Adrian Mateos, from Madrid, Spain who played Day 1C at age 21 years, 6 days. Mateos burst onto the scene in 2013 by winning the WSOP Europe Main Event when he was 19 (legal gaming age in France is 18). He cashed in this event too, finishing in 750th place.
The oldest player to participate in this year's Main Event was 94-year-old William Wachter of Mahopac, New York, who played Day 1-B and finished the day 39th overall with 105,825 chips. Wachter was also the oldest participant the past two years.  Jack Ury, at the young age of 97, still holds the WSOP record as oldest participant.  However, Wachter did cash, finishing in 524th place for $19,500 and becoming the oldest player ever to cash in the WSOP Main Event.
The $10,000 No-Limit Hold'em World Championship – commonly referred to as the WSOP Main Event paid out a record 1,000 places this year, and officially reached that point in the tournament in Level 14 on Friday, July 10 around 9:45pm.
To get up to date statistics from the 2015 World Series of Poker, please go to: http://www.wsop.com/players/stats/byyear/?y=2015
To get All-Time WSOP statistics, please go to: http://www.wsop.com/players/stats/
Here is a quick statistical overview of the 2015 WSOP official gold bracelet events:
·         Official WSOP Gold Bracelet Events: 68 (Two multiple bracelet winners: Max Pescatori (Events 9, 41) & Brian Hastings (Events 27, 39)
·         Total Entries: 103,512
·         Total Prize Pool: $210,379,285
·         Total Cashers: 11,638
·         Main Event Entries: 6,420
·         Main Event Prize Pool: $60,348,000
·         Largest 1st Place Prize: $7,680,021 (Event #68)
·         Average 1st Place Prize: $558,571
·         Average Age: 41.04 (Male average: 40.82; Female average: 44.86)
·         Male Participation: 94.56% (97,887 entries)
·         Female Participation: 5.43% (5,625 entries)
·         # of Countries Represented: 111
·         # of U.S. States Represented: 50
·         Most Entries by Country:
o   1) United States (82,439)
o   2) Canada (4,871)
o   3) United Kingdom (3,466)
o   4) France (1,236)
o   5) Russia (1,150)
o   6) Brazil (1,077)
o   7) Germany (1,040)
o   8) Australia (778)
o   9) Italy (674)
o   10) Austria (537)
The Player of the Year race remains quite intriguing heading into the WSOP Main Event with only the Main Event in Las Vegas and the 10 WSOP gold bracelets up for grabs at WSOP Europe in Berlin, Germany in October left to earn qualifying points.  The current leader of the 2015 Global Poker Index WSOP Player of the Year is Mike Gorodinsky, who did not play in the Main Event due to family obligations.  Among the top 10 in points, only Brian Hastings (currently 5th) is still alive in the WSOP Main Event.  To see the entire standings, please visit: http://www.globalpokerindex.com/wsop/
The 2015 WSOP established new records, which are detailed in chronological order from when they occurred during this record-breaking WSOP:
·         Most Entrants: 103,512
·         Most Cashers: 11,638
·         Most Bracelets (Individual): Phil Hellmuth extended his first place lead to four, by winning his

14

th WSOP gold bracelet in Event #17, the $10,000 buy-in Seven Card Razz Championship.
·         Largest Live Poker Event in History: Event #5, the $565 No-Limit Hold'em "Colossus", attracted

22,374 entries

, a staggering 255% more than the previous record (8,773 in 2006).
Event #5 broke several other records as well, including:
o    Biggest single day attendance ever: 12,172 players in Event #5 on Friday, May 29, the Colossus, up 52% from last year's Event #8, the Millionaire Maker.
o    Largest non-Main Event field size ever: 22,374
o    Largest $500 buy-in poker tournament ever held: 22,374 entries
o    Most unique entrants ever: 15,387
o    Largest 1st place prize for a $500 buy-in: $638,880
o    Most players paid in one event: 2,241 places.
o    Largest prize pool for any poker event under $5,000: $11,187,000
o    Most first-time players in a WSOP event in history: 5,664
·         Largest non-Hold'em field size ever: Event #22, the $1,000 Pot-Limit Omaha tournament, attracted

1,293 entries

, making it the largest field ever sat to play poker outside of a Hold'em event in live poker history.
·         Largest 2-7 Draw Triple Draw Event:

388 players

entered Event #33 won by Benny Glaser of the United Kingdom. This $1500 2-7 Limit Triple Draw tournament was the largest ever field for 2-7 Draw Triple Draw.
·         Largest Razz Event:

462 players

entered Event #9, the $1500 Seven Card Razz event won by Italy's Max Pescatori, the largest field ever for a Razz event.
·         Most events with $1MM+ First Prize: Six distinct events (Event #16, Event #28, Event #44, Event #58, Event #60 & Event #68) paid the winner

more than $1,000,000 in prize money

, setting a new WSOP record and one more than last year.  Two events (Event #58 and Event #68) made multiple millionaires from the prize pool (a dozen to be exact).
·         Largest Main Event Starting Flight: Day 1C of the Main Event drew a record

3,963 entrants

, the most-ever to start on one day in Main Event history and more than the first 29 Main Event field sizes combined.
·         Most cashes at WSOP without a win: Tony Cousineau of Daytona Beach, Fla., extended his record as the player with the most cashes –

72

– without a win. He cashed four times in 2015.
·         All-time Cashes and Final Tables: 14-time WSOP bracelet winner Phil Hellmuth added to his record as the individual all-time leader in

cashes (114)

with his six cashes in 2015, including the WSOP Main Event.   With his two final table appearances this year, Hellmuth has now

final tabled an incredible 52 of the 114 events he has cashed in

.  Of 52 final table appearances Hellmuth has either won or come runner-up in 24 of them. Hellmuth also leads the category of most 4-9th place finishes, with 30.
ABOUT THE WSOP
The World Series of Poker (WSOP) is the largest, richest and most prestigious gaming event in the world awarding millions of dollars in prize money and the prestigious gold bracelet, globally recognized as the sport's top prize. Featuring a comprehensive slate of tournaments in every major poker variation, the WSOP is poker's longest running tournament in the world, dating back to 1970.  In 2015, the event attracted 103,512 entrants from 111 different countries to the Rio in Las Vegas and awarded over $210 million in prize money.  In addition, the WSOP has formed groundbreaking alliances in broadcasting, digital media and corporate sponsorships, while successfully expanding the brand internationally with the advent in 2007 of the World Series of Poker Europe. For more information on the World Series of Poker, please visit www.WSOP.com.
About ONE DROP
ONE DROP—a non-profit organization created in 2007 by Cirque du Soleil Founder Guy Laliberté – strives to ensure that water is accessible to all, today and forever. ONE DROP significantly and sustainably improves living conditions through innovative projects which promote self-reliance in communities worldwide. To learn more, visit www.ONEDROP.org.