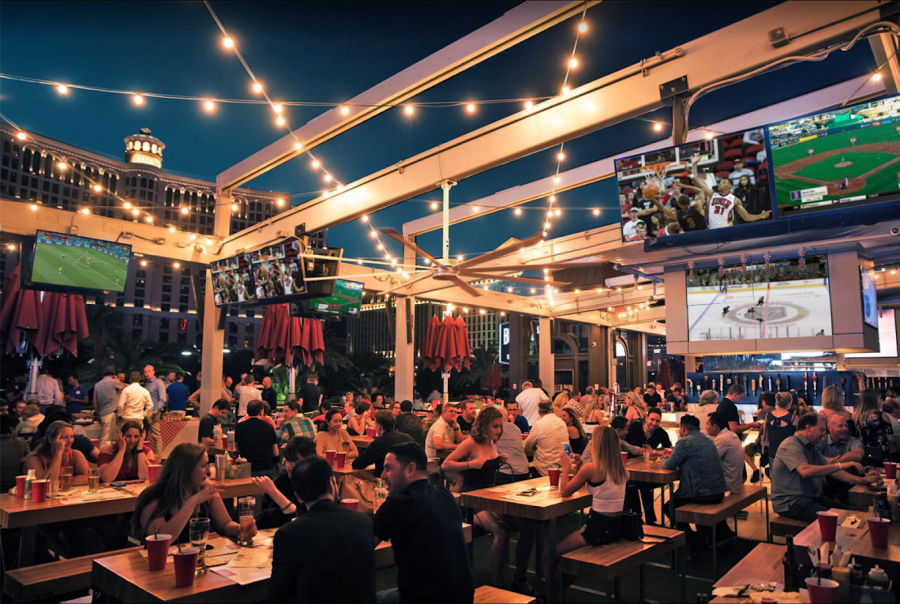 Beer Park Sports Bar at Paris Hotel – Extensive Profile
Contact Information:
Name: Beer Park Sports Bar
Location: Paris Hotel and Casino, 3655 S Las Vegas Blvd, Las Vegas, NV 89109
Phone: +1 (702) 444-4500
Website: www.beerpark.com
Overview: Beer Park Sports Bar, located at the iconic Paris Hotel and Casino on the Las Vegas Strip, is a vibrant and energetic destination for sports enthusiasts and beer lovers alike. With its open-air rooftop setting, panoramic views of the Las Vegas skyline, and a wide selection of beers from around the world, Beer Park offers a unique and enjoyable experience for locals and tourists.
Atmosphere: The atmosphere at Beer Park is casual and inviting, with a lively ambiance that combines the excitement of a sports bar with the relaxed vibes of an outdoor beer garden. The venue features ample seating options, including picnic-style tables, lounge areas, and bar stools, all arranged to provide optimal views of multiple large-screen TVs broadcasting the latest sports events. Whether you're cheering for your favorite team or simply enjoying a drink with friends, Beer Park offers a vibrant and social environment.
Location: Beer Park is conveniently located on the rooftop of the Paris Hotel and Casino, situated right on the Las Vegas Strip. Its prime location makes it easily accessible for visitors staying at nearby hotels and those exploring the bustling entertainment scene of Las Vegas.
Hours of Operation:
Monday to Thursday: 11:00 AM – 12:00 AM
Friday: 11:00 AM – 1:00 AM
Saturday: 10:00 AM – 1:00 AM
Sunday: 10:00 AM – 12:00 AM
Menu Highlights: Beer Park boasts an extensive menu that combines classic bar fare with creative twists and international flavors. Here are some menu highlights:
Burgers: Beer Park offers a variety of mouthwatering burgers, including the signature "Beer Park Burger" featuring a half-pound beef patty, topped with cheddar cheese, crispy onions, pickles, lettuce, and tomato, served on a brioche bun.
Appetizers: Start your meal with delectable appetizers like the "Beer Cheese Dip" served with soft pretzel bites, the "Buffalo Chicken Nachos" topped with spicy buffalo sauce, blue cheese crumbles, and ranch dressing, or the "Loaded Tater Tots" smothered in cheese, bacon, and green onions.
Wings: Chicken wing enthusiasts will be delighted by the selection of flavors available, including traditional buffalo, barbecue, garlic Parmesan, or the "Nashville Hot" wings for those who crave some heat.
Salads: For a lighter option, Beer Park offers refreshing salads such as the "Caesar Salad" with crisp romaine lettuce, shaved Parmesan, croutons, and creamy Caesar dressing, or the "Beer Park Chopped Salad" featuring mixed greens, roasted turkey, avocado, tomatoes, bacon, and blue cheese.
Tacos: Enjoy a taste of Mexico with Beer Park's flavorful tacos. Highlights include the "Carne Asada Tacos" with grilled steak, pico de gallo, guacamole, and queso fresco, or the "Baja Fish Tacos" with beer-battered fish, cabbage slaw, chipotle mayo, and lime crema.
Craft Beers: As the name suggests, Beer Park offers an extensive selection of craft beers on tap, including local brews and well-known favorites from around the world. Whether you prefer a refreshing IPA, a rich stout, or a crisp lager, you'll find a beer to suit your taste.
Events and Specials: Beer Park frequently hosts events and specials, including game-day viewing parties, live music performances, and holiday-themed celebrations. They also offer happy hour specials on select drinks and appetizers during designated times. Visitors are encouraged to check the official website or contact Beer Park for the latest information on upcoming events.
Conclusion: Beer Park Sports Bar at Paris Hotel is a vibrant and inviting destination for sports enthusiasts, beer lovers, and anyone looking to enjoy a lively atmosphere in the heart of Las Vegas. With its rooftop setting, panoramic views, diverse menu, and wide selection of craft beers, Beer Park provides a unique and memorable experience for locals and visitors alike.