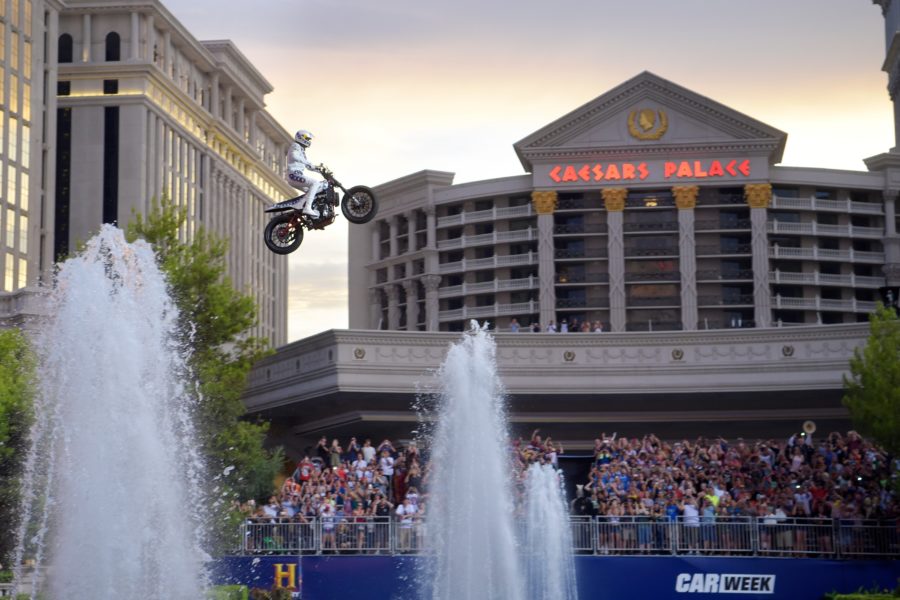 Caesars Palace is a world-renowned hotel and casino located on the Las Vegas Strip in Paradise, Nevada. It is one of the most iconic and historic resorts in Las Vegas, known for its opulence, grandeur, and Roman-inspired architecture. Since its opening in 1966, Caesars Palace has established itself as a premier destination for luxury, entertainment, and high-stakes gambling.
The hotel and casino complex occupies an expansive area of 85 acres and boasts a stunning facade that replicates the grandeur of ancient Rome. The architecture features towering columns, Roman statuary, and lavish fountains, creating a sense of majesty and extravagance. Caesars Palace has consistently set the standard for Las Vegas resorts and continues to attract millions of visitors each year.
Accommodations at Caesars Palace are nothing short of extraordinary. The resort offers a wide range of rooms and suites to suit every guest's needs and preferences. From the luxurious Palace Tower rooms to the exclusive Octavius Tower suites, each accommodation exudes elegance and comfort. The rooms are tastefully furnished with modern amenities, plush bedding, and marble bathrooms, ensuring a luxurious and relaxing stay for guests.
Caesars Palace is renowned for its world-class entertainment offerings. The Colosseum, a state-of-the-art entertainment venue located within the resort, has hosted some of the biggest names in music, including Celine Dion, Elton John, and Mariah Carey. The Colosseum's intimate setting and top-notch sound system provide an unforgettable concert experience. Additionally, the resort features the Omnia Nightclub, which attracts world-famous DJs and offers a vibrant nightlife scene.
For those seeking a thrilling gaming experience, Caesars Palace delivers with its expansive casino floor. Spanning over 124,000 square feet, the casino offers a wide array of table games, slot machines, and high-limit areas. Guests can try their luck at blackjack, roulette, craps, baccarat, and poker, among other popular games. The casino also features a race and sportsbook, where guests can place bets on various sporting events.
Caesars Palace is also known for its exceptional dining options. The resort boasts a diverse selection of restaurants, ranging from casual eateries to fine dining establishments. Celebrity chefs such as Gordon Ramsay, Bobby Flay, and Nobu Matsuhisa have all opened restaurants within the resort, offering a variety of culinary experiences. Whether guests are in the mood for steak, seafood, Italian cuisine, or sushi, Caesars Palace has something to satisfy every palate.
In addition to its lavish amenities, Caesars Palace offers an array of recreational facilities. The Garden of the Gods Pool Oasis is a sprawling complex of seven outdoor pools, each with its own distinct atmosphere. Guests can relax in cabanas, enjoy poolside cocktails, or indulge in poolside spa treatments for the ultimate relaxation experience. The resort also features a luxurious spa and fitness center, where guests can rejuvenate their mind and body with a wide range of treatments and state-of-the-art facilities.
Shopping enthusiasts will find paradise at The Forum Shops at Caesars, an upscale shopping destination located within the resort. With over 160 boutiques and shops, including high-end fashion brands, jewelry stores, and specialty shops, guests can indulge in a world-class shopping experience without ever leaving the resort.
Caesars Palace also offers a range of wedding and event venues, making it an ideal destination for special occasions. The resort features elegant ballrooms, outdoor garden spaces, and even a replica of the Roman Forum, providing a picturesque backdrop for weddings, corporate events, and conferences.
Overall, Caesars Palace stands as a symbol of luxury and sophistication in Las Vegas. With its unmatched amenities, world-class entertainment, and impeccable service, it continues to captivate guests from around the globe. Whether visitors are seeking an unforgettable gambling experience, a relaxing retreat, or a vibrant nightlife, Caesars Palace remains an unrivaled destination on the Las Vegas Strip.