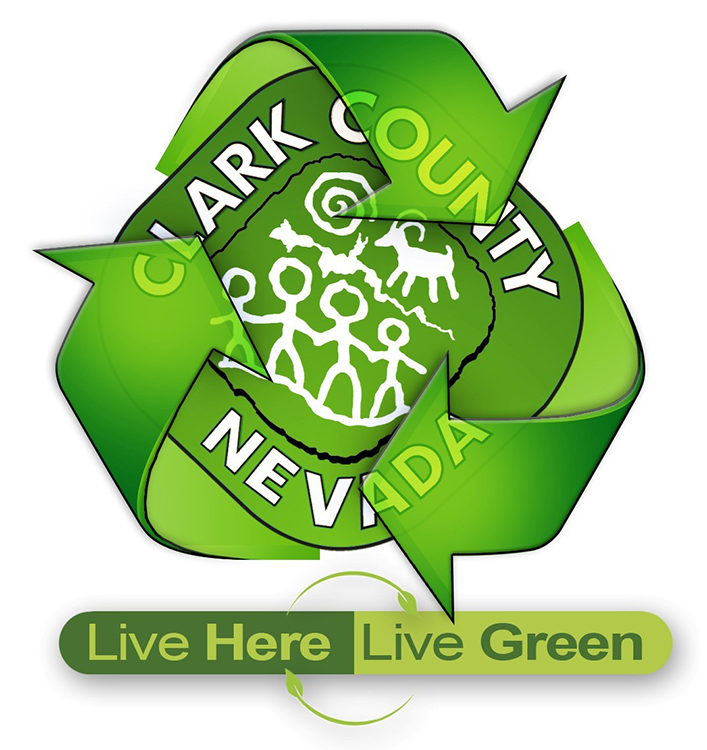 Las Vegas is going green! Actually they've been shifting towards sustainability for several years now, and building a path to net-zero waste. Here's some information the City of Las Vegas recently sent me:
OVERALL CITY SUSTAINABILITY ACCOMPLISHMENTS:
· Leveraged grants, rebates and tax credit bonds to invest $68 million in renewable energy and energy conservation since 2010, saving the City nearly $6 million annually, with a payback on city funds less than 7 years.
· Installed 6.1 megawatts of solar power at 35 city facilities, including 3 LEED certified net zero fire stations, net zero Emergency Operations Center, 387 kilowatts at LEED Gold City Hall and 3.3 megawatts at our wastewater treatment facility.
· Received LEED certification on 6 new buildings; 54% of square footage of all city facilities have been built or retrofitted to a green standard.
· Replaced 42,000 streetlights with LED.
· Rolled back our Greenhouse Gas Emissions to 1997 levels. Since 1997, we've added 183,000 people to our population, over 1 million square feet in 83 new city buildings and 1,022 acres in 33 new city parks.
· Implemented recycling at all city facilities, increasing our recycling rate from 13% to 55% and saving over $300,000 on our trash bill.
· Reduced water consumption by over 140 million gallons over the last ten years.
Las Vegas in 2014 looks radically different than it did more than a decade ago. In 2002, the Las Vegas metropolitan region was estimated at more than 1.5 million with more than 35 million visitors entering the region, staying at the City's 126,787 hotel rooms, and spending $7.63 billion at casinos. Ten years later, nation's fastest growing city would add another 400,000 residents and increase its room inventory to 150,487. And despite dips in visitation during the recession that ultimately crippled gaming and sales revenue, leading to job losses and home foreclosures, Las Vegas had just shy of 40 million visitors in 2012, spending $9.4 billion in Clark County casinos. 2002 was also the year the Southern Nevada Water Authority (SNWA), the region's water management agency, and local municipalities took action on the drought that was taking a toll on Lake Mead, the City's reservoir fed by the Colorado River and held back by Hoover Dam and provides 90% of the region's water, by developing a drought plan and ordinance to curb water consumption. Perhaps serving as a catalyst to re-examine sustainability issues, the impacts of the drought were becoming clear to local leaders, as the drought ordinance would join the State's Renewable Portfolio Standard of 25% of utility retail sales coming from renewable energy sources by 2025 and a property tax abatement for buildings constructed to the U.S. Green Building Council's LEED green building rating system as the leading policies in sustainability.
In 2006, City of Las Vegas Mayor Oscar Goodman, recognizing the risks and impacts climate change was having and could continue to have on the community, nation, and world, signed the U.S. Conference of Mayor's Climate Protection Agreement, leading to Council actions resolving to reduce energy consumption and greenhouse gas emissions, construct new City buildings and facilities buildings to LEED standards. Sustainability came to the forefront for Las Vegas that culminated in a comprehensive Sustainable Energy Strategy for the future requiring teamwork from the City Manager, a newly created Office of Sustainability, multiple departments, contractors, consultants, and the community. In 2008, the City formalized its Sustainability Initiative to focus on municipal and community-wide efforts in clean energy, water conservation, recycling, green building, and promoting alternative transportation.
The Mayor and City Council adopted the Sustainable Energy Strategy setting sustainability metrics and targets for City operations, City codes, and the community. Aided in part by earlier investments from the City, grants and bonds from the American Recovery and Reinvestment Act, and rebates from the state's investor owned utilities, the Strategy lead to the construction of more than 5 megawatts of renewable energy, including solar covered parking structures at 30 City facilities, energy improvements to more than 1 million ft2 of green buildings, the introduction of recycling at parks and City facilities, over 8 acres of turf conversions, and the addition of more than 400 miles of bike lanes by the end of 2013.
Renewable Energy – In 2009, the City began planning and constructing solar covered parking and rooftop solar at City fire stations, community centers, parks, and other facilities through a combination of the Recovery Act's Energy Efficiency and Conservation Block Grant, bonds, and utility rebates. After nearly two years of construction, the City completed 1.7 megawatts of solar at City parks, community centers, fire stations, and other public facilities and are anticipated to provide energy to offset between 25 – 40% of each facility's electric needs and costs. A 3.3 megawatt solar generating station at the City's wastewater treatment plant opened in early 2013, bringing the City's installed capacity to 5 megawatts. As systems came online, City staff monitored energy production and have reported more than 2.7 million kWh generated in 2012, a savings of nearly $350,000. With the completion of the 3 megawatt plant, the City anticipates generating more than 10 million kWh annually, saving the City more than $1 million in costs.
Energy Efficiency and Green Building – With renewable energy projects underway, the City focused attention to energy efficiency and conservation projects, including green building construction or improvements at 18 City facilities, fire stations, and community centers to LEED, Green Globes, and other national green standards, and streetlight energy efficiency upgrades to reduce costs and the overall amount of energy consumed. Among the green building projects was a replacement to its City Hall. The new City Hall, completed in February 2012, is a part of broader downtown redevelopment plan that has created thousands of jobs, stimulated private investment and generated millions in new tax revenue to the city, and is a representation of the City's commitment to sustainability, energy efficiency and renewable energy.
The new City Hall was financed through Build America Bonds and allowed the city to finance the project at a lower effective tax rate, with total costs including financing, interest, and closing costs coming to $185 million. In addition, a private firm made an unsolicited offer to the City to buy the existing City Hall and seven surrounding acres with the intent of developing it as a corporate campus for web retailer Zappos.com. Built to LEED Gold standards, the facility reduces energy costs by more than $500,000 annually. Among its features are building-wide daylighting, use of LED and efficient lighting, energy efficient glass, natural gas-fired HVAC systems, water efficient fixtures and landscaping, and a 145 kW forest of 33 solar trees and rooftop solar that have generated 525,000 kWh to date.
Other City buildings and facilities were considered for energy efficiency upgrades as well. In 2009, the City completed an energy audit of its top consuming buildings and facilities that recommended new lighting, insulation, windows, HVAC, automated building controls, and other green improvements, which were subsequently made. In addition to City Hall, 4 other LEED facilities were completed in 2012, including a performing arts center, a museum, and two new fire stations leading to more than 1 million ft2 of buildings built or upgraded to green standards.
Energy efficient streetlighting, which is anticipated to save between 40-60% on the City's streetlight accounts and have a lifetime of 15 years, was recognized as the next key component to attaining the City's energy savings. About 80% of the City's 55,000 high pressure sodium and mercury vapor luminaries are targeted for replacement with LEDs by mid-2013. Using Qualified Energy Conservation Bonds, the City installed 6,600 LEDs to chip away at streetlight energy consumption that topped 54 million kWh and $3.75 million in 2010. The City later issued $17.4 million in general obligation bonds to cover the installation of an additional 38,000 fixtures. Installations began in May 2012 with 42,000 installed by mid- 2013 resulting in a savings of 4.33 million kWh to date, translating into an initial one year cost savings of $300,000.
Water – Given the prolonged drought, conservation of water resources has been paramount to the City, with a goal to reduce its overall consumption 3% – a total of 1.23 million gallons. To accomplish this, City Parks and Recreation and Operations and Maintenance staff converted more than 8 acres of grass at City parks and sports fields to synthetic turf as a first step to conserve water. The City also recycles billions of gallons of water at its wastewater treatment plants, which is returned to Lake Mead for credit back to the Colorado River system. In addition to the conservation efforts previously enacted by the drought ordinance, the City incorporated additional xeriscaping and relandscaping at parks, facilities, and median islands using drought tolerant plants and metal sculptures. The City, which used 1.27 billion gallons of water from the region's water purveyor in 2012, decreased consumption by more than 200 million gallons as a result of water conservation, equivalent to the water use of more than 600 households per year.
Waste – Conserving resources by reducing waste and recycling has been stepped up substantially throughout the development and implementation of the Strategy. While City employees were already participating in an employee recycling program, purchasing sustainable and recycled content products, and considering sustainable products and practices in contracts for City supplies and construction, the goal expanded to cut the amount of trash taken to the landfill by half. To accomplish this, the City contracted with a consultant to analyze the City's waste stream and costs and found additional strategies to cut its $821,000 annual trash bill and 68,000 yd3 materials sent to the landfill by more than $300,000 and 30,000 yd3. While much of the focus was to fully deploy and continue implementation of single stream recycling at all City facilities, the City also introduced recycling at all City parks, making it the first municipality in the state to implement a widespread public park recycling program.
Transportation and Land Use – Alternative forms of transportation promote sustainability through improvements in air quality, enhanced mobility, and increased quality of life. Nearly 100% of the City's vehicle fleet runs on alternative fuels and includes four electric and plug-in hybrid electric vehicles; the City also installed public electric vehicle charging stations at six City facilities. As a member of the region's metropolitan planning organization, the Regional Transportation Commission of Southern Nevada (RTC), the City promotes and participates in a transportation demand management program through employee bicycling, walking, public transit, or carpooling. The City's Public Works Department has worked with regional and state agencies on the construction of regional trails, carpool and bus-only lanes that support express and bus rapid transit, and three new transit centers and park and rides while the Planning Department has adopted a new zoning code, walkable community plans in neighborhoods, and is updating its Downtown Centennial Plan to a form based code to promote walking, bicycling, complete streets, and community connectivity. As a result of this work, the City has added 300 miles of bike lanes and 50 miles of trails since 2006 and by the end of 2013, the City will have more than 400 miles of bike lanes.
While City operations were the primary focus of investments, the City has been an active participant in community efforts that involve a wide range of public and private stakeholders, including the resort industry, utilities, banks, and private citizens. Las Vegas, often criticized for the perceived lack of attention to energy, water, and waste issues, is actually incredibly efficient in delivering sustainable results, especially in the gaming and resort industry.
The state's investor-owned electric utility surpassed one gigawatt of renewable energy under contract, giving Nevada one of the most diverse energy resource portfolios in the country with utility scale solar, biomass, geothermal, hydro, and wind capacity. Because Nevada's renewable portfolio standard is one of the most aggressive in the nation, over 1,400 projects were constructed statewide under net-metering agreements at homes, businesses, public buildings and schools totaling more than 38 megawatts. Energy conservation has also been eyed; like the City, other municipalities have invested heavily in LED and induction streetlighting.
As with renewable energy, the pace of green building in Southern Nevada has also been aggressive. Fueled initially by the property tax abatement legislation, more than 45 million ft2 of LEED certified buildings were constructed in Southern Nevada over the past decade. Gaming companies examined the benefits of green building and energy savings, resulting in the construction of MGM-Mirage's CityCenter, the largest grouping of LEED certified hotels, resort, and convention space in the world, and Las Vegas Sands corporation's Venetian, Palazzo, and Sands Exposition Center. Nearly all resorts have incorporated efficient lighting, green housekeeping, and water saving technologies into their operations. The logistics, warehousing, and distribution also expressed interest in greening their supply-chain operations. To facilitate community green building activity, the City incentivized the construction of LEED and green buildings and has funded incentives and low-interest financing for a growing statewide Home Performance with ENERGY STAR and solar program run by non-profits and supported by contractors, the state's electric and gas utilities, banks, universities and colleges within the Nevada System of Higher Education, and the Nevada State Office of Energy.
In the decade since the passage of the drought ordinance, Colorado River water consumption decreased 36 billion gallons despite an increase of 400,000 residents from 2002-2011. Water use has declined from approximately 350 gallons per capita per day (GPCD) in 1990 to less than 225 GPCD today. As a result, SNWA estimates Southern Nevada will soon surpass the region's 2035 goal to reduce consumption through conservation to 199 GPCD. But to ensure growing water demands in the desert southwest are met, the SNWA embarked on construction of a third lower elevation water intake at Lake Mead in case regional pressures, reduced snowpacks in the Rocky Mountains, or prolonged drought jeopardize the intakes at higher elevations.
Once among the lowest recycling rates in the country, single family residential single stream recycling is being deployed throughout most of the county over the next five years; initial progress has already indicated recycling rates doubled to more than 35%, meeting the U.S. EPA's estimated national average. To facilitate this, the primary franchised waste management operator constructed a state-of-the-art recycling center to handle increased recycling volume. The operator also constructed a 12 megawatt plant at the regional landfill to provide renewable energy from landfill gas. Composting opportunities have also grown due in part of the response to the resort industry. While recycling bins are often unseen by the public, uneaten food and organic waste from Strip resorts are sorted "back of house" and taken to a local farm to use as feed for pigs.
Finally, dramatic growth over the last decade put new pressures on land use and transportation infrastructure. While the footprint of Las Vegas rapidly expanded during this time frame, Las Vegas maintains relatively high densities – more than 4,000 per square mile — compared with other cities in the American West. However, due to natural geography and public land boundaries, Las Vegas is still somewhat compact, resulting in a concentrated core around Downtown and the Strip. Efforts to redevelop infill areas, including the transformation of a 60 acre former railroad yard near Downtown Las Vegas into a LEED Gold Neighborhood Development, have taken off and have lead to the construction of a regional shopping center, performing arts center, a medical research institute, a museum, a 5 million ft2 furniture wholesaler complex, and government and corporate offices. The RTC has worked closely with member jurisdictions on regional planning efforts that have included the deployment of one of the fastest growing public transit systems in the nation and a pioneering network of intelligent transportation systems that include freeway travel times based on vehicle speeds and dynamic message signs that warn of delays. In mid-February, a regional planning effort funded through a HUD Sustainable Communities Planning grant kicked off to define and solve major community issues, including economic diversification, neighborhood revitalization, and transportation infrastructure investments.
A dedicated team of City employees and thousands of Southern Nevada residents and businesses made the commitment to bring the City government and community closer to its goals. The result is a reduction in the City's annual energy consumption by 24%, more than 15% of the City's energy consumption coming from City installed renewables, saving more than 200 million gallons of water, increased recycling rates to more than 50%, and saving more than $9 million in energy costs since 2010, which will increase more than $6 million as the City's 3 megawatt solar plant produces power and streetlights continue being replaced. Built into the Strategy is a policy to reinvestment of those cost savings into future energy, water, and recycling projects and programs. Without pausing after the first round of projects finished, City leadership set the bar higher: to become a net-zero user of resources by 2020.
In developing a path to net-zero, savings and investments will be directed to each major sector. More renewable energy will certainly be required, likely through more than 10 megawatts of City installed solar or power purchase agreements. Other energy efficiency projects will be explored, including opportunities for more green buildings, more efficient lighting and mechanical systems, integration of intelligent building systems, and additional phases of streetlight replacements. To continue water reduction efforts, the City has contracted with a consultant to make recommendations on how best to use metered and non-metered water resources to achieve greater water reduction savings over those already made. New recycling efforts, composting, and possible use of City waste as a fuel source are also under consideration.