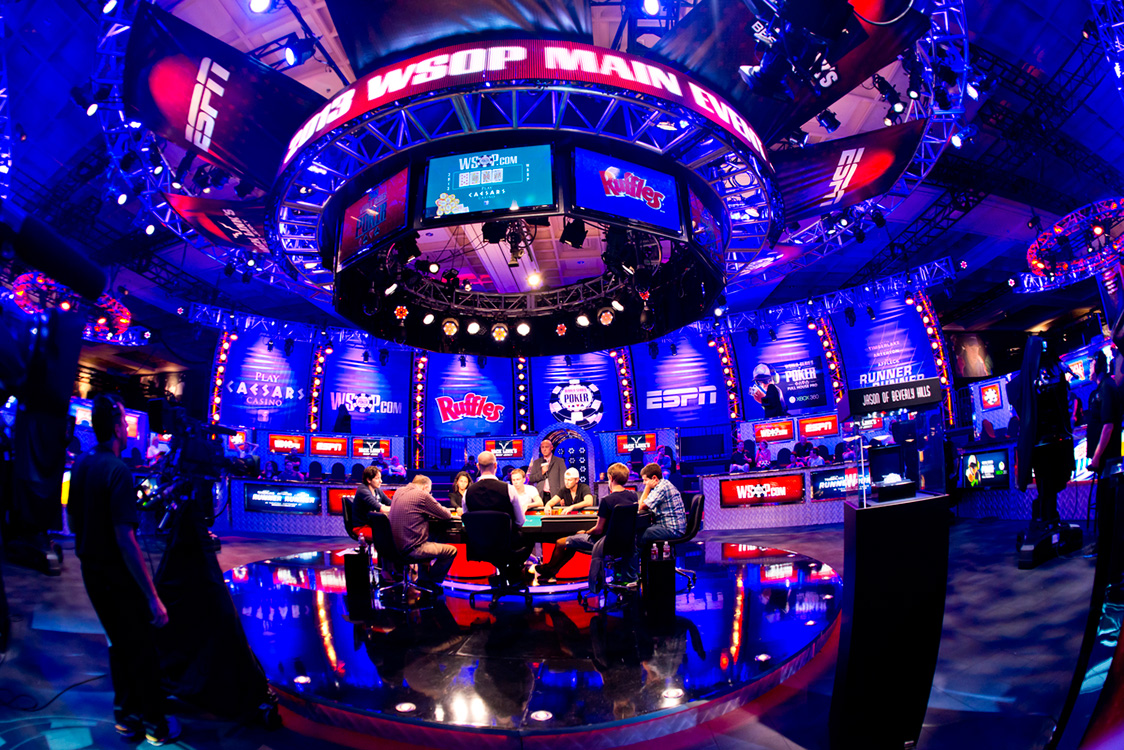 Are you ready for some Monday Night Poker?
ESPN Coverage of World Series of Poker Main Event Begins Tonight
ESPN's coverage of the 2015 World Series of Poker (WSOP) continues with the Main Event Championship beginning Monday, Sept. 14, at 8 p.m. Main Event coverage, from the Rio All-Suite Hotel and Casino in Las Vegas, will air weekly until Sunday, Nov. 8, when the event concludes with a new three-day live final table format November 8 through 10, which will air live as play dictates duration.
Lead commentator Lon McEachern and analyst Norman Chad return this year, along with roving reporter Kara Scott. ESPN.com will offer blogs, podcasts and interviews with the game's top players. Main Event Championship telecast is presented by DraftKings.
The entire schedule can be found below:
2015 World Series of Poker on ESPN
All times are ET; Schedule subject to change
| | | | |
| --- | --- | --- | --- |
| Date | Time | Event | Network(s) |
| Mon, Sept 14 | 8 p.m. | WSOP Main Event Championship presented by DraftKings (Ep. 1 & 2) | ESPN2, WatchESPN |
| Mon, Sept 21 | 8 p.m. | WSOP Main Event Championship presented by DraftKings (Ep. 3 & 4) | ESPN2, WatchESPN |
| Wed, Sept 30 | 9 p.m. | WSOP Main Event Championship presented by DraftKings (Ep. 5 & 6) | ESPN2, WatchESPN |
| Sun, Oct 4 | 8:30 p.m. | WSOP Main Event Championship presented by DraftKings (Ep. 7 & 8) | ESPN, WatchESPN |
| Sun, Oct 11 | 8:30 p.m. | WSOP Main Event Championship presented by DraftKings (Ep. 9 & 10) | ESPN, WatchESPN |
| Sun, Oct 18 | 8:30 p.m. | WSOP Main Event Championship presented by DraftKings (Ep. 11 & 12) | ESPN, WatchESPN |
| Sun, Oct 25 | 8:30 p.m. | WSOP Main Event Championship presented by DraftKings (Ep. 13 & 14) | ESPN, WatchESPN |
| Sun, Nov 1 | 8:30 p.m. | WSOP Main Event Championship presented by DraftKings (Ep. 15 & 16) | ESPN, WatchESPN |
| Sun, Nov 8 | 8:30 p.m. | WSOP Main Event Championship presented by DraftKings (Live*) | ESPN, WatchESPN |
| | 11 p.m. | WSOP Main Event Championship presented by DraftKings (Live*) | ESPN2, WatchESPN |
| Mon, Nov 9 | 8 p.m. | WSOP Main Event Championship presented by DraftKings (Live*) | ESPN2, WatchESPN |
| Tues, Nov 10 | 9:30 p.m. | WSOP Main Event Championship presented by DraftKings (Live Finale*)  | ESPN, WatchESPN |
*Live with 30-minute tape delay, per gaming regulations