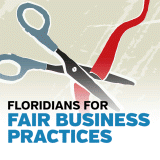 (Tallahassee, Fla.)— Today marks 130 years since the first Groundhog Day. Every February 2nd since, our country has waited eagerly to see if Punxsutawney Phil sees his shadow for six more weeks of winter.  The day is also famously associated with the 1993 comedy, Groundhog Day, starring Bill Murray who plays a meteorologist who finds himself in a time loop, repeating the same day again and again.
Once again the Floridians for Fair Business Practices (FFBP) coalition finds itself in a "Groundhog Day" time loop of sorts. "It feels like a movie, but it is reality. Florida maintains a tight grip on a Prohibition-era law that has seen its day," said Christina Johnson, spokesperson for Floridians for Fair Business Practices. "It is past time to repeal this law so that businesses and consumers alike can benefit from cost savings that a truly free market economy brings."
Johnson elaborated, "It has been nearly 100 years since Prohibition in the United States and more than 80 years since its repeal. Much like the movie Groundhog Day, the state of Florida maintains the age-old status quo by keeping an outdated law on the books. It doesn't make sense unless the goal is to protect certain businesses from competition. Florida has been heralded as the 'second most business-friendly state' and 'fourth for business tax climate.' We didn't earn these titles by promoting protectionist agendas. You either support fair competition and free enterprise, or you support government deciding who gets to compete."
This legislative session, the coalition is supporting the passage of House Bill 245 sponsored by Rep. Carlos Trujillo (R-Miami) and Senate Bill 420 sponsored by Sen. Lizbeth Benacquisto (R-Ft. Myers), both of which are straight-forward repeals of the alcohol separation law.
About Floridians for Fair Business Practices
Floridians for Fair Business Practices is a coalition of retailers and business groups whose purpose is to identify rules and regulations, which prohibit the growth and expansion of Florida business. Coalition members include the Big Bend Minority Chamber of Commerce, the Florida Restaurant and Lodging Association, Target and Walmart. Coalition supporters include Americans for Prosperity, Americans for Tax Reform, and R Street Institute. For additional information, please go to www.FairBizinFlorida.com.