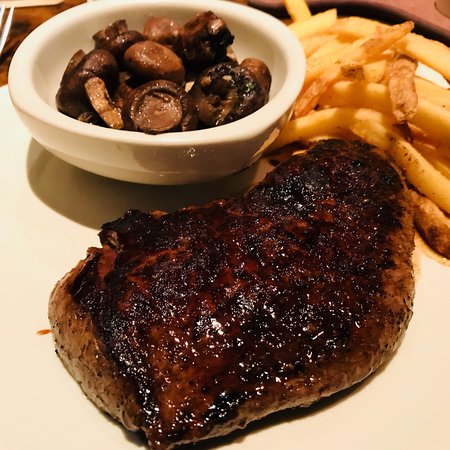 Outback Steakhouse Locations in Las Vegas: Savor the Flavor of Australia
Las Vegas, a city known for its vibrant entertainment and luxurious experiences, is also home to several Outback Steakhouse locations that bring the tastes of Australia to the desert oasis. Get ready to indulge in mouthwatering dishes, exceptional service, and a welcoming atmosphere. Explore the comprehensive guide below to discover the various Outback Steakhouse outlets in Las Vegas, complete with hours of operation, contact details, menu highlights, and drink offerings that will tantalize your taste buds.
1. Outback Steakhouse – Las Vegas Strip Location Address: 3655 S Las Vegas Blvd, Las Vegas, NV 89109 Hours of Operation: Mon-Sun: 4:00 PM – 10:00 PM Contact: Phone – (702) 948-6856, Website – www.outback.com
Nestled on the iconic Las Vegas Strip, this Outback Steakhouse location offers a unique blend of Australian-inspired cuisine and the vibrant energy of the city that never sleeps. The restaurant welcomes guests from 4:00 PM to 10:00 PM, creating the perfect evening dining experience against the backdrop of the dazzling lights.
Menu Highlights:
Bloomin' Onion: A colossal onion, battered and fried to perfection, served with the signature bloom sauce.
Aussie Signature Sirloin: A 6-ounce sirloin seasoned with Outback's bold spices and cooked to your preference.
Alice Springs Chicken: Grilled chicken topped with sautéed mushrooms, crispy bacon, melted cheese, and honey mustard sauce.
Drink Highlights:
The Wallaby Darned: A frozen cocktail featuring peaches, champagne, and vodka, with a sugared rim.
Boomerang Margarita: A tangy blend of Sauza Gold tequila, Cointreau, and a splash of orange juice.
2. Outback Steakhouse – Henderson Location Address: 521 N Stephanie St, Henderson, NV 89014 Hours of Operation: Mon-Thu: 4:00 PM – 9:30 PM, Fri-Sat: 4:00 PM – 10:00 PM, Sun: 4:00 PM – 9:00 PM Contact: Phone – (702) 433-4329
Situated in Henderson, this Outback Steakhouse caters to residents and visitors seeking an unforgettable dining experience. Operating hours vary throughout the week, with extended hours on weekends for those looking to savor their meal a little longer.
Menu Highlights:
Seared Peppered Ahi: Sashimi-style tuna seared rare, encrusted with cracked peppercorns, and served with a creamy ginger-soy sauce.
Victoria's Filet Mignon: A tender and juicy filet, seasoned and grilled to perfection, accompanied by a signature potato and choice of side.
Drink Highlights:
Blueberry Martini: A refreshing martini infused with blueberry flavors, vodka, and a touch of sour mix.
Sydney's Cosmo: A twist on the classic cosmopolitan, blending vodka, Cointreau, cranberry juice, and fresh lime.
3. Outback Steakhouse – Sahara Avenue Location Address: 1905 S Sahara Ave, Las Vegas, NV 89104 Hours of Operation: Mon-Thu: 4:00 PM – 9:30 PM, Fri-Sat: 4:00 PM – 10:00 PM, Sun: 3:00 PM – 9:00 PM Contact: Phone – (702) 732-1080
Located on Sahara Avenue, this Outback Steakhouse provides another avenue to savor exceptional Australian-inspired cuisine. With a diverse range of hours, including an early opening time on Sundays, it caters to a variety of dining preferences.
Menu Highlights:
Kookaburra Wings: A half-pound of crispy chicken wings tossed in tangy sauce and served with celery and blue cheese dressing.
Ribs & Chicken on the Barbie: A combination of tender baby back ribs and grilled chicken, served with Aussie fries.
Drink Highlights:
Sydney's Bloody Mary: A spicy and savory cocktail featuring vodka, tomato juice, spices, and garnished with a celery stick.
Walkabout Watermelon Punch: A refreshing blend of watermelon, Cruzan Rum, Malibu Rum, and a splash of fresh lemon juice.
4. Outback Steakhouse – North Decatur Boulevard Location Address: 8171 W. Decatur Blvd., Las Vegas, NV 89131 Hours of Operation: Mon-Thu: 4:00 PM – 9:30 PM, Fri-Sat: 4:00 PM – 10:00 PM, Sun: 4:00 PM – 9:00 PM Contact: Phone – (702) 395-8200
For those on the northwest side of Las Vegas, this Outback Steakhouse on North Decatur Boulevard offers the quintessential Outback experience. Operating hours mirror the other locations, allowing you to enjoy a satisfying dinner any day of the week.
Menu Highlights:
Ahi Tuna Sashimi: Slices of sushi-grade ahi tuna served with a ginger-soy sauce and wasabi.
Grilled Shrimp on the Barbie: Seasoned and grilled shrimp brushed with a tangy BBQ sauce, served with a fresh side salad.
Drink Highlights:
Coco-Berry Smoothie: A non-alcoholic blend of strawberries, coconut, and banana, perfect for a refreshing sip.
Huckleberry Hooch Moonshine: An adventurous cocktail featuring Ole Smoky® Blackberry Moonshine, huckleberry, and lemon.
With these distinctive Outback Steakhouse locations in Las Vegas, you're in for a culinary journey that brings the flavors of Australia to the heart of the city. From tender steaks to delectable seafood and tantalizing cocktails, these restaurants offer an array of options to satisfy your cravings. Whether you're on the Strip or exploring other parts of the city, an unforgettable dining experience awaits at every Outback Steakhouse outpost. Visit their websites or give them a call to make reservations and embark on a culinary adventure that celebrates bold flavors and exceptional hospitality.