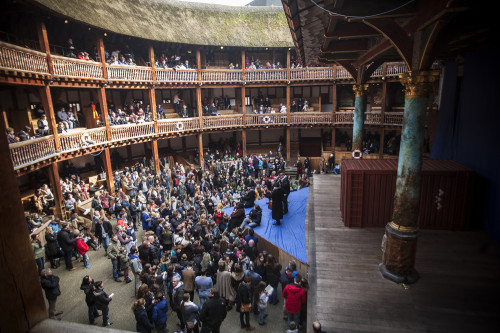 VisitLondon.com and Swiftkey team up to celebrate Shakespeare's legacy as part of Fans of London campaign
Watch Famous actor Simon Callow surprise Shakespeare super fan on stage at The Globe
A new smart phone app which adds a Shakespearean touch to your text messaging, has been launched today to celebrate the 400th anniversary of the Bard's death and as part of a tourism drive for the capital, called 'Fans of London'.
Working with VisitLondon.com, the official visitor guide for the capital, ShakeSpeak has been developed by software company SwiftKey, best known for their language prediction app. By analysing the Complete Works of Shakespeare they developed an app that helps turn your text messages into Shakespearean prose by predicting the playwright's best known phrases.
Swiftkey's app, which is available to download free of charge, allows you to simply type the first word or two of a famous Shakespearean quote and the technology will do the rest. For example:
To be or not to be, that is the question
That which we call a rose by any other name would smell as sweet
All the world's a stage and all the men and women merely players
Some are born great some achieve greatness and some have greatness thrust upon them
The course of true love never did run smooth
And in order to make you your text messages as authentic as the Bard's language, Swiftkey's analysis of the Complete Works of Shakespeare recommends using 'Thou', 'thee' and 'thy' in your text messages, as these three words are among the most frequent Shakespeare uses compared to how we speak today.*
Or simply start your sentence with 'Ha!' or an 'O!' or a 'What ho!, accompanied by plenty of exclamation marks, for a much more authentic Shakespearean feel.
And make sure you are unfailingly polite by using 'Sir', 'Madam' and even 'Ay my good lord, which are peppered throughout Shakespeare's plays.
Commenting on the development of ShakeSpeak, SwiftKey's Head of Partnerships Sarah Rowley said: "We are delighted to be combining the Bard's works with our smartphone keyboard technology for the first time. SwiftKey learns from your writing style, so who better to have as your guide than one of the world's greatest wordsmiths? Shakespeare brought language to the masses in innovative and exciting ways – and now people can experience his unique and timeless use of language on their smartphone keyboard."
The launch of the ShakeSpeak app is part of the Fans of London tourism campaign from VisitLondon.com, which is supported by the GREAT Britain Campaign, British Airways and Hilton. Fans of London celebrates the blockbuster events taking place across the capital this year, including the 400th anniversary of Shakespeare's legacy, and the first ever exhibition on the Rolling Stones, EXHIBITIONISM.
VisitLondon.com has identified some of the most genuine and deserving fans of the Royal Family and Harry Potter as part of the campaign. Now comes the turn of Lori Jones from Chicago, Illinois, a dedicated Shakespeare fan who was recently flown to London for a once in-a-lifetime trip.
Whilst enjoying a behind-the-scenes tour of Shakespeare's Globe, Lori was surprised on stage by classical actor and director Simon Callow, who conducted a voice workshop with her in the Sam Wanamaker playhouse.
Actor and director Simon Callow said: "Lori's knowledge of and passion for Shakespeare is testament to the Bard's fan base all over the world. After all this time, Shakespeare's works are still relevant to us all, and it's a delight to know that his legacy is still very much alive in London – the calendar of events to honour the Bard this year is truly spectacular."
Shakespeare super fan Lori Jones said: "My fascination with Shakespeare began when I was a child and my love of his work has continued to grow and grow. I have never been to London before so it was a true honour to see Shakespeare's Globe in the flesh and to meet its new artistic director, Emma Rice and hear about the productions planned for this summer." (You can watch Lori's special Shakespeare experience here).
Chris Gottlieb, Chief Marketing & Communications Officer for London & Partners, said: "Swiftkey's app is a brilliant piece of technology which lets everybody have fun and get to know Shakespearean prose. The legacy of Shakespeare truly lives on in London and in this commemorative year, there is so much to see and do across the capital for fans such as Lori – from exhibitions, special performances and quirky adaptations. It's fantastic to see the enthusiasm for all things Shakespearean 400 years on."
Sara Dunham, British Airways' Head of Marketing, Retail and Direct, said: "This campaign will showcase some special moments, as fans travel to one of the world's greatest cities for a once-in-a-lifetime experience. At British Airways we love to make amazing things happen, and with dozens of daily flights connecting people between 21 US cities and London, we look forward to flying hundreds of fans to follow in their footsteps."
Aligi Gardenghi, Vice President Marketing Europe, Middle East & Africa at Hilton Worldwide said: "As fans of London we are excited to be involved in the London & Partners campaign and look forward to setting the stage for incredible and heartfelt experiences for our guests and visitors to the capital. With 35 properties in Greater London offering a diverse range and breadth of hospitality, Hilton provides the ideal backdrop for a memorable stay in one of the most popular worldwide destinations."
ShakeSpeak is available to download on Android from 9am BST on 7th April for smartphones and tablets on Google Play (search ShakeSpeak), and also via SwiftKey Greenhouse, the company's hub for experimental software.
For the chance to win a trip to London go to www.visitlondon.com/fans