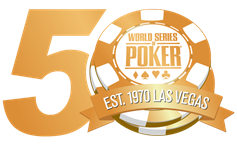 Thirteen More Events Finalized for
50th Annual World Series of Poker®
New "Mini Main Event" Added on July 1
Plus Key No-Limit Hold'em Tournaments Set
LAS VEGAS (Jan. 9, 2019) – Just weeks after announcing the dates and flagship event schedule for the 50th Annual World Series of Poker (WSOP), thirteen more events have been solidified for the 2019 WSOP, set to run from May 28 to July 16, 2019 at the Rio All-Suite Hotel & Casino in Las Vegas.
Key annual signature No-Limit Hold'em events such as Casino Employees, Ladies and Super Seniors have finalized dates, while popular events like the Double Stack, Marathon, Little One for One Drop and The Closer return as well.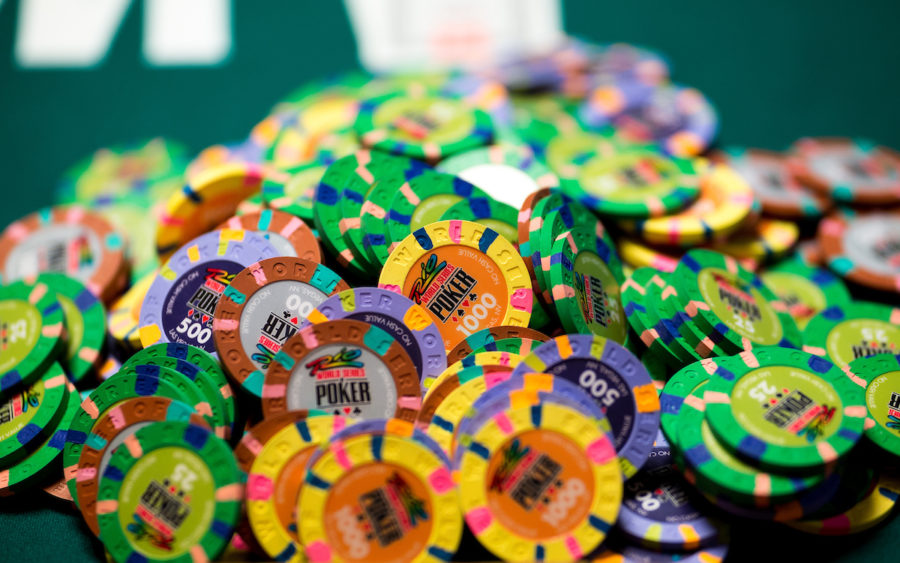 Photo courtesy: Danny Maxwell/WSOP
A new exciting addition to the schedule is the July 1, two-day $1,000 buy-in No-Limit Hold'em event we are calling the "Mini Main Event".  Taking place just two days before the start of the signature Main Event, the Mini Main Event will also start with 60,000 in tournament chips and feature every level in its namesake counter-part.  The buy-in is one-tenth the cost, at $1,000, with levels 30 minutes in duration.  Players will get a good feel for stack size and blinds/antes while the tournament progresses up just as the real Main Event does.  We view this as a great event for those preparing for the world championship.
A list of the latest events confirmed for the 2019 World Series of Poker:
DATE
EVENT
BUY-IN
CHIPS
LEVELS
Re-Entry
TIME
May 29
Casino Employees
$500
25,000
40 minutes
1
11am
June 4
Super Turbo Bounty
$1,000
20,000
20 minutes
None
10am
June 9
Double Stack
$1,000
40,000
30/40 minutes
1
11am
June 10
Marathon
$2,620
26,200
100 minutes
None
12 noon
June 17
Super Seniors 60+
$1,000
20,000
60 minutes
1
10am
June 20
Ladies
$10,000/$1,000
20,000
60 minutes
1
11am
June 24
Super Turbo Bounty
$1,500
25,000
20 minutes
None
10am
June 24
Tag Team

2-4 person teams

$1,000/Team
20,000
60 minutes
None
12 noon
June 26
Colossus – Flight A
$400
40,000
40 minutes
1/flight
10am
June 27
" Flight B
"
"
"
"
10am
July 1
Mini Main Event
$1,000
60,000
30 minutes
None
11am
July 6
Little One for One Drop – Flight A
$1,000+$111
40,000
60 minutes
Unlimited
11am
July 7
"  Flight B
"
"
"
"
11am
July 8
"  Flight C
"
"
"
"
11am
July 11
Double Stack
$1,500
50,000
30/40 minutes
Unlimited
11am
July 12
The Closer – Flight A
$1,500
25,000
30 minutes
Unlimited
11am
July 13
"  Flight B
"
"
"
"
11am
July 14
"  Flight C
"
"
"
"
11am
While the Big 50 is the opening weekend (May 30-June 6) event now, the popular Colossus event has been reimagined.  Now as a two-flight event beginnning on June 26 and June 27. The Colossus will be the lowest-priced gold bracelet event on the 2019 schedule, with a $400 buy-in.  Featuring a lower price point with more value, it comes with 40,000 in starting chips and will play 40 minute levels throughout.  Flights will start at 10am on Wednesday, June 26 and then again on Thursday, June 27, with Day 2 of the event combining fields for all remaining players on Friday, June 28 at 11am.  The event will allow single re-entry per flight and should finish on Saturday, June 29.
"Things are starting to come together on the rest of the 2019 WSOP playing schedule," said WSOP Vice President Jack Effel.  "Being this is our 50th running, we are doing everything we can to make this year's iteration bigger, better and more valuable for players."
The Super Turbo Bounty events are one-day scheduled events, the only live way to earn a bracelet in a day at the WSOP.  In the $1,000 version, each player is a $300 bounty, while the $1,500 version, each player is a $500 bounty.
A record 123,865 entries participated in the 2018 WSOP, creating a 49-year high of $266,889,193 in prize money. The average WSOP gold bracelet event in 2018 had a $3,421,656 prize pool with $655,337 going to the winner.
The 2018 WSOP featured huge field sizes once again in signature events, with the Main Event (7,874), Millionaire Maker (7,361), Monster Stack (6,260), Crazy Eights (8,598), Seniors Championship (5,918) and Colossus (13,070) combining to attract a staggering 49,081 entries. The majority of these signature events return in 2019, with the addition of a new opening weekend huge value event to help usher in the 50th running of the WSOP – the Big 50.
Buy-ins for tournaments at the Rio will start as low as $70.  Single table satellites and all your favorite live poker games: low, medium and high limit will begin on May 28 and run 24 hours a day throughout the seven-week series taking place in the spacious Rio Convention Center for the 15th consecutive year.
Room reservations are being accepted across Caesars' Las Vegas properties with rates as low as $33 for existing Caesars Rewards members.  Visit Las Vegas – WSOP to make your room reservations for the 2019 WSOP.
Individual event online pre-registration won't open until March/April, after all events have been determined and approved by regulators.
WSOP.com's real-money online poker offerings in New Jersey and Nevada will be the exclusive online home for players in these states to win seats into WSOP events, including the Main Event, as well as to participate in the exclusive online WSOP official gold bracelet events.  While in New Jersey or Nevada, eligible players can play on WSOP.com, whether a resident or not, and satellites are expected to run regularly throughout the WSOP.  888Poker remains our international online poker partner in most jurisdictions, with plenty of satellite qualifications planned to award seats to the WSOP in Las Vegas.
The full event-by-event schedule is expected to be released sometime in the first quarter of 2019.  All above announced dates, times and events are subject to change.
About the World Series of Poker
The World Series of Poker® is the largest, richest and most prestigious gaming event in the world, having awarded more than $2.99 billion in prize money and the prestigious gold bracelet, globally recognized as the sport's top prize. Featuring a comprehensive slate of tournaments in every major poker variation, the WSOP is poker's longest-running tournament in the world, dating back to 1970.  In 2018, the event attracted 123,865 entrants from 104 different countries to the Rio All-Suite Hotel & Casino in Las Vegas, and awarded more than $266 million in prize money. In addition, the WSOP has formed groundbreaking alliances in broadcasting, digital media and corporate sponsorships, while successfully expanding the brand internationally with the advent of the World Series of Poker Europe in 2007 and the World Series of Poker Asia-Pacific in 2013 and the WSOP International Circuit Series in 2015. For more information on the World Series of Poker, please visit www.wsop.com.