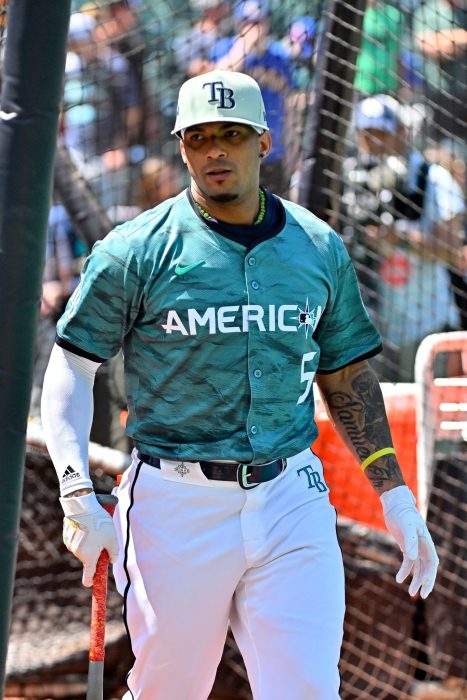 For an article regarding the recent investigation, go to New York Times: https://www.nytimes.com/2023/08/14/sports/baseball/wander-franco-rays-investigation.html
Wander Franco: The Rising Star of Baseball
In the realm of professional baseball, one name has been generating waves of excitement and anticipation – Wander Franco. With his exceptional skills, unwavering determination, and youthful exuberance, Franco has quickly risen through the ranks to become a prominent figure in the sport. This comprehensive profile delves into his background, achievements, playing style, and potential future contributions, all aimed at providing readers with an in-depth understanding of this prodigious talent.
Early Life and Background
Wander Samuel Franco, born on March 1, 2001, in Bani, Dominican Republic, displayed an early affinity for baseball. Growing up in a baseball-centric environment, he was surrounded by family members who had also pursued careers in the sport. His uncle, Erick Aybar, notably played in the Major Leagues, serving as a source of inspiration for Franco's journey.
Rapid Rise through the Minor Leagues
Franco's ascent within the minor leagues was nothing short of remarkable. After signing with the Tampa Bay Rays as an international free agent in 2017, he quickly showcased his exceptional talents. His consistent performance and remarkable versatility on the field led him to advance through various levels of the minor league system with impressive speed.
Debut in the Majors
The moment baseball enthusiasts had been eagerly awaiting arrived on June 22, 2021, when Wander Franco made his highly anticipated Major League Baseball (MLB) debut with the Tampa Bay Rays. His entrance was met with a mix of excitement and high expectations, and Franco did not disappoint. In his debut game, he showcased his offensive prowess by hitting a home run, making him the youngest player in over a decade to achieve such a feat in their debut.
Playing Style and Strengths
Franco's playing style can be characterized by a rare combination of power, finesse, and adaptability. As a switch-hitter, he presents a unique challenge to opposing pitchers, effectively nullifying their advantage. His plate discipline and exceptional bat control are evident in his ability to consistently make contact and drive the ball to all fields. Beyond his offensive capabilities, Franco exhibits remarkable defensive versatility, with the ability to excel at shortstop, third base, and second base.
Achievements and Accolades
Despite his young age, Franco has already garnered numerous accolades and achievements. He was ranked as the number one prospect in baseball by various reputable sources before his MLB debut. His inclusion in the MLB All-Star Futures Game further solidified his status as a top-tier talent to watch. Additionally, Franco's impact was instrumental in the Tampa Bay Rays' pursuit of postseason success.
Future Outlook
Wander Franco's trajectory in the world of baseball seems bound for greatness. His potential to become a cornerstone player for the Tampa Bay Rays and a future Hall of Famer has already captured the attention of fans, analysts, and fellow players alike. With each game he plays, Franco continues to refine his skills, learn from experiences, and contribute to his team's success.
In conclusion, Wander Franco's journey from the dusty baseball fields of the Dominican Republic to the grand stages of the MLB is a testament to his remarkable talent, unwavering dedication, and unbridled passion for the sport. As he continues to carve his path in the world of baseball, one thing remains certain – Wander Franco is a name that will resonate in the annals of the sport's history for years to come.
(Note: This profile on Wander Franco is intended to be detailed and informative for SEO purposes, providing readers with valuable insights into his background, achievements, and potential.)