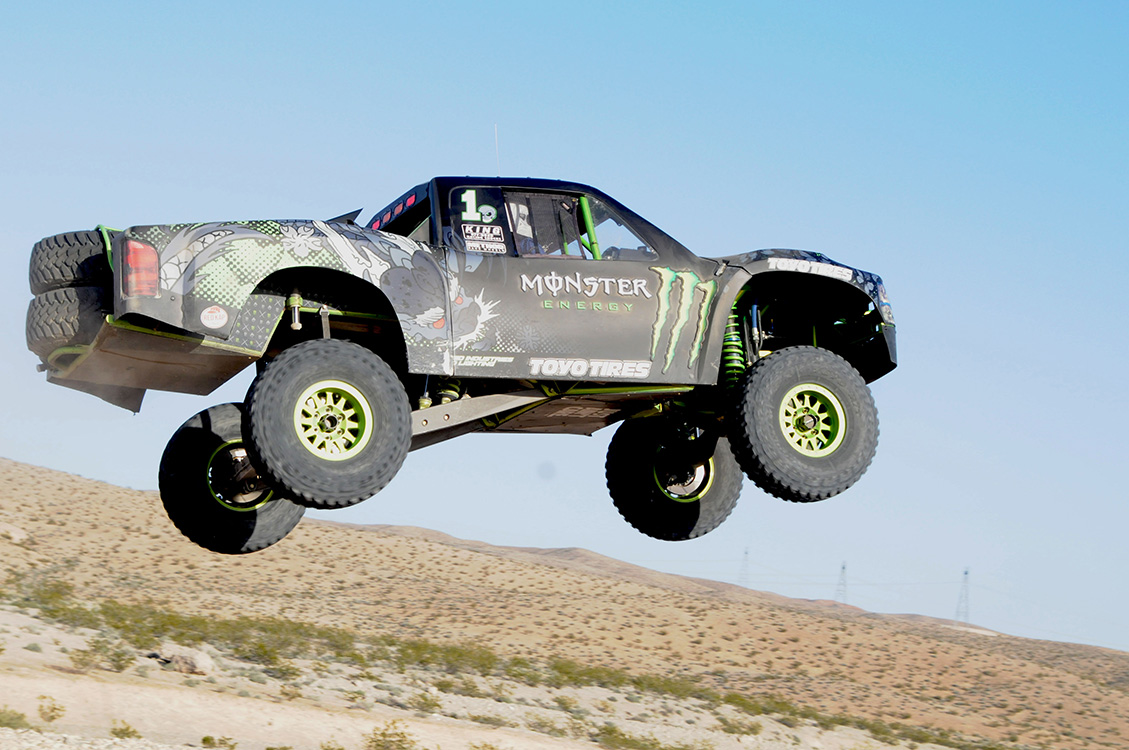 The 2015 Polaris RZR General Tire Mint 400 will storm into Las Vegas March 11-14. An estimated 40,000 off-road racers, fans and enthusiasts are set to descend upon Las Vegas to party, spectate, and celebrate during the four day off-road racing festival of speed. The massive field of competitors makes The Mint 400 the largest off-road race in North America. The Mint was born in 1967, giving it the unique distinction of the oldest and most prestigious off-road race in America. It is now part of the The Best in Desert Championship race series, and continues to grow in fame and attendance, thanks to the vision of the owners – The Martelli Brothers and their dedicated team at Mad Media and The Mint 400 Inc. "This year's Mint 400 is going to be huge!
Video:  Mint 400 Ride-a-long Preview in Las Vegas
The field is sold out again this year with 330 teams and over 70 on the waiting list. We once again have the most competitive field in off-road racing which will ensure spectacular racing. We have increased our spectating areas to accommodate the massive crowds with the addition of the official Mint 400 Primm Valley Start/Finish Line. We have the biggest TV package in off-road with four and half hours of television including 2 hours on NBC as part of the Red Bull Signature Series. Fans will also be able to follow live online at Race-Dezert.com," said Matt Martelli, Mint 400 CEO. Notable entries to this year's Mint 400 battle are returning two-time Mint 400 Champion Andy McMillin, NASCAR and off-road legend Robby Gordon, Las Vegas native and Mint 400 Champion "Ballistic" BJ Baldwin, off-road champion Rob MacCachren, and off-road Champion Tavo Vildosola. Off-Road legend Larry Ragland will serve as Grand Marshal and drop the checkered flag at the start of the race on March 14 at the Mint 400 Primm Valley Start/Finish Line.
Video:   Mint 400 Week Kicks Off With Parade Down The Las Vegas Strip 
The Mint 400 is the oldest, roughest, most spectacular, and most prestigious off-road race in America. It was started in Las Vegas in 1967 and became the marquee off-road race that every racer and celebrity dreamed of winning. Known as "The Great American Off-Road Race™" the legend lives on, as each year the greatest off-road racers from around the world battle each other, and the brutal Nevada racecourse for a chance to be a part of American racing history. Less than half of those competing will ever finish the unforgiving race. The Mint 400 is an epic 400-mile battle between 20 different classes of off-road race vehicles. A week of events lead up to the famed off-road contest in and around Las Vegas, including a vehicle parade, drivers meet and greet, pit crew challenge, Miss Mint 400 beauty pageant, multiple parties, qualifying time trials, and a world famous vehicle contingency that is attended by tens of thousands each year. News media: Check back March 15 for photos and video of the race.