Dream Racing offers a thrilling, first-class driving experience inside race cars and supercars. Their lineup includes Ferraris, both GT and luxury, Lamborghinis, Porches, and McLarens. They provide professional instruction before your race and firsthand assistance while in the car. Link to extended, fullscreen slideshow with 55 high-resolution pictures at bottom of page.
I pulled into the Las Vegas Motor Speedway on a Friday morning and easily found the Dream Racing section. They've secured an impressive space, including an elegant store and lounge, large garages, upscale conference center, and direct access to the tracks and Neon Garage (nicknamed "NASCAR's Disneyland").  Powerful, sexy, and stealthy looking cars were lined up in front.
My first impression and lasting impression of Dream Racing:  a class act. Even though you are off the strip, it feels as though you've stepped into another five star world, not unlike the opulence of Aria, Cosmopolitan, Bellagio or Palazzo. The store and lounge display clean designs and crisp racing colors (red and white) while also offering comfort. My host for the day, Jodie Sacco, a trim attractive blonde woman wearing snappy business attire, exuded both charm and grace as she welcomed me into the racing world and offered a preview of things to come.
Jodie also explained the extensive racing and professional experience held by the President of Dream Racing, Ado De Micheli, and its CEO, Enrico Bertaggia. De Micheli worked for 12 years at the Ferrari Driving Experience in Maranello and Maserati Driving School in Parma, Italy. Bertaggia enjoyed success in Formula Three, winning the Italian F3 title in 1987, then the Monaco Grand Prix F3 support race and Macau Grand Prix the next year. It is clear that they—and the entire staff—want you to have a premium experience from start to finish.
Soon I was escorted across the spacious Neon Garage area and into their deluxe conference center. Everything looked new and sharp. Dream Racing plays host to small and large groups easily, and entertains clients from around the world.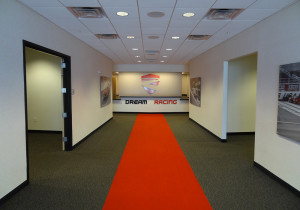 In a comfortable presentation room, with wide, clear views of the adjacent track, I watched a welcome video and racing-specific training video. Some cool stuff, and some intimidating stuff. Considering their power, instruments, and responsiveness, these race cars and super cars are less of what I would consider a car and perhaps closer to a small airplane or James Bond speedboat. As impressed as I was, and as much as I love a good thrill like the next guy, my first thought after the video was, I'm only going ten miles an hour down that track! Jodie smiled when she heard this comment, and said, "Yes I felt that way too, initially. It's good that people respect their power. Don't worry, we'll have you driving like a pro soon!" I'm not sure if it was her easy confidence or obvious racing savvy, but I believed her.
Next was the racing simulator. A place to practice what the video taught you about the car's controls, careful cornering, acceleration and proper braking. It was like a video game, but more expensive and better. You strap in firmly and have the exact spacing as if in the car itself. You also meet your pro driver for the first time, who is there to teach you and guide you, then sits in the passenger seat when you drive the real race car. Again, these steps were all first-class and appreciated!
Jeremy was my personal pro driver. Friendly, outgoing, and well-informed, he dedicated his expertise into taking me from casual street driver to amateur racer. Safety also played a big role in his instruction. That was good. I wanted to master a few basics and maybe even drive 150 or more, all the while avoid becoming a fireball or crushed carnage on the track.
Time to suit up. I donned the red and white racing uniform, adjusted my helmet, and walked out to the track. The adrenaline was already pumping. A small crew was checking and warming up my car. Churning it, cranking it, revving it. It was roaring. Was this a race car or small jet?
It felt like I had a whole pit crew working for me. Jeremy helped me in the car, a Ferrari 430 GT, race ready. V8, 512HP. 0-60 in 3.5 seconds. Top Speed 200mph. Another crew member made sure I was strapped in correctly. We tested our radios inside our helmets, so as to have direct contact throughout.
All was ready. I peered down the track, put my foot on the pedal, and pressed. The engine erupted—the car rumbled—the tires gripped the tarmac—we shot forward. I listened closely to Jeremy. Steady, he said, you're doing great. More gas, upshift, gas, upshift. Wind blew and flapped the race flags along the open track. Prepare for the corner here, turn now to maximize the arc, brake, downshift, foot off brake, make a straight line here to retain speed, gas. Sunlight shimmered off the stadium seats. Lap by lap, I started to grasp the basics of car handling and race cornering. Jeremy had me go faster and faster down the straight stretches. The F430 GT felt incredibly responsive, an extension of my body and even my thoughts, as I imagined then executed each corner. On the fifth straightaway, as Jeremy instructed me to go even faster, I couldn't help but look at the speed, which hovered around 160. I'm not sure what my top speed was because, well, when doing 160 one should keep their eyes on the road! Time seemed slower as I drove faster, the side scenery a smooth blur, the engine an elegant eruption, the inside air hotter, my mental state sharper.
Then foot off the gas, coast awhile, and we drifted back into the starting area.
All was quiet again. I climbed out of the car a new man. It was as if I had shot a wild lion on the great plains of Africa, or cliff-jumped off a high jagged coast of Ireland, or ascended the snows of Kilimanjaro. Dream Racing, indeed!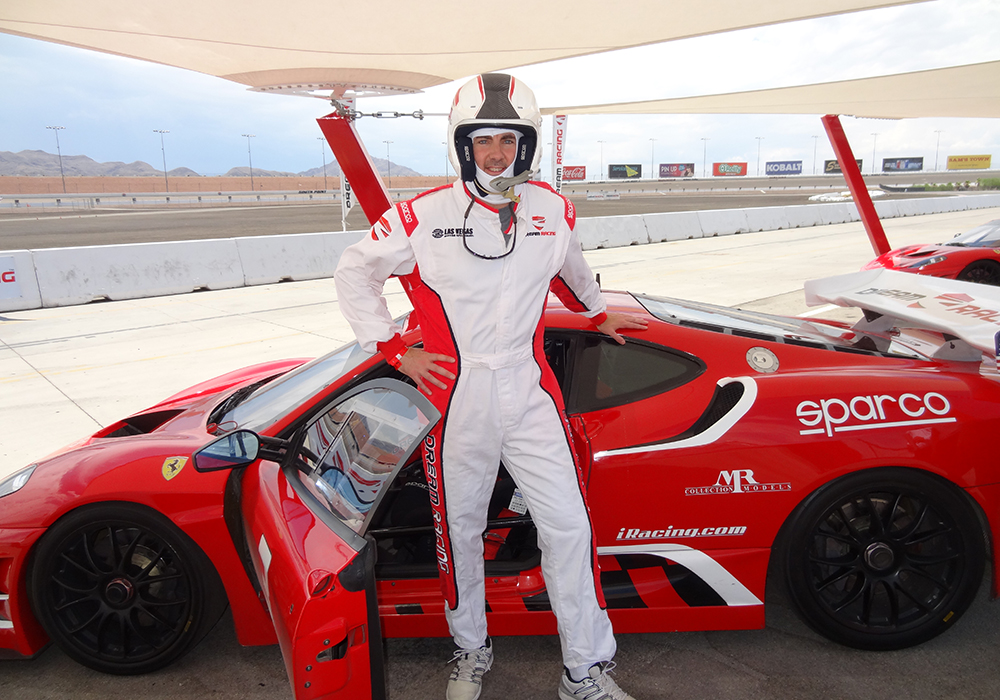 Jeremy and I discussed the laps, the cornering strategy, and he offered praise paired with future driving tips. Jodie checked in to ask if all went well, however, I think she saw from my huge smile that I was another thrilled customer.
Having enjoyed my experience so much, I couldn't bring myself to leave the track yet. I took more pictures, and watched another group prepare.  A little later, I caught them after their laps, climbing out of their cars. The two guys echoed my enthusiasm: "That was fantastic!" "That was awesome!" "Do we have time to do more laps? Should we come back tomorrow?"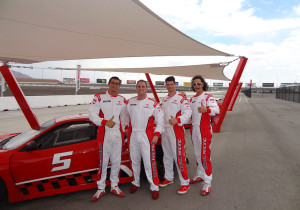 They, like me, were already dreaming about more racing…
Click here for Full Slideshow, 55 Pictures, High-Resolution.