GOING FOR (JAMIE) GOLD
2023 WSOP MAIN EVENT® POISED TO HURDLE 8,773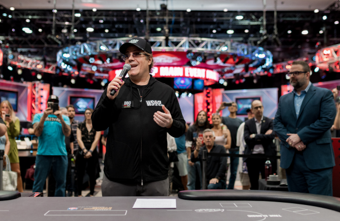 LAS VEGAS (July 3, 2023) – Earlier today, the 54th annual World Series of Poker (WSOP®) Main Event officially kicked off inside the newly re-branded Horseshoe Las Vegas with a special appearance by WSOP icon Jamie Gold. A record-setter himself, Gold solidified his name in poker history in 2006, taking home the World Champion title by defeating the largest Main Event field ever (8,773 players). This year, the 2023 Main Event is poised to beat the 2006 record, potentially marking 2023 as the largest field in WSOP history.
The Horseshoe Events Center was packed with locals and poker enthusiasts alike as they gathered in anticipation of this year's kick-off event. WSOP Vice President Jack Effel took to the Main Event stage, delivering enthusiastic remarks, detailing the excitement everyone was feeling as the Main Event kicks off this week. Gold then took to the stage to welcome players from around the world and deliver the most famous words in poker – "Shuffle Up and Deal!"
"I would like to wish all of the players nothing but the best of luck in this year's Main Event," said Gold. "That is, until they face off with me at the Final Table – then, all bets are off. Now, let's make some history. Shuffle Up and Deal!"
The WSOP Main Event has four total flights 1A – 1D, spanning Monday, July 3 – Saturday, July 15, and will feature surprise celebrity cameos and much more. The full 2023 WSOP schedule can be found on WSOP.com. Players can follow @WSOP on Twitter or Instagram or check WSOP.com for event news and updates.
# # #
About World Series of Poker:
Part of Caesars Entertainment's Caesars Digital operations, the World Series of Poker® is the largest, richest and most prestigious gaming event in the world, having awarded more than $3.63 billion in prize money and the prestigious gold bracelet, globally recognized as the sport's top prize. Featuring a comprehensive slate of tournaments in every major poker variation, the WSOP is poker's longest-running tournament in the world, dating back to 1970. In 2022, the event attracted 197,626 entrants from over 100 different countries to the Paris Las Vegas and Horseshoe Las Vegas and awarded more than $347 million in prize money. In addition, the WSOP has formed groundbreaking alliances in broadcasting, digital media and corporate sponsorships, while successfully expanding the brand internationally with the advent of WSOP Europe in 2007 and the WSOP Asia-Pacific in 2013 and the WSOP International Circuit Series in 2015. All WSOP events are subject to the then-current and applicable WSOP tournament rules. For more information, please visit www.wsop.com.