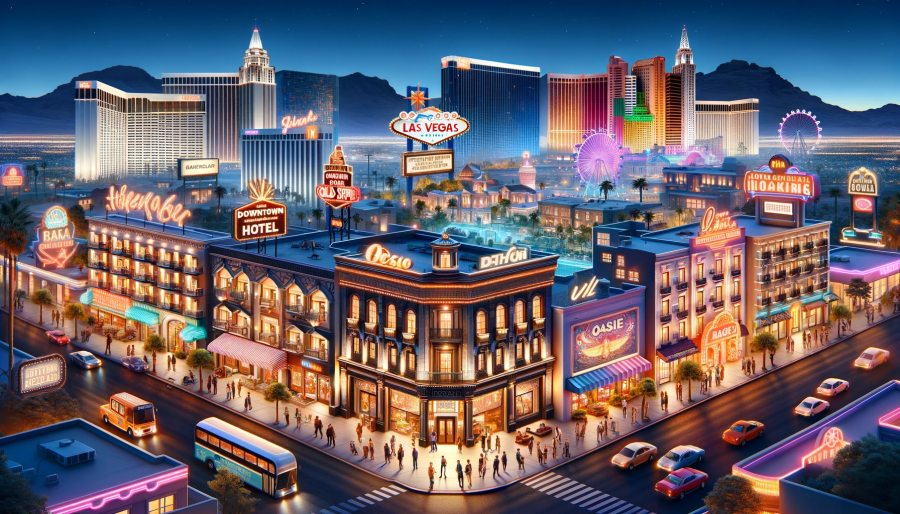 Accommodation Options for Every Budget in Vegas
From opulent resorts and lavish suites to budget-friendly motels and hostels, Las Vegas offers a diverse range of accommodation options to suit every traveler's needs and budget. Whether you're seeking luxurious pampering, modern conveniences, or a simple place to rest your head, the city has something to cater to every taste and preference.
Luxury Resorts: Indulge in Opulence and Unparalleled Service
If you're seeking the ultimate in luxury and sophistication, Las Vegas is home to some of the world's most iconic and opulent resorts. These world-class establishments offer a haven of extravagance, with lavish accommodations, impeccable service, and a host of amenities that cater to every whim.
1. Bellagio Hotel & Casino: A masterpiece of Italian elegance, the Bellagio is renowned for its exquisite architecture, serene lake with dancing fountains, and world-class art collection.
2. The Venetian Resort Hotel Casino: Step into a captivating Venetian wonderland, complete with gondolas gliding along canals, replica St. Mark's Square, and romantic ambiance.
3. Caesars Palace Resort & Casino: Immerse yourself in the grandeur of ancient Rome, with palatial accommodations, a vibrant Colosseum-inspired arena, and an array of fine-dining options.
4. Wynn Las Vegas: Experience the pinnacle of luxury at Wynn Las Vegas, with its opulent accommodations, award-winning restaurants, and mesmerizing floral displays.
5. Encore at Wynn Las Vegas: Discover a world of refined elegance at Encore, offering unparalleled luxury, contemporary design, and a tranquil atmosphere.
Modern Hotels: Experience Style, Comfort, and Convenience
For those seeking a blend of style, comfort, and convenience, Las Vegas offers a plethora of modern hotels that cater to the needs of contemporary travelers. These accommodations provide stylish and well-appointed rooms, modern amenities, and a vibrant atmosphere.
1. ARIA Resort & Casino: Step into a sophisticated urban oasis, with sleek design, cutting-edge technology, and a variety of restaurants and entertainment options.
2. Vdara Hotel & Spa at ARIA Las Vegas: Embrace a tranquil retreat in the heart of the city, offering non-smoking accommodations, a world-class spa, and a serene pool complex.
3. Cosmopolitan of Las Vegas: Experience a modern urban sanctuary, with stylish accommodations, a vibrant nightlife scene, and a diverse selection of restaurants.
4. The Cromwell Las Vegas Hotel & Casino: Discover a boutique hotel with a contemporary flair, offering stylish rooms, a vibrant rooftop pool, and a sophisticated nightlife scene.
5. Delano Las Vegas: Immerse yourself in a modern oasis, with sleek design, a tranquil pool sanctuary, and a focus on wellness and relaxation.
Budget-Friendly Options: Comfortable Stays Without Breaking the Bank
For those seeking value and comfort without compromising on quality, Las Vegas offers a variety of budget-friendly hotels and motels that provide a comfortable and convenient base for exploring the city.
1. Ellis Island Hotel Casino & Brewery: Step back in time to a classic Las Vegas experience, with affordable rates, a lively casino, and an on-site brewery.
2. Best Western Plus Casino Royale – Center Strip: Enjoy a convenient location on the Strip, with comfortable accommodations, a friendly atmosphere, and a variety of amenities.
3. Excalibur Hotel & Casino: Experience a taste of medieval magic, with affordable rates, family-friendly amenities, and a fun-filled atmosphere.
4. Circus Circus Hotel & Casino: Immerse yourself in a playful circus-themed atmosphere, with budget-friendly accommodations, a variety of entertainment options, and a thrilling Adventuredome amusement park.
5. El Cortez Hotel & Casino: Discover a historic landmark, offering vintage charm, affordable rates, and a vibrant casino scene.
These are just a few of the many accommodation options available in Las Vegas, catering to a wide range of budgets and preferences. Whether you're seeking the ultimate in luxury, modern comfort, or a simple and affordable stay, the city has something to suit every traveler's needs.
Article above via Google Bard, article below via ChatGPT.
Accommodation in Las Vegas caters to a wide range of budgets, from luxury to very affordable. Below is a comprehensive look at various options available in the city, catering to different price points and preferences.
Luxury Accommodations: For those seeking the ultimate in luxury, the MGM Signature offers a prime location on the Las Vegas Strip with exclusive amenities and stunning balcony views. It's an upscale experience where elegance and convenience meet, providing guests with spacious suites and high-end services.
Boutique Hotels: The Oasis at Gold Spike is a testament to the charm that boutique hotels can offer. Renovated in 2014, this hotel combines old-school Vegas vibes with modern chic, creating a hip environment for guests. It's a place where style is not compromised by affordability.
No Resort Fee Hotels: The Casino Royale Best Western Plus stands out as an economical choice on the Las Vegas Strip. It offers clean rooms, a fantastic location, and notably, does not charge resort fees, which can often add a significant cost to your stay in Vegas.
Resort-Style Hotels: For a resort-style stay, the Ellis Island Casino Hotel provides a lively atmosphere with a 300-slot casino, a variety of dining options, and entertainment such as a karaoke bar. With rooms starting at just $33 per night, it's a budget-friendly option with plenty to offer.
Spa & Casino Hotels: The M Resort Spa & Casino, located south of the Las Vegas Strip, offers a diverse range of amenities, including non-stop entertainment, various dining choices, and a spa to relax in after a day of fun. It boasts competitive pricing with the added bonus of free guest parking.
Affordable Luxury: A place that combines affordability with opulence, offering gorgeous rooms and suites, a casino, nightclub, and spa, among other amenities. The starting prices are surprisingly low, making it a great choice for couples or groups of friends looking to enjoy luxury without a hefty price tag.
Budget-Friendly Hotels: The Downtown Grand Hotel & Casino provides a classic Vegas experience without the high costs. With prices starting from USD 45, it's an accessible option for those wanting the full Vegas hotel and casino experience on a budget.
Hostels: For the solo traveler or those wanting to meet fellow adventurers, Hostel Cat is the top-rated hostel in Las Vegas. It's one of the cheapest options available, with dorm beds available for under $30, offering a unique communal experience.
Historic Hotels: The Flamingo is not only an affordable choice among the Caesars-owned establishments but also holds historical value as the oldest standing hotel and casino on the strip. Guests can enjoy a great stay with live entertainment, several pools, and excellent dining options, all connected to other Caesars properties via a free shuttle service.
These accommodations offer a glimpse into the variety of lodging choices available in Las Vegas, each with its own unique selling points, ensuring that every visitor can find a place to stay that suits their budget and preferences.