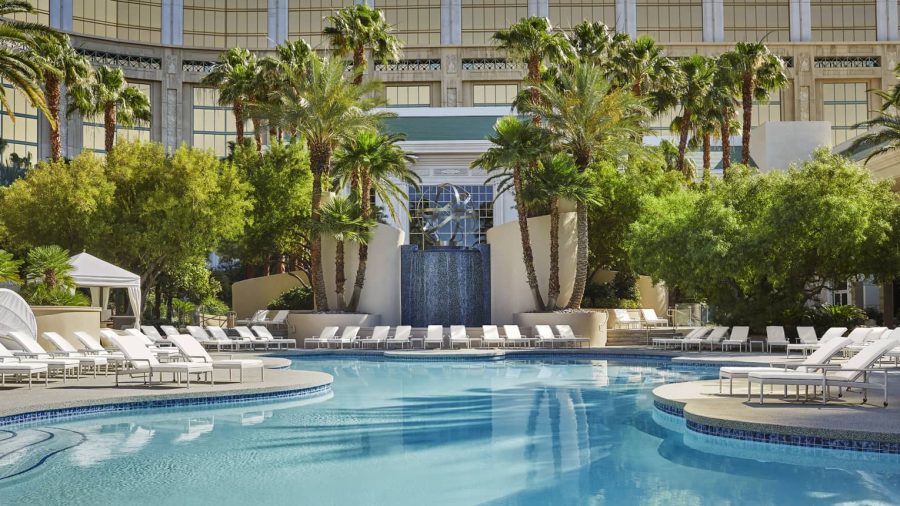 Four Seasons Hotel Las Vegas is a renowned luxury hotel located on the iconic Las Vegas Strip, offering a sophisticated and refined experience to its guests. With its impeccable service, elegant accommodations, exquisite dining options, and world-class amenities, the hotel has become synonymous with luxury and comfort in the bustling city of Las Vegas.
Location: Situated at 3960 Las Vegas Boulevard South, Four Seasons Hotel Las Vegas boasts a prime location on the southern end of the Las Vegas Strip. It enjoys close proximity to major attractions such as the Bellagio Fountains, The Forum Shops at Caesars, and numerous entertainment venues, ensuring guests have easy access to the best that Las Vegas has to offer.
Accommodations: The hotel features 424 beautifully appointed guest rooms, including 81 luxurious suites. Each room showcases a contemporary design with a touch of elegance and offers breathtaking views of the Las Vegas skyline or the surrounding desert landscape. The accommodations are spacious, featuring modern amenities and plush furnishings that create a serene and comfortable ambiance for guests to relax and unwind.
Dining: Four Seasons Hotel Las Vegas boasts an impressive array of dining options, ensuring that guests can indulge in a variety of culinary experiences without leaving the premises. Charlie Palmer Steak is a renowned steakhouse known for its prime cuts of meat and exceptional service. Veranda offers a relaxed atmosphere and serves delicious Italian-inspired cuisine, including handmade pasta and fresh seafood. The Pool Bar provides a poolside oasis where guests can enjoy light bites and refreshing cocktails while soaking up the Las Vegas sun.
Amenities: The hotel's amenities are designed to cater to the needs of discerning travelers, providing an unparalleled level of comfort and convenience. The Forbes Five-Star Spa at Four Seasons offers a serene sanctuary where guests can rejuvenate their mind, body, and spirit through a wide range of luxurious treatments and therapies. The pool area features a tranquil oasis with private cabanas, offering a perfect escape from the lively atmosphere of the Las Vegas Strip. For fitness enthusiasts, the state-of-the-art fitness center is equipped with the latest exercise equipment.
Services: Four Seasons Hotel Las Vegas is renowned for its exceptional service, reflecting the brand's commitment to personalized attention and genuine care for guests. The staff members are highly trained and dedicated to ensuring that every aspect of a guest's stay exceeds expectations. From the warm and welcoming check-in experience to the 24-hour concierge service, guests can expect nothing less than impeccable service throughout their stay.
Meetings and Events: The hotel offers a range of versatile meeting and event spaces, making it an ideal destination for corporate events, weddings, and social gatherings. The dedicated events team works closely with guests to create memorable experiences, providing personalized planning services and ensuring every detail is taken care of.
Overall Experience: Four Seasons Hotel Las Vegas offers a serene retreat amidst the vibrant energy of the Las Vegas Strip. It strikes the perfect balance between luxury and tranquility, providing guests with an oasis of sophistication and comfort. Whether guests are visiting for business or leisure, the hotel's impeccable service, elegant accommodations, delectable dining options, and world-class amenities create an unforgettable experience that truly embodies the essence of luxury in Las Vegas.