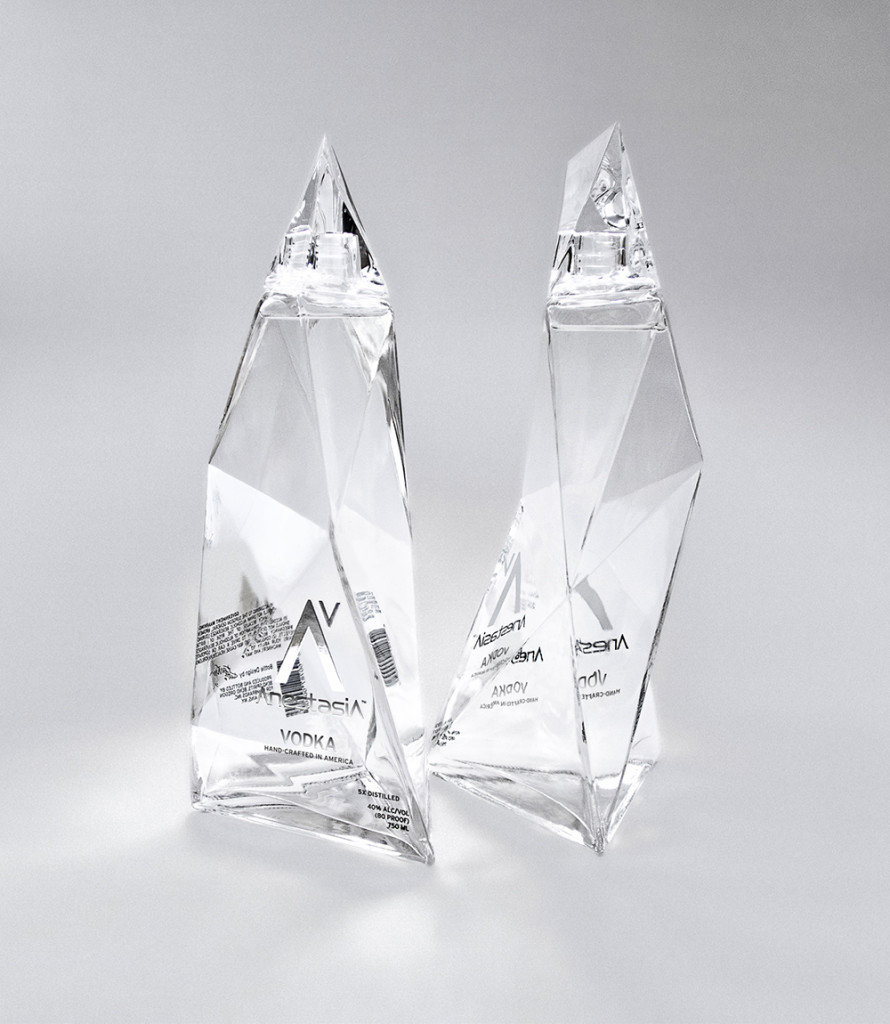 I've discovered another stellar vodka — ultra smooth and a new embodiment of class — AnestasiA. 5x distilled, 5x filtered, hand-crafted in America, and naturally gluten-free. An "architectonic" bottle by international designer Karim Rashid.
The AnestasiA Vodka bottle is what first captivated me. Is it a Shah diamond? A pyramid at Giza? A sculpted icicle? A crystal from Northern Mexico's Cueva de los Cristales? It's a little of all of these. It is a brilliant, original, well-angled, mathematically-intelligent bottle. It uses recycled glass.
Karim Rashid is a prestigious industrial designer and interior architect. His clients, creations, and awards are extensive. Clearly he has another winner with AnestasiA. The bottle's shapes and luminescent qualities whisper and ignite something in you—akin to great paintings, novels, and poetry. I'm reminded of Pablo Picasso, Toni Morrison, and William Butler Yeats.
Like an individual's connection to art, there are universal and personal interpretations. What does the bottle whisper to me? Light; change; harmony; mathematical elegance; a gesture to the stars, since it points upward.
Further, it feels like a beacon, a lighthouse, a bright torch in the black crush of night. In fact, when I watched the bottles being carried across the TAO dance floor last Friday night in Las Vegas, they resembled elegant white torches lighting the way to something better. And nightclub participants hovered and danced like dark moths around the new light.
The only thing equal to the bottle's beauty is the purity and smoothness of the product. You don't have to be a vodka connoisseur to taste immediately that it's fantastic. The water starts from Oregon's snow-capped Cascade Mountains, then gleans essential minerals and natural purification from flowing down through Lava Bed rivers. It's hard to imagine a better genesis. It's then distilled 5x and filtered 5x through Quartz crystal, paired with premium grains and hand-crafted in the city of Bend.
It gets better. The team behind AnestasiA are dedicated to offering a first-class product, but also to one that inspires a revolution of American elegance and sophistication. We have the ability, means, and resources right here in America; luxury need not always hail from France and Italy. The CEO of AnestasiA, American Yuliya Mamontova, comes from over 200 years of Mamontova Ukrainian vodka distillers. America's rich cultural and ancestral heritage can provide a wide spectrum of expertise. This artistic bottle and luxurious taste may seem European, yet it comes from modern America.
The team behind AnestasiA did not seek me out; I saw their bottle, read their story, and sought them. Once I tasted the product, and experienced firsthand how the vodka quality mirrors its high aesthetic, I wanted to showcase it.
I joined them for their brand's introduction to TAO Nightclub. They did not pay an activation fee to get their vodka into TAO. Even more, on their trip to Las Vegas, not a single business has said "no" to carrying/selling AnestasiA. Not even a caveat or disclaimer. The response has been extremely positive.
TAO Nightclub exuded consummate entertainment, sexiness, sauciness, and well-designed festivity, as usual. Gorgeous TAO women staff, dressed in all kinds of colorful, themed costumes, were sprinkled throughout the evening landscape. Vivid Asian colors, reds and oranges and golds, brightened the atmosphere like a Chinese festival.  Of course the place became super-packed, like most big nightclubs in Vegas; thankfully we had our own table and bottle service. I've been on both sides of the velvet rope, and freewheeling without a table can be fun, too, provided you're prepared for the wildness and funkiness of massive crowds.
We had a blast. We danced, drank, met fun new people, and saw Kendra Wilkinson float down from the ceiling, hover over the crowd, and play host to a giant bachelorette party. DJ Ross One spun dance-inducing tracks. Shortly after Kendra's performance, TAO staff carried out AnestasiA bottles over the crowds.
The AnestasiA Team is comprised of talented, hard-working, authentic people, with hearts three times the size of their bottle. I especially appreciate the last trait, as life's too short to surround yourself with ill-natured or unethical individuals. And they know how to cut loose too! I saw some New York and DC come out that night, some brotherhood, some bold moves, and some strategic shenanigans. But that's another tale—one to be written, and read—with some chilled AnestasiA vodka. Cheers!
http://societeperrier.com/articles/karim-rashids-anastasia-vodka-bottle-transforms-alcohol-into-art/#.Ue7yUiLn8bw
http://www.newsday.com/business/introducing-anestasia-vodka-the-newest-a-ultra-premiuma-and-gluten-free-american-made-spirit-1.5709656
http://andrewswinecellar.com/products/anestasia-vodka-750ml
http://www.anestasiavodka.com/