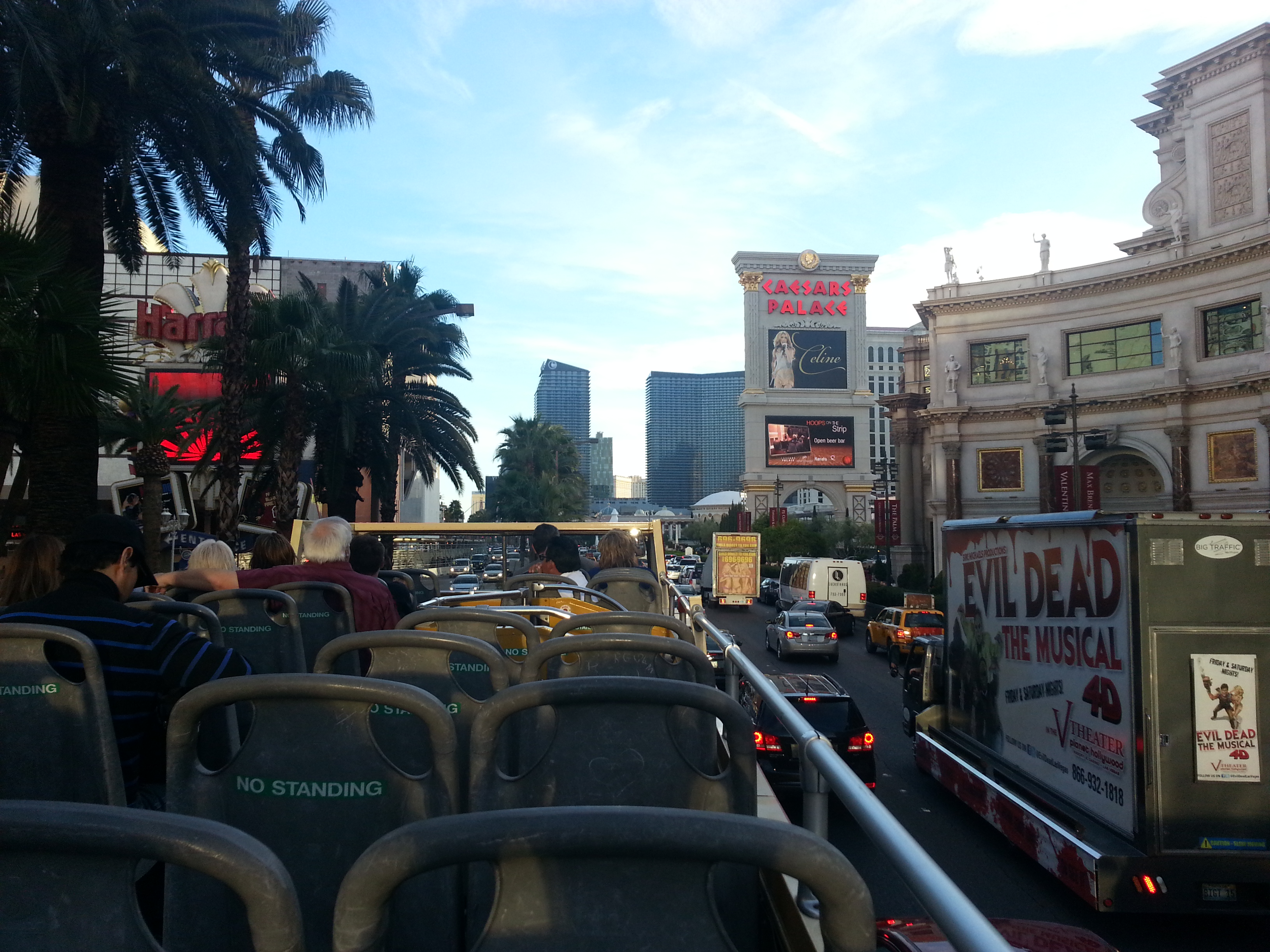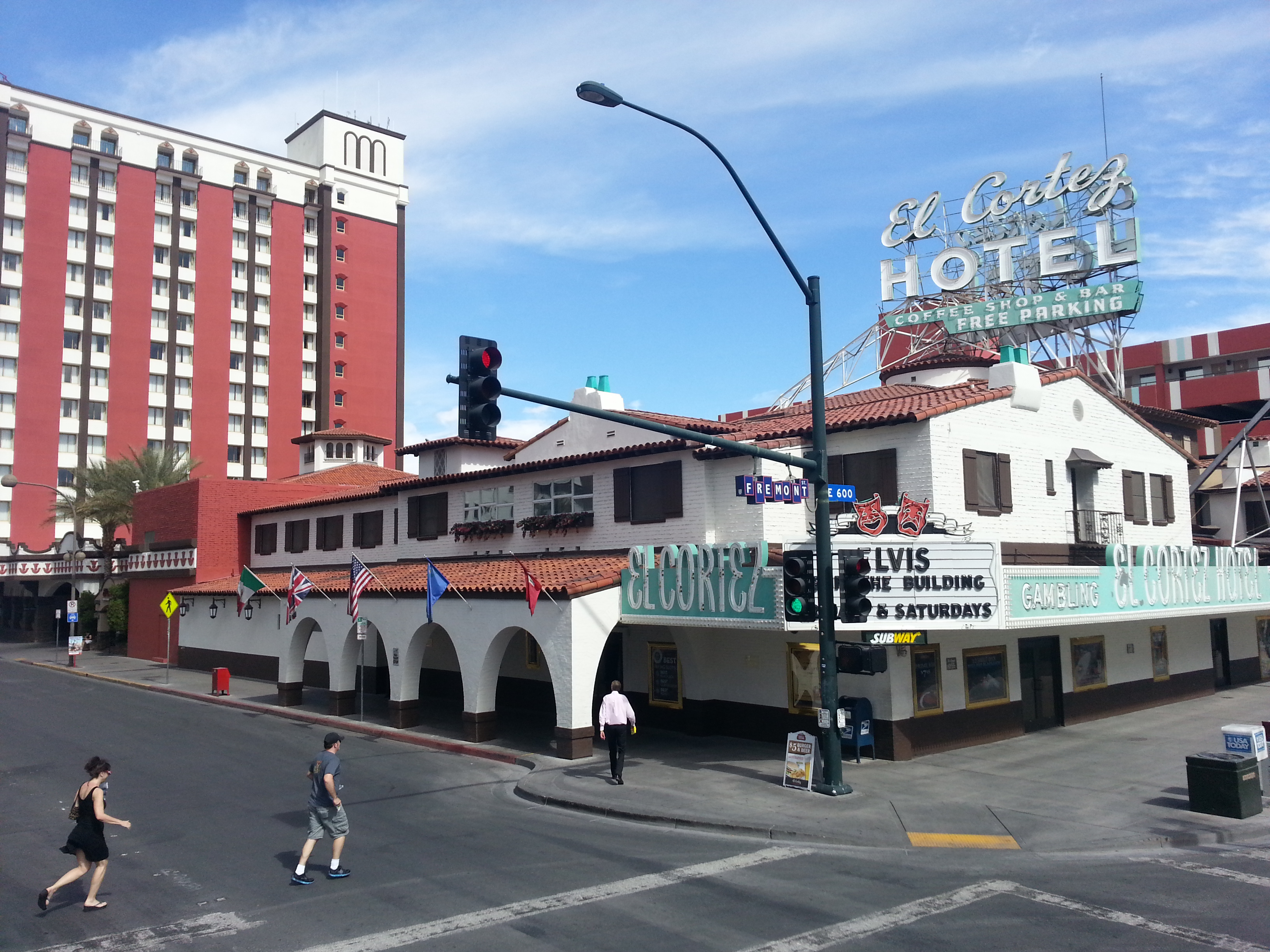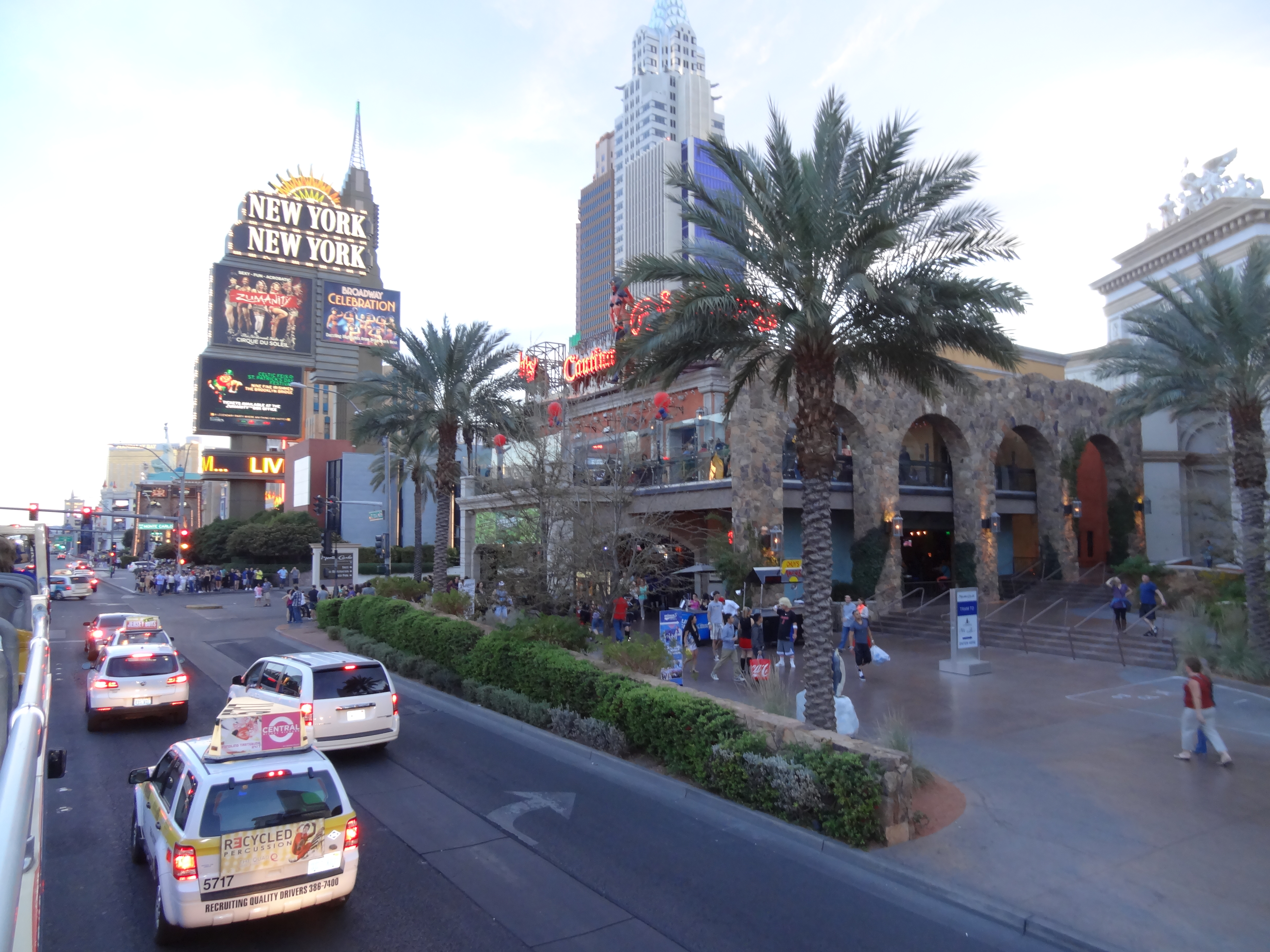 Fun, affordable, and one of the top ways to see and learn about Las Vegas. Good for children too.
I've driven, ridden, and walked the strip a thousand times. The open-top, double-decker, big bus tour quickly became my favorite of all these. It's not about luxury but rather elevation and freedom. You see, feel, and experience so much more. Everyone should do this at least once; I'm amazed that last weekend was my first time. When I used to drive or walk past these buses I would laugh and think, what a corny classic touristy thing to do. Now I can drop the corny and say, this is a classic thing to do!
From an open, heightened vantage point, you see things as if for the first time—other cars don't block or clog your view. Except for hot dry summers, Las Vegas weather is usually perfect: crisp blue skies, little to no wind, clean air, and clear-etched mountains shimmering in the distance. While on the bus top, you don't mind red lights; they give you more time to peer into the flashy hotels, old historic buildings, pawn shop alleyways, glitzy stores, massive fountains, strange assortment of passersby, and all the shine and verve of Vegas!
The tours have lively guides that educate and entertain you with many of the interesting facts, funny stories, and dark tales that helped sculpt the city. I've visited Vegas over a dozen times and lived here nearly two years, yet nearly everything they said was new to me. My friend and I hopped off a few fun places to walk around, soak in sites, enjoy a drink, then hopped on another bus an hour later, simply flashing our receipt to the driver. You can truly self-tailor your day, or follow guide suggestions. We found the guides to be hit and miss: the first was hilarious, quick-witted and charismatic; the second outgoing but occasionally annoying and beat one joke ten feet into the ground; the third neutral. Not a big deal, as all of them knew a ton about Vegas, could answer a wide spectrum of questions, and its easy to tune them out, too, as often we were looking around and visiting amongst ourselves.
This has probably been the best $35 I've spent in Vegas, especially in terms of capturing a quick true feel for the strip, the old downtown, the new downtown's renovation; plus the city's rough and tumble, rags to riches, mobsters to stars to elite businessmen sort of past, matched with present city struggle, luxury, and continual reinvention. Bonus:  you can ride the next day for free if you save your receipt.
Adults $35, Children $18, Families $85.
http://www.bigbustours.com/eng/lasvegas/custompage.aspx?id=las_vegas_tour&gclid=