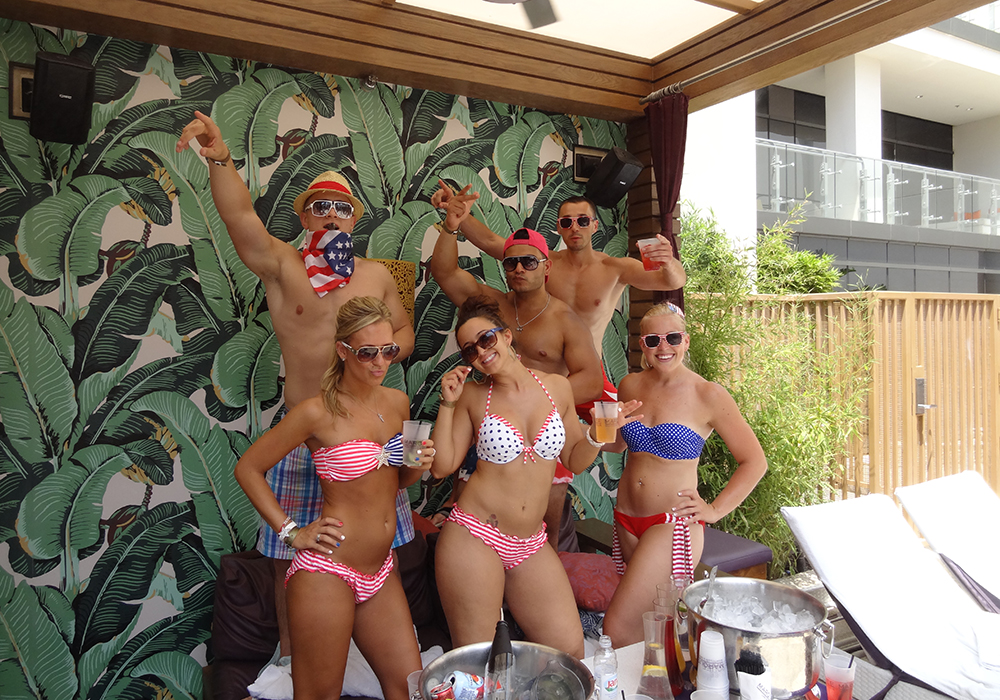 Las Vegas is renowned for its vibrant dayclub scene, offering visitors a chance to bask in the sun, enjoy refreshing cocktails, and dance to electrifying beats. Here's an extensive and detailed profile of the top ten dayclubs in Las Vegas, highlighting their unique features, atmosphere, and notable experiences.
Encore Beach Club (Wynn Las Vegas): Located at the luxurious Wynn Las Vegas, Encore Beach Club is a premier dayclub destination. With its sprawling layout spanning over 60,000 square feet, it features multiple pools, cabanas, and a gaming pavilion. Renowned DJs set the stage for epic parties, while the vibrant atmosphere, high-energy music, and stunning visual effects create an unforgettable experience.
Marquee Dayclub (The Cosmopolitan): Situated atop The Cosmopolitan, Marquee Dayclub offers an exceptional poolside experience. Its expansive venue includes several pools, daybeds, and a two-story grand cabana with a private infinity pool. The club hosts world-class DJs and boasts a state-of-the-art sound system, mesmerizing lighting displays, and a lively ambiance that attracts a trendy crowd.
Wet Republic Ultra Pool (MGM Grand): Wet Republic Ultra Pool is an iconic dayclub at the MGM Grand, known for its impressive lineup of renowned DJs. The sprawling 54,500 square feet venue showcases a massive saltwater pool, multiple hot tubs, and luxurious VIP bungalows. With its energetic atmosphere, cutting-edge technology, and extravagant pool parties, Wet Republic remains a Las Vegas favorite.
Drai's Beachclub (The Cromwell): Perched atop The Cromwell, Drai's Beachclub offers a stunning rooftop oasis with panoramic views of the Las Vegas Strip. The venue boasts a central pool surrounded by VIP cabanas, daybeds, and luxury bungalows. Known for its high-profile celebrity appearances and top-tier musical performances, Drai's Beachclub guarantees an upscale and energetic experience.
Daylight Beach Club (Mandalay Bay): Daylight Beach Club, situated at Mandalay Bay, is a vibrant tropical-themed dayclub that combines music, technology, and poolside entertainment. The 50,000 square feet venue boasts a massive stage, multiple pools, private bungalows, and cabanas. With its immersive sound system, visually stunning LED screens, and a lively crowd, Daylight Beach Club sets the stage for exhilarating parties.
Tao Beach (The Venetian): Tao Beach, located at The Venetian, offers a serene and sophisticated dayclub experience. The intimate venue features Asian-inspired design, lush landscaping, and a 30-foot bar. Guests can relax on daybeds or reserve private cabanas with their own infinity pools. Tao Beach provides a more laid-back atmosphere while still delivering high-quality entertainment and world-class hospitality.
Liquid Pool Lounge (ARIA): Liquid Pool Lounge, nestled within ARIA, provides a sophisticated and stylish escape from the bustling Las Vegas Strip. This adult-only dayclub offers a secluded and intimate environment with a sleek pool, private cabanas, and daybeds. With its focus on luxury and relaxation, Liquid is the perfect spot to unwind and enjoy the sunshine in a more serene setting.
JEMAA – The NoMad Pool Party (NoMad Las Vegas): Located at the NoMad Las Vegas, JEMAA offers a chic and vibrant dayclub experience. The club features a lively pool area with Moroccan-inspired decor, luxurious cabanas, and comfortable lounges. Known for its unique cocktail program, JEMAA offers handcrafted drinks and a delectable food menu. The atmosphere is lively yet relaxed, providing a distinctive and memorable experience.
Bare Pool Lounge (The Mirage): Bare Pool Lounge, situated at The Mirage, is a European-style dayclub known for its topless sunbathing experience. The intimate venue offers a more laid-back atmosphere, featuring a beautiful pool surrounded by daybeds, cabanas, and lush palm trees. With its relaxed dress code and tranquil setting, Bare Pool Lounge is the perfect place to soak up the sun and unwind.
Sapphire Pool & Dayclub (Sapphire Las Vegas): Sapphire Pool & Dayclub is a unique and enticing option, situated at the world's largest gentlemen's club, Sapphire Las Vegas. The venue boasts a massive pool, multiple bars, and an array of cabanas and daybeds. Guests can enjoy live entertainment, poolside bottle service, and a vibrant party atmosphere. With its combination of adult entertainment and a lively dayclub experience, Sapphire offers a distinct and unforgettable Las Vegas adventure.
These top ten dayclubs in Las Vegas provide an array of options to suit different preferences, from high-energy pool parties with renowned DJs to more serene and sophisticated environments. Whether you're seeking electrifying entertainment or a tranquil poolside escape, Las Vegas' dayclubs deliver unforgettable experiences in a city known for its vibrant nightlife and entertainment scene.