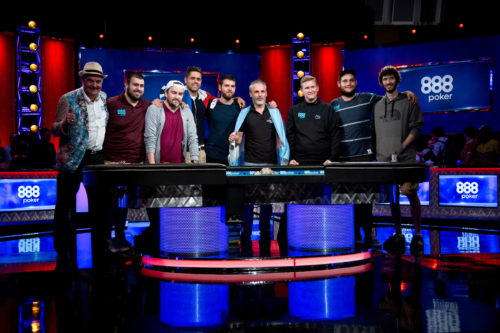 Photo credit: Jamie Thomson/WSOP
Final Table Set at 2017 World Series of Poker Main Event
Poker's World Championship Features Players from Four Nations
Players Return Thursday to Battle for More Than $26 Million in Prize Money & to Crown Poker's World Champion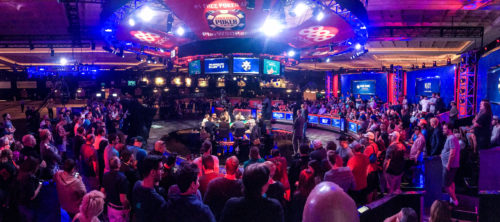 LAS VEGAS (July 18, 2017) – The 48th annual World Series of Poker (WSOP) $10,000 No-Limit Hold'em Championship – commonly referred to as the Main Event – is down to its final nine players, including two whom have been here previously in the past decade, who are each guaranteed at least $1,000,000 in prize money. The WSOP Main Event Final Table is all that remains of the massive field of 7,221 players from 83 different nations, who entered the iconic tournament seeking poker's most coveted title, a top prize of $8,150,000 and the Jostens-encrusted gold and diamond bracelet.
The final nine players represent four countries – Argentina, France, United Kingdom and the United States. The players will return to the Rio All-Suite Hotel and Casino on Thursday, July 20 to vie for poker's ultimate trophy – a WSOP gold bracelet – and the lion's share of the Main Event's $67,877,400 total prize pool in front of live television cameras in primetime on ESPN.  The winner will receive a guaranteed first-place prize of $8,150,000, with the other eight players sharing another $18+ million.
The WSOP Main Event Final Table and their respective seat assignments and chip counts are as follows:
Scott Blumstein – 97,250,000 – Seat 2 – Chip Leader – @SBlum2711
25-year-old Scott Blumstein is the youngest player remaining.  The Brigantine, New Jersey resident has never cashed in the World Series of Poker heading into this event.  His total live tournament winnings sit at $312,142, including a first-place finish in a $560 buy-in poker tournament last summer in Atlantic City where he won $199,854.  He has guaranteed himself a lot more than that.  The Temple University graduate with a degree in accounting is playing the WSOP Main Event for the first time and this marked his only official WSOP gold bracelet event he entered this summer.  A huge sports fan, Blumstein roots for the New York Jets, the Portland Trail Blazers and the Oakland Athletics.
John Hesp – 85,700,000 – Seat 1 – 2nd in Chips
The oldest player remaining at this table is 64-year-old John Hesp from Bridlington, United Kingdom, a coastal town off the North Sea.  Hesp has turned into a fan favorite in this tournament, with his colorful outfits, Panama hat and the jolly time he seems to be having at the table.  And why wouldn't he be having fun?  This is his first time playing at the WSOP, as it was on his bucket list, and his wife gave him the go ahead to come this year.  He chose the Main Event and low and behold, here he is at the final table.  With just $2,207 in known live poker tournament winnings, Hesp is sure making the most of his opportunity.  The owner of a company that rents caravan vacation homes, Hesp has made himself right at home here at the WSOP in Las Vegas.  The married father of four and grandfather of seven, had to extend his return trip home a couple times, and promises to treat his family to nice gifts when he returns.  A recreational poker player for more than 20 years, Hesp told PokerNews.com when asked about his status as a player, 'I am to poker what Donald Trump is to politics – an amateur.'  Hesp can be the oldest Main Event winner since 1974.  Johnny Moss was 66 when he won the event that year, still the oldest on record.  He can also become the first British-born player to capture the crown.
Benjamin Pollak – 35,175,000 – Seat 4 – 3rd in Chips – @PollakB
Frenchman Benjamin Pollak is an accomplished 34-year-old poker professional from Paris who is now residing in London.  With $2,967,782 in live poker tournament winnings heading into this event, Pollak is no stranger to going deep in the WSOP Main Event, finishing 27th in 2013, where he won $285,408.  He played seven events at the 2017 WSOP, and this marks his first cash. Pollak has 12 previous WSOP cashes, $466,826 in previous earnings here, and also has a victory in a European event on his resume.  Pollak has spent years practicing magic, and may have a trick up his sleeve for his opponents at this final table.  The former Engineering student at ECE in Paris, Pollak is the first Frenchman to make the WSOP Main Event final table since Sylvain Loosli in 2013.
Bryan Piccioli – 33,800,000 – Seat 8 – 4th in Chips — @theczar19
WSOP gold bracelet winner Bryan Piccioli, a 28-year-old from San Diego, California comes to this final table with the most career WSOP cashes of anyone here, with 26.  Piccioli has career live poker tournament winnings of $1,909,374 and is one of only two players here with a WSOP gold bracelet, winning his at WSOP Asia-Pacific in 2013 when he captured the $1,100 Accumulator No-Limit Hold'em title.  Piccioli played in 25 WSOP gold bracelet events in 2017, cashing three times.  This marks the third consecutive year he has cashed in the WSOP Main Event, finishing 84th in 2016 and 958th in 2015.  Originally from Allegany, New York, Piccioli attended University of Buffalo before turning to professional poker full-time.
Daniel Ott – 26,475,000 – Seat 9 – 5th in Chips
A 25-year-old hailing from Altoona, Pennsylvania, Daniel Ott isn't a well-known live tournament poker player.  His live tournament winnings total $3,656, all coming via two previous cashes this summer.  Ott has played 10 events at the WSOP, including the Main Event, and with this final table, cashed in three of them.  This is his first-ever WSOP Main Event cash.  Ott is a graduate of Penn State University with a marketing degree.  He has a twin brother named Dillon, and both of them played in the WSOP Main Event for the first time this year and also cashed in the $1,000 Tag Team event.
Damian Salas – 22,175,000 – Seat 6 – 6th in Chips — @myycuhlruane
Damian Salas becomes the first Argentinian-born player to make the WSOP Main Event final table.  The 42-year-old professional poker player from Chascomus has $919,525 in career live tournament winnings. With $1 million guaranteed for making this final table, his earnings will at least double.  Salas played seven events at the WSOP this summer, cashing in three of them.  He has also cashed twice previously in the WSOP Main Event, last year in 418th place and in 2013 in 606th place.  Salas has a previous WSOP final table on his resume, finishing fifth last year in a $1,500 No-Limit Hold'em Shootout event.  With $177,983 career WSOP earnings and 13 career cashes, this is Salas' biggest moment in his WSOP career.  Salas also is a business lawyer, with a Master's degree and a JD.  He is married with three children.
Antoine Saout – 21,750,000 – Seat 3 – 7th in Chips — @tonio292
Amazingly, Antoine Saout, from Morlaix, France, now residing in London, has navigated his way through a huge WSOP Main Event field to the final table once again.  The 33-year-old Frenchman finished third in this event in 2009, outlasting 6,492 others and bursting on to the poker scene with a huge $3,479,669 payday.  Now nine years later, Saout is a grizzled poker veteran, amassing over $5.5 million in live poker tournament winnings.  The former Information Technology student turned poker pro has played 20 events at the 2017 WSOP, with this event marking his third cash.  He is still looking for his first major tournament victory, and after some unlucky breaks pushed him out in third his first go round in this event, perhaps those experiences will help him navigate this tough field this time around.
Jack Sinclair – 20,200,000 – Seat 8 – 8th in Chips – @jacksincredible
Jack Sinclair is a 26-year-old from London, England who has just $13,500 in live poker tournament winnings and made his first-ever trip to Las Vegas this summer.  He played 11 events at the 2017 WSOP, and the Main Event marks his third cash this year, and Sinclair's third at the WSOP overall.  His best live tournament finish was earlier this year when he finished in 161st place for just over $9,000.  Sinclair plays online poker typically, initially learning his way via free-to-play social poker games.  He has received coaching from two well-known pros, Philip Gruissem and Anton Morgenstern, helping to improve his game quickly.  Sinclair attended Surrey University for Music and Recording for two years, which is where he picked up poker.  A drummer, Sinclair worked in a recording studio and his father made his living as a music critic.  He won a 60-million chip pot holding pocket Kings versus an opponent's pocket Queens with 17 players remaining to propel his way to poker's richest final table.  Sinclair can become just the second Brit to win poker's ultimate crown, joining Mansour Matloubi, who won the event in 1990.  Although, Matloubi is Iranian-born, making Sinclair the first British-born winner of the WSOP Main Event.
Ben Lamb – 18,050,000 – Seat 7 – 9th in Chips — @BenbaLamb
It's hard to argue what Ben Lamb has done in the WSOP Main Event the last nine years isn't among the greatest in history.  This is his third top-14 finish.  The 32-year-old former Tulsa, Oklahoma native now residing in Las Vegas, outlasted 6,480 players and picked up $633,022 at the 2009 WSOP Main Event.  He followed that up by finishing third at the 2011 WSOP Main Event, winning $4,021,138 and outlasting 6,863 players.  Now he has made his second WSOP Main Event final table in seven years, outlasting 7,213 players in the process.  Lamb has outlasted 20,556 others in his three deep runs in poker's largest annual tournament.  He has won $6,209,724 in WSOP events via 14 previous cashes, including winning a WSOP gold bracelet in the $10,000 Pot-Limit Omaha championship at the 2011 WSOP, where he added $814,436 in prize money.  Lamb is a professional poker player who primarily plays high stakes cash games.  The 2017 WSOP Main Event was one of only seven events he played this year, and he has cashed twice.  With $7,207,830 in career live poker earnings, players at this table will have to keep a watchful eye on "Benba" as he looks to add his second career WSOP gold bracelet to his resume.
Michael Ruane, last year's fourth place finisher, was the final table bubble boy this year, finishing in tenth place, one spot from going back-to-back WSOP Main Event final tables.  Ruane, a 29-year-old from Hoboken, New Jersey, went all in with the Ace-Six of Clubs for his last 1,900,000 chips.   Damian Salas then moved all-in for more with a pair of Jacks and the rest of the table folded.  The board ran out 7-3-10-9-Q, and Ruane was officially eliminated with 1 hour, 7 minutes and one second left in Level 37 at 1:18am Pacific Time in Las Vegas on Tuesday, July 18.  Ruane walks away with a nice $825,001 consolation prize and the final table is now officially set.
Prize money for the remaining nine spots is as follows:
1st place: $8,150,000
2nd place: $4,700,000
3rd place: $3,500,000
4th place: $2,600,000
5th place: $2,000,000
6th place: $1,675,000
7th place: $1,425,000
8th place: $1,200,000
9th place: $1,000,000
When play resumes Thursday, the players will pick up with 1 hour, 7 minutes and 1 second remaining in Level 37. The antes will be 100,000 and blinds will stand at 400,000 and 800,000.
The WSOP Main Event Final table television coverage will begin airing Thursday on ESPN2.  Action is on a 30-minute delay to conform to gaming regulations. TV coverage is as follows:
·       Thursday, July 20 – 6:00pm in Las Vegas (Playing from 9 players to 6 players) – ESPN2
·       Friday, July 21 – 6:00pm in Las Vegas (Playing from 6 players to 3 players) – ESPN
·       Saturday, July 22 – 6:00pm in Las Vegas (Playing from 3 players to a winner) — ESPN
The 2017 Main Event capped the largest-ever WSOP in terms of entrants in the 48-year history of the event. A total of 120,995 players from 111 countries entered the 74 events on this summer's WSOP schedule, generating a total prize pool of $231,010,874.
The 2017 Main Event was the third-largest in the tournament's illustrious 48-year history, drawing 7,221 players from 83 nations, trailing only the 2006 and 2010 editions. The average age of entrants in the event was 40.59 years old, with the oldest entrant, Carmel, New York resident William Wachter age 96, and the youngest, Alex Conklin, from Webster, New York, who turned 21 years old the day he began play on July 9.  272 females comprised this year's field.  Yuan Li from Ottawa, Ontaria, Canada was the last female standing, finishing in 105th place good for $53,247.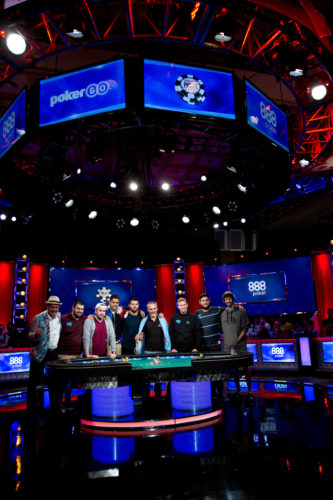 ABOUT THE WSOP
The World Series of Poker (WSOP) is the largest, richest and most prestigious gaming event in the world, awarding millions of dollars in prize money and the prestigious gold bracelet – globally recognized as the sport's top prize. Featuring a comprehensive slate of tournaments in every major poker variation, the WSOP is poker's longest running tournament in the world, dating back to 1970. In 2017, the event attracted a record 120,995 entrants from 111 different countries to the Rio in Las Vegas and awarded more than $231 million in prize money. In addition the WSOP has formed groundbreaking alliances in broadcasting, digital media and corporate sponsorships, while successfully expanding the brand internationally with the advent of the World Series of Poker Europe, and now in 2017 WSOP China. For more information on the World Series of Poker, please visit www.WSOP.com.