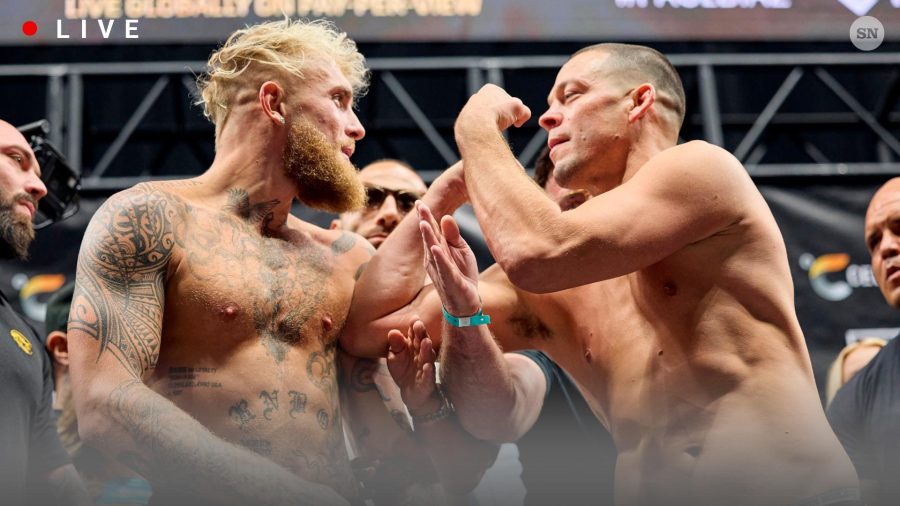 Jake Paul and Nate Diaz Profiles
Jake Paul: The Maverick's Rise to Fame and Fistic Triumphs
Introduction:
Jake Paul, born on January 17, 1997, in Cleveland, Ohio, is an American internet personality, social media sensation, and professional boxer. He shot to prominence through his viral Vine and YouTube videos, ultimately becoming one of the most recognizable figures in the world of online entertainment and boxing. With a controversial yet undeniable charisma, Paul has carved a unique path to success, captivating millions of fans and critics alike with his daring endeavors.
The Maverick Emerges:
Jake Paul's ascent to fame began in 2013 when he and his older brother Logan Paul started posting six-second comedic clips on Vine. Their unique blend of humor and creativity quickly gained traction, amassing a massive following. As Vine declined, the Paul brothers transitioned to YouTube, where they experienced even greater success. Jake's entertaining vlogs, pranks, and engaging personality contributed to his rapid growth on the platform.
Venturing into Boxing:
In 2018, Jake Paul decided to embark on a new challenge and entered the world of professional boxing. He was already known for his brash demeanor and willingness to take risks, making boxing a natural fit for his adventurous personality. His debut boxing match took place in Manchester, England, against fellow YouTuber Deji Olatunji, younger brother of KSI. The fight was part of the undercard for the much-hyped Logan Paul vs. KSI boxing match. Jake's victory by TKO further fueled his passion for the sport and solidified his status as a legitimate boxer.
The KSI Rivalry:
Jake Paul's most high-profile boxing rivalry developed against KSI, another prominent YouTube personality-turned-boxer. The feud between the two ignited a massive buzz in the digital realm and drew attention from both boxing enthusiasts and casual viewers. KSI and Jake engaged in a fierce war of words through social media, leading to an anticipated showdown in the ring. However, their first bout never materialized due to various issues and disagreements.
The AnEsonGib Showdown:
Despite the initial KSI bout not materializing, Jake Paul continued his boxing journey and took on British YouTuber AnEsonGib, also known as Gib. The match took place on January 30, 2020, in Miami, Florida, as part of the Super Bowl LIV weekend. Displaying his improved boxing skills, Jake dominated the fight, securing a victory with a technical knockout in the first round. This win further validated his status as a legitimate boxer and attracted even more attention to his future fights.
Nate Robinson Clash:
Jake Paul's boxing ambitions expanded beyond the YouTube realm when he faced off against former NBA star Nate Robinson on November 28, 2020, on the undercard of the highly anticipated Mike Tyson vs. Roy Jones Jr. exhibition match. The event attracted significant mainstream media attention, with Paul emerging as the clear favorite. Demonstrating impressive athleticism and honed skills, Jake delivered a devastating knockout, sending Robinson to the canvas in the second round. The victory thrust him further into the limelight and cemented his position as a legitimate contender in the sport.
Tyron Woodley Showdown:
Continuing his ascent, Jake Paul sought higher-profile opponents to test his mettle. On August 29, 2021, he faced off against former UFC welterweight champion Tyron Woodley in a highly anticipated boxing match. The fight went the distance, with both fighters showcasing their strengths and strategies. In the end, Jake secured a split decision victory, adding another notable name to his list of conquered opponents.
Conclusion:
Jake Paul's journey from a social media sensation to a legitimate professional boxer is a testament to his tenacity, ambition, and willingness to take risks. While his rise to fame has been filled with controversy and criticism, he has undeniably made a significant impact on both the online entertainment industry and the world of boxing. As he continues to take on new challenges, Jake Paul's influence and legacy are likely to endure, leaving an indelible mark on pop culture and sports entertainment.
Nate Diaz: The Stockton Slugger's Journey to MMA Stardom
Introduction:
Nate Diaz, born on April 16, 1985, in Stockton, California, is an American mixed martial artist (MMA) known for his relentless fighting style, exceptional jiu-jitsu skills, and unyielding spirit inside the octagon. Hailing from a family with a strong martial arts background, Diaz has carved his own path to greatness, becoming one of the most beloved and respected fighters in the history of the sport.
Early Life and Martial Arts Roots:
Nate Diaz's introduction to martial arts came at an early age. Raised in a family of fighters, with his brother Nick Diaz being a well-established MMA veteran, he was immersed in the world of combat sports from a young age. Nate began training in Brazilian Jiu-Jitsu under the tutelage of Brazilian jiu-jitsu black belt Cesar Gracie, who would later become a key figure in his MMA career.
UFC Debut and The Ultimate Fighter:
Nate Diaz's rise to fame began in the Ultimate Fighting Championship (UFC). He made his UFC debut on The Ultimate Fighter 5, a reality show featuring up-and-coming fighters. Nate's performance on the show showcased his formidable grappling skills and unyielding spirit, capturing the attention of both fans and UFC officials. He eventually reached the show's finals, where he submitted his opponent, Manvel Gamburyan, via a modified rear-naked choke, securing a UFC contract.
The McGregor Rivalry:
One of the defining moments in Nate Diaz's career came when he faced the charismatic Irish superstar Conor McGregor. The two first clashed at UFC 196 on March 5, 2016, when Diaz stepped in on short notice to replace McGregor's original opponent. In a stunning upset, Diaz weathered an early storm and submitted McGregor in the second round via a rear-naked choke.
Their rivalry continued at UFC 202, in a highly anticipated rematch. The fight was a back-and-forth war, with both fighters displaying tremendous heart and determination. Diaz ultimately lost via a close majority decision, but the epic showdown solidified his status as one of the sport's most exciting and durable fighters.
The BMF Title and Jorge Masvidal:
Nate Diaz's reputation for taking on all comers and his ability to draw crowds earned him the opportunity to fight for the inaugural "BMF" (Baddest Motherf*cker) title. His opponent was Jorge Masvidal, another fan-favorite known for his striking prowess and toughness.
The clash took place at UFC 244 on November 2, 2019, at Madison Square Garden in New York City. The fight was a thrilling spectacle, with both fighters engaging in a five-round war that showcased their exceptional skills and determination. Unfortunately for Diaz, a doctor's stoppage due to a cut ended the fight, resulting in a TKO victory for Masvidal. Despite the loss, Diaz's stock continued to rise as he demonstrated once again why he was considered one of the sport's most exciting competitors.
Notable Victories and Accomplishments:
Throughout his MMA career, Nate Diaz has accumulated numerous notable victories over top-ranked opponents, solidifying his reputation as a force to be reckoned with in the lightweight division. Some of his notable wins include victories over Michael Johnson, Gray Maynard, and Donald "Cowboy" Cerrone.
Diaz's performances have earned him several post-fight bonuses, such as "Fight of the Night" and "Submission of the Night," further cementing his status as an entertainer and a crowd favorite.
Conclusion:
Nate Diaz's journey to MMA stardom is a testament to his unrelenting work ethic, warrior spirit, and unwavering dedication to his craft. As a true representative of Stockton, California, he has endeared himself to fans worldwide with his fearless fighting style and willingness to take on any challenge. As he continues to compete and entertain, Diaz's legacy in the sport of MMA is secure, leaving an indelible mark on the hearts of fight fans and fellow competitors alike.