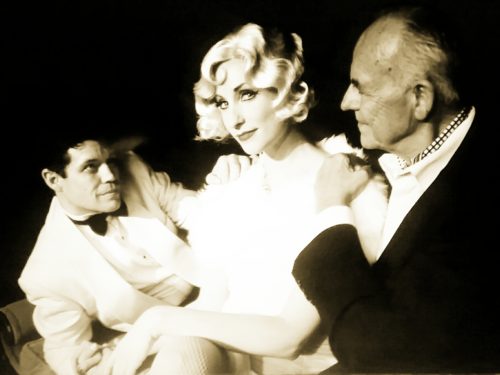 From our fun festive friends at the Velveteen Rabbit —
JAZZ ERA MYSTERY "THE CAT'S MEOW" RETURNS FOR EXTENDED RUN
After a successful workshop, Table 8 Productions and Velveteen Rabbit are excited to announce the return engagement of THE CAT'S MEOW.
In November 1924, a mysterious Hollywood death occurred aboard media mogul William Randolph Hearst's yacht. Included among the famous guests that weekend were Charlie Chaplin; Hearst's mistress, starlet Marion Davies; the studio system creator, producer Thomas Ince; and feared gossip columnist, Louella Parsons…
Table 8 Productions will sweep you back to the Jazz Age and aboard that very exclusive yacht in THE CAT'S MEOW, a new immersive staging of Steven Peros's play during a limited run at Velveteen Rabbit, Las Vegas's most popular Arts District nightspot.
"The response was phenomenal with sold out houses," says director Troy Heard. "Pamela and Christina (Dylag, the owners of Velveteen Rabbit) had people come in who'd never been there and have become new fans, and so many people came dressed in costume that we're encouraging that this time around."
Performances will be Sunday nights beginning August 7st at 7 p.m., and the last performance will be September 4th at 7p.m. Cocktail hour begins at 6 p.m. Tickets are $25 for bar seating and $30 for lounge seating. All tickets include a cocktail specially concocted for the event. Admission is limited to adults 21 and older.
Velveteen Rabbit is located at 1218 S. Main St., Las Vegas, NV 89104. For tickets and information, visit Table 8 Productions' website at www.table8lv.com.
Hope you can make it!!