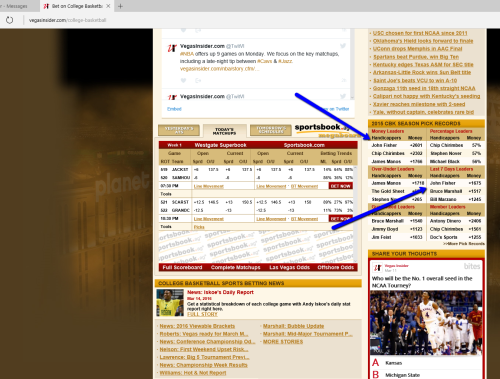 Most of the country has not heard of Isiah Miles of the St. Joes Hawks. He is one of the most versatile players in the country. He's a difficult cover because he's too quick for bigs guarding him and too powerful versus quick smaller players. Getting 4.5 pts in what should be a pkem is a blessing for HCs. Rams defense has been impressive but the Jawks have just finished off two better teams in GW and Dayton. While VCU has played and won against two mediocre teams in Umass and Davidson. St joes +4.5 GUARANTEE
WINNER….GUARANTEE PLAY ON SAINT JOSEPHS +4.5 WINS OUTRIGHT by DDs
Brings me to 18-3-1 run.
Bembry and Miles lethal combo
Spartans were lucky to defeat Maryland. Melo Trimble has become a ghost of himself,and that was enough to keep Terps scoreless for 10 minutes from the field …Spartans will cease the moment and make sure this won't be necessary to beat Purdue. Purdue beat the Spartans in OT earlier this year thanks to a decisive edge in FTs thanks to Hammonds and Haas and Edwards who shot 22 FTs . But this will be a test for Hammonds and Haas who will be playing 3 consecutive games. There were 19 threes and 40 FTs made yet the total just reached 142 until OT. That is what the total is set at today. I expect pace to be slower than that game because of fatigue and adjustments. Bottom Line Izzo will have his,team ready and will clamp down as always on defense. Number 1 seed is on the line here. Michigan State -4 Under 143
Michigan State 66-62 Push Under 143 Hits
21-3-2 L25 picks
noUconn breezed by Temple after their 4 OT thriller versus Cincinnatti. Once again Uconn is peaking at the right time and Memphis will be hard pressed to even keep this game within striking distance. Memphis has struggled on offense most of the year and has relied on Shaq Goodwin for most of their offense. Uconns balance will prevail and after the 10 minute second half look for Memphis to fade. Look for a game where you will see tired legs and baskets hard to come by…..Uconn -5.5 Under 139 3 Stars
GUARANTEE HITS AMD SO DOES THIS PARLAY AS UCONN COVERS AND UNDER HITS