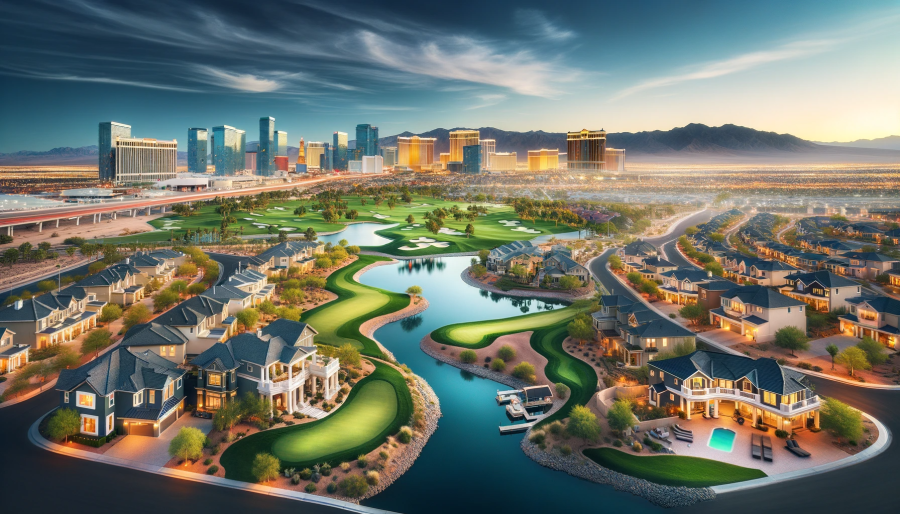 Las Vegas, the vibrant city of lights and endless entertainment, is constantly evolving, adapting, and reinventing itself. From groundbreaking technological advancements to transformative urban developments, Las Vegas is embracing the future with open arms. Let's delve into some of the exciting recent developments and new growth that are shaping the city's dynamic landscape.
Las Vegas is at the forefront of technological innovation, embracing cutting-edge advancements to enhance the city's offerings.
Artificial Intelligence (AI): AI is being integrated into various aspects of the Las Vegas experience, from personalized concierge services at hotels to immersive augmented reality (AR) experiences at attractions.
Blockchain Technology: Blockchain is revolutionizing the gaming industry, introducing secure and transparent payment systems.
Internet of Things (IoT): IoT is transforming the city's infrastructure, enabling real-time traffic management, smart lighting systems, and connected devices.
Virtual Reality (VR): VR is creating immersive entertainment experiences, allowing visitors to step into virtual worlds and engage with digital content in new and exciting ways.
These technological advancements are enhancing the city's appeal, drawing in tech-savvy individuals and companies seeking to be at the forefront of innovation.
Urban Developments Las Vegas is undergoing a transformative development spree, redefining its skyline and creating vibrant new neighborhoods.
Downtown Revitalization: Downtown Las Vegas is experiencing a resurgence, with new pedestrian-friendly streetscapes, trendy restaurants, and upscale residential developments.
Arts District: The Arts District is flourishing, attracting artists, galleries, and creative businesses, creating a vibrant cultural hub.
Stadium District: The construction of a new major league baseball stadium is catalyzing the development of a mixed-use entertainment district, complete with retail, dining, and residential options.
Innovation District: A new Innovation District is emerging, fostering collaboration between technology companies, research institutions, and startups.
These urban developments are breathing new life into the city, creating a dynamic mix of attractions and opportunities.
Economic Growth
Las Vegas is experiencing robust economic growth, fueled by a strong tourism industry, a diversifying economy, and a growing population.
Tourism: Las Vegas remains a top tourist destination, attracting millions of visitors annually. New attractions, such as the AREA15 entertainment complex and the MSG Sphere, are further solidifying the city's position as a global entertainment hub.
Economic Diversification: Las Vegas is expanding its economic base, attracting tech companies, healthcare providers, and financial institutions. This diversification is creating new jobs and opportunities for residents.
Population Growth: Las Vegas is one of the fastest-growing cities in the United States, attracting new residents from across the country. This population growth is driving demand for housing, businesses, and services, further fueling economic activity.
These factors are contributing to a prosperous economic environment, creating a positive outlook for the city's future.
Conclusion Las Vegas is a city that never sleeps, and its constant evolution is a testament to its dynamic spirit. With its embrace of technology, its commitment to urban development, and its strong economic growth, Las Vegas is poised to remain a vibrant and exciting destination for years to come.
Article above via Google Bard, article below via ChatGPT.
Emerging Horizons in Las Vegas: A City in Constant Reinvention
Palomino: Urban Living Redefined Palomino emerges as a vibrant mixed-use community, strategically located for easy access to the famed Las Vegas Strip. Offering a blend of residential and commercial real estate, it caters to those seeking dynamic urban living. The community is designed for ease of travel and a robust urban experience with diverse housing options and commercial conveniences like strip malls and establishments, enhancing the area's economic development​​.
Redpoint: Suburbia with a Modern Twist Redpoint is an innovative development that marries the charm of suburbia with modern urbanity. This community is a portal to the desirable Summerlin West, offering a variety of homes that resonate with urban vibes. The neighborhood is adorned with a mix of Spanish and contemporary architecture, offering pedestrian-friendly zones, interconnected trails, and an abundance of parks and open spaces​​.
Rhodes Ranch: Luxurious Amenities Meet Natural Beauty Rhodes Ranch, a master-planned community, boasts of a stunning golf course and a plethora of amenities. Located near the Spring Valley, it's a stone's throw from the Strip yet offers tranquil views of the Spring Mountain range. Its Rhodes Ranch Golf Club is complemented by a recreation center, water park, and a range of fitness and leisure facilities​​.
Section 10: Spacious Living in a Prime Location Section 10 offers an exclusive collection of residences on expansive lots, ensuring ample outdoor space – a rarity in Southern Nevada. Located within a convenient distance from the Strip, it balances the appeal of suburban life with the convenience of city living, including proximity to supermarkets and family-friendly amenities​​.
The Lakes: A Waterfront Oasis The Lakes presents a high-end residential experience over two square miles, featuring gated communities, large homes, and private docks on Lake Sahara. This tranquil setting is near the Spring Mountains, with schools, parks, and medical facilities within reach, albeit with a lower walkability score, making it more car-dependent​​.
Peccole Ranch: Affordability Meets Design Peccole Ranch is a well-thought-out community offering twenty-two neighborhoods with diverse housing options from gated to non-gated subdivisions. It's a perfect pick for those seeking starter homes and values privacy. The community is replete with parks, walking paths, and sports facilities, yet it notes a need for a car due to limited public transportation​​.
Desert Shores: Resort-Style Living Desert Shores is a tranquil master-planned lake community, offering a resort-style living with private docks, a clubhouse, and a selection of recreational facilities. The established neighborhood provides a variety of housing types and ample opportunities for outdoor activities, although it has limited public transportation​​.
Las Vegas Country Club: Timeless Elegance The historic Las Vegas Country Club stands as a testimony to timeless elegance with its private golf course, a range of amenities, and a clubhouse overlooking a park-like environment. Centrally located, it provides easy access to healthcare, shopping, and a variety of schools within the Clark County School District​​.
Las Vegas continues to redefine its landscape with these developments, offering a mix of luxury, convenience, and lifestyle choices for its residents.