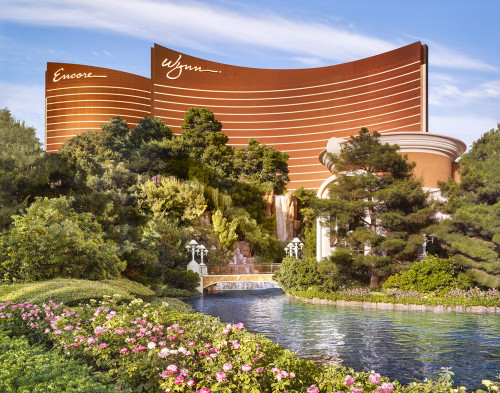 Wynn Resorts Announces Plans for Resort Expansion
Steve Wynn and Wynn Resorts discussed plans at an investor conference recently for a new entertainment destination built around a first-ever recreational lake concept. The development is subject to approval by the company's Board of Directors and will include a 38-acre lagoon, surrounded by premium meetings and convention space, a 1,000 room hotel tower, a small casino and extensive dining and nightlife. The elaborate water attraction will include both daytime and nighttime entertainment elements. Tentatively called Wynn Paradise Park, the expansion will be constructed on approximately 130 acres of real estate that currently houses the Wynn Golf Club.  The proposed lagoon will be lined by a pristine white sand beach and boardwalk and feature an array of daytime activities including water skiing, paddle boarding and parasailing.  At night, the space will transform with an elaborate fireworks display that is launched from the 120 ft. center island and surrounding areas. Wynn Paradise Park will add 260,000 square feet of premium meetings space with unobstructed views of the waterfront, spacious guest rooms with a separate bedroom, living room and balcony, and a variety of restaurants, including an expansion of the current Country Club restaurant. For more information, contact Deanna Pettit-Irestone, Wynn Las Vegas, Deanna.pettit-irestone@wynnlasvegas.com​.
Derek & Greg Stevens Extend Investment in Downtown Las Vegas with Acquisition of Additional Fremont Street Real Estate
Derek and Greg Stevens – owners of the D Las Vegas Casino Hotel, Golden Gate Hotel and Casino and the Downtown Las Vegas Events Center – are continuing to invest in the development of Downtown Las Vegas with the purchase of the land adjacent to the recently acquired Las Vegas Club. The transaction will enable the Stevens brothers to reshape the block on the world-famous Fremont Street Experience as they work to develop a third hotel-casino property. The land currently houses three Granite Gaming Group properties including Mermaids and La Bayou casinos, as well as adult entertainment mainstay, Topless Girls of Glitter Gulch. Granite Gaming Group will continue operations of each venue until their anticipated closing date toward the end of June. Current employees of Mermaids and La Bayou will be offered priority interview opportunities for new positions at the D and Golden Gate. For more information, contact Natalie Mounier, Kirvin Doak Communications, nmounier@kirvindoak.com​.
Boyd Gaming to Acquire Las Vegas Assets of Cannery Casino Resorts
Boyd Gaming Corporation recently announced that it has entered into a definitive agreement to acquire the Las Vegas assets of Cannery Casino Resorts, for total cash consideration of $230 million. Under terms of the agreement, Boyd Gaming will acquire Cannery Casino Hotel, located in North Las Vegas, and Eastside Cannery Casino and Hotel, located adjacent to Sam's Town Hotel & Gambling Hall on Boulder Highway in the eastern part of the Las Vegas Valley.  Together with the Company's recently announced acquisition of Aliante Casino Hotel and Spa in North Las Vegas, the Cannery transaction will expand Boyd Gaming's southern Nevada portfolio to 12 properties. For more information, contact David Strow, Boyd Gaming, davidstrow@boydgaming.com​.
Boyd Gaming to Acquire Aliante Casino Hotel and Spa
Boyd Gaming recently announced that it has entered into a definitive agreement to acquire ALST Casino Holdco, LLC, the holding company of Aliante Casino Hotel and Spa, for total net cash consideration of $380 million. Opened in 2008 at a cost of more than $660 million, Aliante is an upscale, resort-style casino and hotel offering premium accommodations, gaming, dining, entertainment and retail. Strategically located on the 215 Beltway within the master-planned community of Aliante, the property is well-positioned to benefit from future planned development throughout the city of North Las Vegas. For more information, contact David Strow, Boyd Gaming, davidstrow@boydgaming.com​.
Mandalay Bay Resort and Casino Completes Remodel of All Guest Rooms and Suites
Mandalay Bay Resort and Casino has completed the final phase of its resort-wide remodel of more than 3,000 guest rooms and suites. Created by the MGM Resorts International Design Group, the redesigned rooms and suites feature refreshing color palettes and modern designs in three distinct collections. The Resort Collection welcomes guests with three color combinations. The Resort King features a cobalt and white color scheme, while the Resort Queen offers a ruby and latte room or rich lavender and mocha. Bold furnishings throughout the collection include a mural onyx-inspired wall that surrounds the bed in each room. Other details include a spacious glass desk, modern seating, task lighting and easy bedside and tableside recharging. The Suite Collection offers one- and two-bedroom suites accented by rich jewel tone fabrics, natural wood and stone. Featuring multiple seating and dining areas, as well as a large table in the media and living area, these suites are ideal spaces whether hosting for business or pleasure. For guests seeking an elevated experience, the Luxury Collection offers spectacular one- to four- bedroom suites. New, vibrant décor accompanies floor-to-ceiling windows and elegant dining and bar areas to provide the ultimate accommodations. This marks the conclusion of an approximately $100 million remodel that began in 2015. For more information, contact Dara Cohen, MGM Resorts International, dcohen@mgmresorts.com​.
Beauty & Essex to Open at The Cosmopolitan of Las Vegas This Month
TAO Group and Chef Chris Santos will debut Beauty & Essex at The Cosmopolitan of Las Vegas this month. The opening marks the second location of the New York City pawn shop, restaurant and lounge that originated in 2010 from the chef who pioneered the small, share plate dining trend that has swept the nation. The restaurant will be open to the public for dinner starting May 16. Spanning 10,000 square feet, the Rockwell Group-designed space celebrates the exquisite beauty of jewels. With more than 230 seats for dining, and another 90 seats in the bar and lounge, the restaurant explores jewels in all forms—from pearls and gemstones to vintage jewelry boxes, to antique and heirloom pieces. Guests will experience a dramatic transition as they journey through the gritty pawn shop-inspired space to discover a light and decadent entry, before arriving in the Pearl Lounge. Here, a custom chandelier comprised of thousands of draped pearls which radiate from the ceiling and down the walls to plush, tufted purple banquettes. The opulence continues in the Mirror Bar where a DJ will spin from a gold DJ booth and through a corridor featuring a 40-foot-long screened wall composed of framed vintage lockets that leads guests to a trio of ornate dining rooms complete with custom finishes, metallic and jewel-toned hues and glamorous lighting. The menu from Santos, a celebrity chef judge on The Food Network hit series "Chopped," will echo the multi-ethnic signature dishes of the New York City location and feature additional culinary offerings exclusive to Las Vegas. For more information, contact Michelle Steinberg, dOMAIN Integrated, beauty@domainintegrated.com​.
SPEEDVEGAS Opens Track
SPEEDVEGAS is the new, award-winning 100-acre motorsports complex located at 14200 S. Las Vegas Blvd., just minutes south of the world-famous "Welcome to Las Vegas" sign. Guests at SPEEDVEGAS can experience the world's most sought-after muscle cars and exotic supercars from Porsche, Ferrari, Lamborghini, Audi, Corvette and more. The $30 million SPEEDVEGAS experience features an impressive 1.5 mile (2.4 km) Formula One-inspired racetrack comparable to top circuits in the world and includes 12 sweeping turns, 20-degree banked turns, 60 feet of total elevation change and a half-mile straightaway. In addition, the 20,000-square-foot, 2-story welcome center features indoor and outdoor observation decks, food and beverage selections at a well-appointed café, meetings and event space and much more. For more information, contact Marina Nicola, Vox Solid Communications, mnicola@wearevoxsolid.com​.
'BAZ – Star Crossed Love' to Premiere at The Palazzo Las Vegas
Promising a twist on the typical Las Vegas night, "BAZ – Star Crossed Love" will debut in the redesigned Palazzo Theatre on June 25. This new generation cabaret is a high-energy movie-music mash-up of the world's most iconic love stories, as imagined by famed film visionary, Baz Luhrmann. Inspired by Luhrmann's signature take on "Romeo + Juliet," "Moulin Rouge," "The Great Gatsby," and "Strictly Ballroom," this theatrical concert will feature soul-stirring and stunning performances from an ensemble cast and band. The show, five years in the making, is the creation of For The Record, a genre-bending theatrical company in Los Angeles, with a vision of turning the soundtracks of iconic filmmakers into an immersive theatrical concert experience. The show, which has been staged in limited engagements to critical success throughout the country, has been reformulated for its grand debut at The Palazzo. This includes a venue designed around For The Record's unique format, a reimagined storyline to tie the show's production numbers together, and a new set list that includes a song from Luhrmann's upcoming Netflix original series "The Get Down," which premieres in August. For more information, contact Abigail Miller, The Venetian and The Palazzo, Abigail.miler@sands.com​.
Liberace Garage is Now Open
The Liberace Foundation for the Performing and Creative Arts has unveiled a brand new museum that will showcase legendary automobiles from his stage acts. The museum is located inside the Hollywood Cars Museum. The new experience features vehicles such as: the 1961 Rolls Royce Phantom V limousine, which was used for his acts at the Las Vegas Hilton and shown in the award-winning HBO movie, "Behind the Candelabra;" the Liberace Crystal Roadster which he rode onto Radio City Music Hall's stage, the London Taxi he used to pick up friends at the Palms Springs Airport, and Liberace's 1956 Rolls Royce Convertible which he would fly out of during performances. In addition to the vehicles, additional photos and artifacts from Liberace's homes will also be on display. Real Estate Developer and Car Collector Michael Dezer and The Liberace Foundation worked together to make this new 5,000-square foot space a reality which will also include event space. For more information, contact Marina Nicola, Vox Solid Communications, mnicola@wearevoxsolid.com​.
Wynn Las Vegas Introduces SW Veranda, An Elevated Twist On Al Fresco Dining
Wynn Las Vegas introduces their newest dining concept, SW Veranda. The outdoor terrace above SW Steakhouse provides guests with remarkable views of Wynn's signature water feature, Lake of Dreams, while enjoying a selection of SW Steakhouse Executive Chef David Walzog's small plates and appetizers. The space provides the perfect setting for pre-show gatherings or end of the evening nightcaps. Perfect for sharing, offerings include such savory delights as Wagyu carpaccio with black truffle dressing, arugula and shaved parmesan; SW lobster rolls on warm brioche; yellowfin tuna tartar with pickled Japanese vegetables, soy and Gochujang; oysters on ice; chilled shrimp cocktail and a seafood spectacular featuring Maine lobster, King Crab legs, shrimp, oysters and crab. Guests looking for a sweet take on their evening can indulge in pastry chef Svetlana Almonte's decadent chocolate dipping fondue with strawberries, marshmallows, banana bread and crisp mini-funnel cakes; Biscoff cookie butter cheesecake, seasonal fruit tarts and fun milkshake shots blended with vodka or bourbon. Guests may also enjoy an array of hand-crafted cocktails, distinctive wines, spirits and fine Champagnes. For more information, contact Aleksandra Koryzno, Wynn Las Vegas, Aleksandra.koryzno@wynnlasvegas.com​.
Legendary Diner Du-Par's Now Open at Suncoast
Southern California's most established and legendary diner brand – Du-par's Restaurant and Bakery – has arrived at the Suncoast Hotel and Casino. Located just south of the Summerlin area, the newest location provides Du-par's fans in the northwest Valley a convenient new location to enjoy what Esquire magazine called "the best pancakes in the country," as well as made-from-scratch pies and more fresh, authentic favorites. For more information, contact Jasen Woehrle, The Firm Public Relations & Marketing, jasenw@thefirmpr.com​.
The Cosmopolitan of Las Vegas Announces the Arrival of ZUMA
The Cosmopolitan of Las Vegas and Azumi Group are joining together in an exciting new partnership, bringing the world-renowned contemporary Japanese restaurant ZUMA to the resort in late 2016. Created and co-founded by Chef Rainer Becker, ZUMA features modern Japanese cuisine and award-winning world-class cocktails in an elegant and sophisticated environment. Inspired by the informal izakaya dining style, the international restaurant features a modern Japanese cuisine that is authentic, but not traditional. The menu is designed to be shared and offers dishes from a sushi counter, main kitchen and a robata grill. Since its opening in London in 2002, ZUMA has achieved global success and expanded to nine locations in six countries. Each new restaurant celebrates the unique energy of the individual city whilst retaining the style and ethos of ZUMA. ZUMA at The Cosmopolitan marks Azumi Group's first restaurant on the west coast. For more information, contact Renata Follman, The Cosmopolitan of Las Vegas, pr@cosmopolitanlasvegas.com​.
Momofuku and Milk Bar to Open at The Cosmopolitan of Las Vegas
The Cosmopolitan of Las Vegas has announced that Momofuku and Milk Bar will open at the Las Vegas resort, marking David Chang and Christina Tosi's first projects on the West Coast. Both the restaurant and Milk Bar, which are currently in development, will be the newest additions to the resort's culinary offerings. Established by chef and founder David Chang in 2004 with the opening of Momofuku Noodle Bar, Momofuku has grown to include restaurants in New York City, Sydney, Toronto, Washington, DC, and soon, Las Vegas. Momofuku has a total of thirteen restaurants, two bars, and a Culinary Lab. The restaurants have gained world-wide recognition for their innovative take on cuisine, and Momofuku Ko has retained two Michelin stars for the past eight years. Milk Bar is the highly acclaimed bakery founded by chef and owner, Christina Tosi. Christina is best known for her innovative creations, including cereal milk ice cream, compost cookies and crack pie, all of which have gained world-wide recognition since she opened Milk Bar's doors in 2008. Milk Bar has a total of seven locations, including New York City, Toronto, Washington, DC, and soon, Las Vegas. Christina is a two-time James Beard award winner and author of two cookbooks, Momofuku Milk Bar and Milk Bar Life. For more information, contact Renata Follman, The Cosmopolitan of Las Vegas, pr@cosmopolitanlasvegas.com​.
RiSE Lantern Festival to Return to Southern Nevada in October
After a sold-out sophomore year RiSE Lantern festival is set to expand into two days for 2016, Friday, Oct. 7 and Saturday, Oct. 8. This festival which celebrates the collective elevation of peoples' hopes, dreams, resolutions, goals and desires – will once again take place at the Moapa River Reservation. Taking place at the Moapa River Reservation (approximately 35 miles northeast of Las Vegas, adjacent to Valley of Fire State Park), the gathering will feature the simultaneous release of thousands of flame-lit paper lanterns, each carrying an individual meaning and together forming something beautiful. For more information, contact, Kristin Weddingfeld, Allied Integrated Marketing, kweddingfeld@alliedim.com​​.