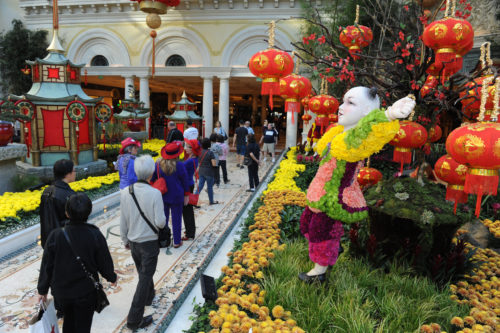 CES® 2017 Celebrates 50 Years of Inspiring the World
CES returns to the Las Vegas Convention Center Jan. 5-8 in time to celebrate its 50th anniversary. CES is the world's largest gathering place for all who thrive on the business of consumer technologies. This year's event is expected to attract more than 165,000 attendees. Throughout its illustrious 50-year history, CES has launched notable products, including VCR, Camcorder, CD Player, DVD, HD Television, Satellite Radio, Xbox, Plasma TV, Blu-Ray DVD, Tablets, Notebooks, Smart appliances, Connected TV, Ford's Electric Focus, Ultra HDTV, Driverless Car Technology, 3D Printers, Curved UHD, Wearable Technology. For more information, contact Heidi Hayes, LVCVA, hhayes@lvcva.com.
Celebrate the Year of the Rooster in Las Vegas
The sixth annual Chinese New Year in the Desert™ will celebrate the Year of the Rooster in Las Vegas Jan.27-29. Forbes Magazine named Las Vegas as one of the "8 Great Places to Celebrate Chinese New Year" in the United States and Canada. From cultural performances to parades and concerts, Las Vegas will not hold back for the new year. Participating venues include: Fashion Show Mall, Downtown Container Park and the LINQ Theater. For more information, visit www.cnyinthedesert.com or contact Jan-le Low, Golden Catalyst LLC, janie@goldencatalyst.com.
Las Vegas Remains World's Leading Meetings & Conference Destination
Las Vegas has been named the World's Leading Meetings & Conference Destination for 2016, marking the fourth consecutive year it has been recognized for this honor by the World Travel Awards. The World Travel Awards supports and promotes the global travel and tourism industry by identifying and rewarding excellence and inspiring its practitioners to continually raise the standards of their product and service offerings. Recognitions like this one further cement Las Vegas as the ideal destination for meetings and conventions, hosting some of the biggest trade shows in the industry. For more information, contact Molly Castano, LVCVA, mcastano@lvcva.com.
Las Vegas Convention Center Moves Forward with Expansion Project
The LVCVA has moved forward with plans for their Las Vegas Convention Center District (LVCCD) project. The LVCCD will expand and renovate the current Las Vegas Convention Center property. Phase I of the project, which included the demolition and transformation of the Riviera Hotel and Casino, has now been completed. The Riviera site has been repaved and unveiled as the Diamond Lot, a parking and outdoor exhibition space. For more information, contact Amanda Arentsen, LVCVA, aarentsen@lvcva.com.
Las Vegas Named Best U.S. City at Travel Weekly's Readers Choice Awards
Las Vegas continues to impress the travel industry and has been named Best U.S. City in Travel Weekly's 14th annual Readers Choice Awards. Ranging in 78 categories, the awards honor the best of the best in travel. The 2016 Readers Choice Awards were presented in December at a black-tie gala in New York during which many in the travel industry, from hotels to tours to destinations and airlines, were recognized for the quality and value of their products. Finalists were nominated and winners selected in two rounds of voting by readers of Travel Weekly. These kinds of recognitions further cement Las Vegas as a world-class travel destination. For more information, contact Amanda Arentsen, LVCVA, aarentsen@lvcva.com.
Final Presidential Debate Generates $113.6 Million for UNLV and Las Vegas
The final presidential debate at the University of Nevada, Las Vegas (UNLV) generated nearly $114 million in publicity for Las Vegas and the university. The figure is more than double the original projection anticipated by the host agencies. The Oct. 19 debate at UNLV's Thomas & Mack Center was the third most watched in history, attracting more than 71 million television viewers. The figure does not capture individuals who streamed the debate online or through mobile devices. It was the first time in history that Nevada hosted a general election debate. For more information, contact Jeremy Handel, LVCVA, jhandel@lvcva.com.
Caesars Palace's Alto Bar Introduces Las Vegas' First Virtual Reality Lounge
On Dec. 28, Caesars Palace introduced Las Vegas' first Virtual Reality Lounge, featuring Oculus Rift. Located in the private space of Alto Bar, the Oculus Virtual Reality Lounge will feature four Oculus Rifts with Touch, taking guests on a fully immersive 360-degree experience. The lounge will include a variety of the most popular VR games available, providing guests with the ability to manipulate objects and gameplay elements with extraordinary precision. For more information, contact Chelsea Ryder, Caesars Entertainment, cryder@caesars.com.
Wynn Las Vegas Announces Addition of Amazon Echo to All Hotel Rooms
Wynn Las Vegas and Amazon announced plans to equip all 4,748 hotel rooms at Wynn Las Vegas with Echo, Amazon's hands-free voice-controlled speaker. The introduction of this technology into every guest room, which began in December with installation in suites, will be an industry first in the world, allowing guests of Wynn Las Vegas to control various hotel room features with a series of voice commands via Alexa, the brain behind Echo. For more information, contact Deanna Pettit-Irestone, Wynn Las Vegas, deanna.pettit-irestone@wynnlasvegas.com.
Grand Bazaar Shops Ushers in Exciting New Strip Dining Options
Grand Bazaar Shops has welcomed new and expanded venues within its growing outdoor dining and entertainment corridor. Showcasing a dynamic mix of well-known brands, unique first-to-Las Vegas concepts and international dining outlets, Grand Bazaar Shops offers exciting experiences and delicious tastes to suit a variety of visitor's preferences. New additions include Chicago's famed deep dish pizza venue, Giordano's, and country music star's John Rich's first unique country music bar, Redneck Riviera, slated to open Jan. 1. Other fare includes the expansion of the popular Ramen-Ya, the addition of Istanbul Mediterranean, as well as the openings of locally-owned Born and Raised tavern and sub-shop favorite Subway. For more information, contact Michelle Monson, BRAINtrust Marketing, michelle.monson@braintrustlv.com.
Premier Social Lounge LEVEL UP Opens at MGM Grand
MGM Grand welcomed LEVEL UP on Dec. 29 as a new and exciting 'place to play' concept. Changing the way Las Vegas views lounge entertainment, LEVEL UP presents a new era in interactive, skill-based fun. Located between Hakkasan Nightclub and the MGM Grand Race and Sports Book, the tech savvy, adult playground will feature pay-to-play offerings in a social atmosphere, designed to not only attract the next generation of players, but also existing players seeking innovation. For more information, contact Kristina Bello, Hakkasan Group, kbello@hakkasan.com.
World's Largest Marvel Retail Store Opens in Las Vegas
The immersive and educational attraction, Marvel Avengers S.T.A.T.I.O.N. at Treasure Island Las Vegas launched a 7,500-square-foot retail experience on Dec. 17, giving fans superhero-sized access to a full range of apparel, toys, collectibles, housewares, and more in what is Marvel's largest retail outlet in the world. Highlights include a green screen photo experience and the Become Iron Man interactive experience. For more information, contact Alissa Kelly, PR Plus, alissa@prpluslv.com.
Rí Rá Las Vegas Debuts New Event Space The Bordello
On the heels of its five-year anniversary, Rí Rá Las Vegas inside The Shoppes at Mandalay Place revealed The Bordello, a new event and dining space. The hidden gem expands Rí Rá's total size to 11,000 square feet and provides guests with a new space for hosting private parties and events. Inspired by the classic high-end bordellos of years past, The Bordello transports guests to a bygone era with its high black ceilings, plush velvet curtains, Victorian red and gold interiors, lounge-style furniture and dim lighting. The venue spans 1,400 square feet of space, seats up to 64 dining guests and can accommodate up to 100 people for any reception-style event. For more information, contact Lea Komitzky, Kirvin Doak Communications, rira@kirvindoak.com.
Raiding the Rock Vault Coming to the Hard Rock Hotel & Casino
Hard Rock Hotel & Casino Las Vegas announced that it will soon be home to the ultimate rock concert experience. Raiding the Rock Vault will join the lineup of first-class entertainment on the property starting on Saturday, March 11, with headline shows inside Vinyl. Raiding the Rock Vault brings the history of rock 'n' roll to life, featuring classic anthems by the biggest acts in music, including The Rolling Stones, The Who, The Doors, Jimi Hendrix, Led Zeppelin, Deep Purple, Free, Eagles, Fleetwood Mac, Queen, Boston, Kansas, U2, Aerosmith, Van Halen, AC/DC, Pat Benatar, Foreigner, Heart, Journey, Bon Jovi, Whitesnake, Supertramp and many more. For more information, contact Brigitte Ruiz, Kirvin Doak Communications, bruiz@kirvindoak.com.
Comedian Ralphie May Brings "No Apologies" Show to Harrah's Las Vegas
The colossally clever Ralphie May is bringing "Ralphie May: No Apologies" to the Harrah's Showroom at Harrah's Las Vegas beginning Jan. 26. With no subject off limits, this raw, edgy, and uncensored, late-night show will reveal the hilarious quirks that infiltrate politics, race and even his family, curated especially for Las Vegas audiences. For more information, contact Brandee Taeubel, Caesars Entertainment, btaeubel@caesars.com.
City of Las Vegas Approves Expansion of Neon Museum
The Las Vegas City Council voted unanimously to approve a $425,000 grant from the Commission for the Las Vegas Centennial to expand the Neon Museum—a nonprofit organization dedicated to collecting, preserving, studying and exhibiting iconic Las Vegas signs. The grant will be used to purchase .27-acres of land adjacent to the current museum property. The grant is part of the Commission's program in support of generating community projects that promote and preserve Las Vegas history. For more information, contact Jace Radke, City of Las Vegas, 702-229-2205.
Las Vegas Welcomes First Nonstop Flight from China
On Friday, Dec. 2, Hainan Airlines' first flight from Beijing to Las Vegas touched down at McCarrran International Airport filled with excited Chinese travelers, media and company officials. This marks the first nonstop flight from mainland China to Las Vegas. With China considered to be one of the leading growth markets for visitation to Las Vegas, the accessibility of the new route introduces the destination to millions of prospective visitors and will be instrumental in increasing international visitation. It has been a longtime goal of Las Vegas to have a direct route from the historic Chinese capital. For more information, contact Heidi Hayes, LVCVA, hhayes@lvcva.com.