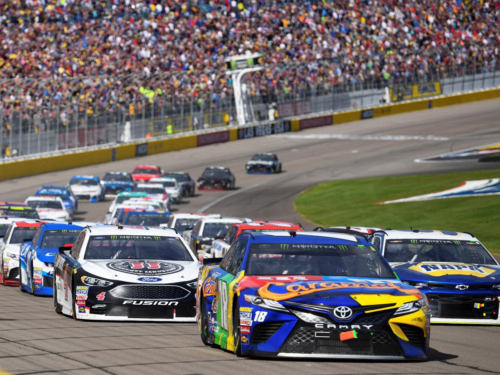 Inaugural Fall NASCAR Race Weekend Debuts in Las Vegas
Following years of efforts to bring a second NASCAR race to Las Vegas, the sport's top drivers will return Sept. 13-16 for the inaugural Fall NASCAR Race Weekend. The event weekend includes the inaugural South Point 400 Monster Energy NASCAR Cup Series playoff race, the DC Solar 300 NASCAR Xfinity Series race, the World of Westgate 200 NASCAR Camping World Truck Series playoff race and the Star Nursery 100 NASCAR K&N Pro Series West race at The Dirt Track. The Cup Series race will be the first race of the playoffs for the top 16 drivers, and Las Vegas is the only track with two triple-header weekends on the NASCAR schedule. In addition to the action on the track, the weekend will include a NASCAR Burnout Boulevard event on the Las Vegas strip, NASCAR playoffs party downtown on the Fremont Street Experience, and a free concert by Cole Swindell. For additional information, visit
lvms.com
.
Criss Angel Unveils Brand New MINDFREAK®, an Immersive Evolution of Magic
After more than a decade of dominating the world of magic, Criss Angel will unveil an over-the-top visual spectacular unlike any other in existence – Criss Angel MINDFREAK®, in the newly-renamed Criss Angel Theater at Planet Hollywood Resort & Casino opening Dec. 19, 2018. The brand-new production incorporates cutting-edge technology and boasts more than 75 illusions with 20 never-before-seen effects that will give fans the ultimate immersive experience, showcasing the iconic Angel on a massive scale. For additional information, contact Dayna Calkins, Kirvin Doak Communications,
dcalkins@kirvindoak.com
.
Electra Cocktail Club to Open in Early September
The Palazzo® Las Vegas introduces Electra Cocktail Club. A collision of energy and style, Electra embodies a dynamic scene where cocktail creations challenge the limits of tradition in an atmosphere that exudes an escapist, kinetic vibe. Electra completes The Venetian Cocktail Collective, comprised of the sophisticated Dorsey, the romantic Rosina and now the inventive Electra. The Collective represents the evolution of nightlife in Las Vegas. Electra's backbar features a diverse selection of spirits with a focus on rums, agricoles, and mezcals. Like the menus at The Dorsey and Rosina, Electra's offerings were conceived by noted barman Sam Ross and feature cocktails that are both imaginative and playful with a bend toward the tropical. For additional information, contact Keith Salwoski, The Venetian and The Palazzo,
publicrelations@sands.com
.
Waldorf Astoria Debuts on Las Vegas Strip
Waldorf Astoria Las Vegas, formerly Mandarin Oriental Las Vegas, debuted on the Las Vegas Strip on August 31. Discerning guests will find the ultimate in non-gaming comfort and luxury, including elegant guest rooms and suites featuring stunning views, exceptional restaurants, a luxurious spa and True Waldorf Service, including signature personal concierges. A guest room restyle is scheduled for summer 2019. For additional information, contact Erica Johnson, Waldorf Astoria Las Vegas,
erica.johnson@waldorfastoria.com
.
The Cosmopolitan of Las Vegas Debuts Block 16 Urban Food Hall
The Cosmopolitan of Las Vegas is thrilled to announce the recent opening of Block 16 Urban Food Hall. A first of its kind on the Las Vegas Strip, the made-to-order, fast-casual concept features a dynamic lineup of restaurants handpicked from foodie capitals across the U.S. Block 16 Urban Food Hall continues to reinforce The Cosmopolitan as a culinary leader, unifying the country's most sought-after chefs and eateries, introducing them first-to-market and providing a place for locals and visitors alike to celebrate their shared passions of easy to love food and drink. Located on the second level of the Boulevard Tower, Block 16 Urban Food Hall introduces an emerging class of acclaimed chefs and their distinct culinary creations, including District: Donuts. Sliders. Brew.; Hattie B's Hot Chicken; Lardo; Pok Pok Wing; and Tekka Bar: Handroll & Sake. Ghost Donkey, a tequila and mezcal cocktail bar from New York City will complete the collection in early Fall 2018. For additional information, contact Kyle Boulia, Kirvin Doak Communications,
thecosmopolitan@kirvindoak.com
.
La La Noodle Coming to Park MGM This Fall
Park MGM adds to its portfolio of original restaurants with La La Noodle, a new concept, debuting this November. Serving authentic Chinese, Vietnamese and Thai cuisine, La La Noodle will be a casual destination where guests will enjoy a lively yet relaxed atmosphere while savoring a selection of noodle, seafood, meat, vegetable and rice dishes. Named after the Mandarin term for pulled – 拉 (pronounced lah) – La La Noodle will feature familiar and savory hand-pulled noodle dishes such as Pork Belly Noodles and Chicken Chow Mein, as well as regional delicacies such as Hong Kong Seafood Crispy Noodles with shrimp, scallops and squid. In addition to noodles, mouthwatering entrées will round out the menu including Vietnamese Braised Catfish, served in a clay pot with fish sauce, chiles and garlic. For additional information, contact Natalie Mounier, Kirvin Doak Communications,
nmounier@kirvindoak.com
.
The Factory Kitchen Opening in Las Vegas
FactoryPlaceHospitalityGroup and The Venetian Las Vegas recently announced plans to open The Factory Kitchen at The Venetian in December 2018. The Factory Kitchen is the product of a long-standing friendship between Matteo Ferdinandi, CEO of FactoryPlaceHospitalityGroup and Chef Angelo Auriana. Ferdinandi and Auriana share the vision of imparting their Italian roots and memories through food and hospitality. For more information, contact Nikki Neu, Global Public Relations,
nikki@factoryplacehospitality.com
.
SLS Las Vegas Integrates the W Hotel at SLS Las Vegas Into Full Resort Experience
SLS Las Vegas recently announced the W Hotel at SLS Las Vegas was integrated into the full resort operation and called The Grand Tower. Additionally, SLS Las Vegas assumed full operational control of the resort's reservations system from Starwood Hotels & Resorts Worldwide and the SLS Las Vegas brand will discontinue membership as a Starwood Tribute Portfolio Hotel & Resort. The Grand Tower will continue as a Four Diamond experience for guests. Existing reservations for the W Las Vegas past the August 17 date of operational transfer will be honored. SLS Las Vegas also assumed operation of the Spa, Pool, Lounge and Meetings Space located within the Tower's footprint. Current W Hotel at SLS Las Vegas team members have been invited to stay on with their employment either transferring to SLS Las Vegas or continuing with Marriott, the parent company of Starwood Hotels & Resorts. For additional information, contact Emily Wofford, The Publicity Lab,
emily@thepublicitylab.com
.
Aerosmith Announces Las Vegas Residency at Park Theater at Park MGM
America's all-time top-selling rock 'n' roll band, Aerosmith, is bringing the heat to the Las Vegas Strip with their headlining residency, AEROSMITH: DEUCES ARE WILD. Shows begin Saturday, April 6, 2019 at Park Theater at the new Park MGM resort. Aerosmith's Las Vegas residency, promoted by Live Nation and MGM Resorts International, will bring fans face to face with America's Greatest Rock 'N' Roll band in one of the most immersive, state-of-the art audio and video technology experiences in Las Vegas. The show features never-seen-before visuals and audio from Aerosmith recording sessions. For additional information, contact Kelly Frey, The Publicity Lab,
kelly@thepublicitylab.com
.
Hong Kong's Mott 32 is Coming to The Palazzo at The Venetian Resort Las Vegas
Mott 32, one of Hong Kong's most award-winning restaurants and a culinary icon in contemporary Chinese cuisine, will open its first U.S. outpost this winter, bringing their Eastern concept West to The Palazzo at The Venetian Resort Las Vegas. The acclaimed menu combines authentic Chinese recipes handed down from generations with progressive cooking techniques. Paired with exceptional mixology methods and stunning design, the experience at Mott 32 is truly one of a kind. For more information, contact
PublicRelations@sands.com
.
Fremont Street Experience to Begin Renovation of Viva Vision Canopy in February 2019
Fremont Street Experience will begin its $32 million renovation of Viva Vision, the world's largest single video screen located in historic downtown Las Vegas, February 2019. Spanning five city blocks above one of the most vibrant streets in Las Vegas, the upgraded Viva Vision canopy will illuminate the pedestrian mall with 16,433,152 pixels and 5,000 Nits, making it seven-times brighter than the existing canopy with four-times the resolution. In partnership with the city of Las Vegas and the Las Vegas Convention and Visitors Authority, renovations to the iconic, city-owned Viva Vision canopy will be completed for the unveiling on Dec. 31, 2019. For additional information, contact Cassandra Down, Kirvin Doak Communications,
cdown@kirvindoak.com
.
Celebrated Chefs Susan Feniger and Mary Sue Milliken Open BBQ Mexicana in Las Vegas
Restaurateurs and renowned chefs Susan Feniger and Mary Sue Milliken continue to evolve their hospitality empire and deliver authentic-meets-contemporary Mexican cuisine with the debut of BBQ Mexicana, a quick service smoked dishes concept now open at Mandalay Bay Resort and Casino in Las Vegas. Located across from sister restaurant Border Grill and adjacent to the Mandalay Bay Convention Center, this fast-casual eatery continues to reinforce Feniger and Milliken's penchant for craveable Mexican dishes in an approachable, warm setting. BBQ Mexicana is a convenient takeaway counter featuring a variety of house smoked meats and non-meat options prepared as burritos, bowls, and salads, along with margaritas, aguas frescas, and beers to-go. For additional information, contact Jessica Levine or Vanessa Kanegai at Wagstaff Worldwide,
BorderGrill@wagstaffworldwide.com
.
Boathouse Asian Eatery Debuts its First Las Vegas Location inside Palace Station
As part of a $192 million property-wide modernization, Palace Station unveiled its all-new Asian-inspired restaurant, Boathouse Asian Eatery. Created by dynamic brother and sister team Cat and Tu Do together with their partner Hans Mogensen from Northern California, the restaurant joins the recently opened next generation Feast Buffet on the new casino floor. Boathouse Asian Eatery serves up lunch and dinner and features authentic Asian cuisine with an innovative dining experience. The restaurant features a guest capacity of more than 200 people for both indoor and outdoor seating, complete with a large cocktail bar, 14-seat sushi bar and six seat noodle bar, all in a contemporary atmosphere. The restaurant celebrates Asian fare and features an eclectic menu with touches from Chinese, Japanese and Vietnamese cuisine. For additional information, contact Sara Ryan,
stationcasinos@alliedim.com
.
Team-Based Virtual Reality Adventure Opens Labor Day Weekend at Madame Tussauds
This Labor Day, Madame Tussauds Las Vegas is challenging friends, families and co-workers to "Be a Hero" in the city's newest team-based virtual reality adventure. Kicking-off Labor Day weekend in partnership with Virtual Room USA, the collaborative virtual reality experience allows groups of 2-4 people to participate in up to four, 15-minute timed challenges all while communicating with their teammates. Teams set off on a journey through history's most iconic moments, solving puzzles and challenges along the way. Together, teams will explore Ancient Egypt and the Medieval Ages, come face-to-face with dinosaurs and journey to the moon, under the ocean and beyond, and hopefully save the world. Virtual Room is a sold as an upgrade with tickets from just $12. The experience is designed for players ages 12 years and up and perfect for groups of friends, family, team-building, birthday parties and more. For additional information, contact Allied Integrated Marketing,
MadameTussaudsLV@alledim.com
.