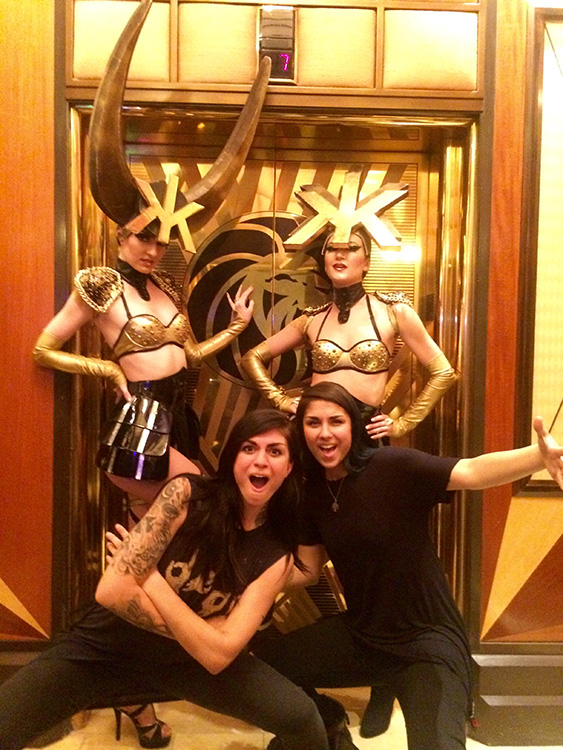 15-Jun-2015
Las Vegas is famous for transforming traditional experiences from predictable to unbelievable with a splash of Vegas flair. Whether it's a live show, dinner on the town or bottle service, guests can expect an experience in Las Vegas to be unlike any other destination. The same can now be said for a ride in an elevator, as Las Vegas stunned visitors by transforming an elevator into a club environment comparable to one of Las Vegas' celebrated nightclubs.
The musically-charged experiential elevator was accomplished with assistance from world-renowned DJ duo Krewella. The pair served as hosts of an unbelievable elevator ride inside the MGM Grand Hotel & Casino, aptly named the "Krewellavator." As resident artists for popular Las Vegas clubs including Hakkasan, OMNIA and WET REPUBLIC, Krewella were the perfect choice to help bring the concept of an elevator nightclub to life.
The Krewellavator featured a unique turntable that also served as its own laser light show, accompanied by energetic performances of the duo's top singles including "Somewhere To Run." One of the elevator's stops added gorgeous Hakkasan Nightclub dancers spinning twinkling glow sticks, adding to the stunning visual experience. The nonstop party continued until the elevator made its final stop at the guests' hotel room floors.
"The Krewellavator was such a fun project for us," Jahan and Yasmine Yousaf of Krewella shared. "Raging in an elevator with complete strangers in the middle of the day in Las Vegas was proof of how uninhibited people are in the party capital of the world!"
MGM Grand guests reveled in the EDM-fueled surprise by dancing, cheering and taking in the twists and turns of their unexpected ride in the Krewellavator. Mounted cameras throughout the elevator caught every unique moment that the lucky guests aboard the Krewellavator experienced.
Las Vegas has become a mecca for EDM, and is home to the best nightclubs worldwide. The destination is also the host of Electric Daisy Carnival, the largest electric dance music festival in North America. EDC rolls into the Las Vegas Motor Speedway to bring enticing beats, illuminating lights and world-renowned DJs from across the globe to the Las Vegas Motor Speedway June 19 – 21.