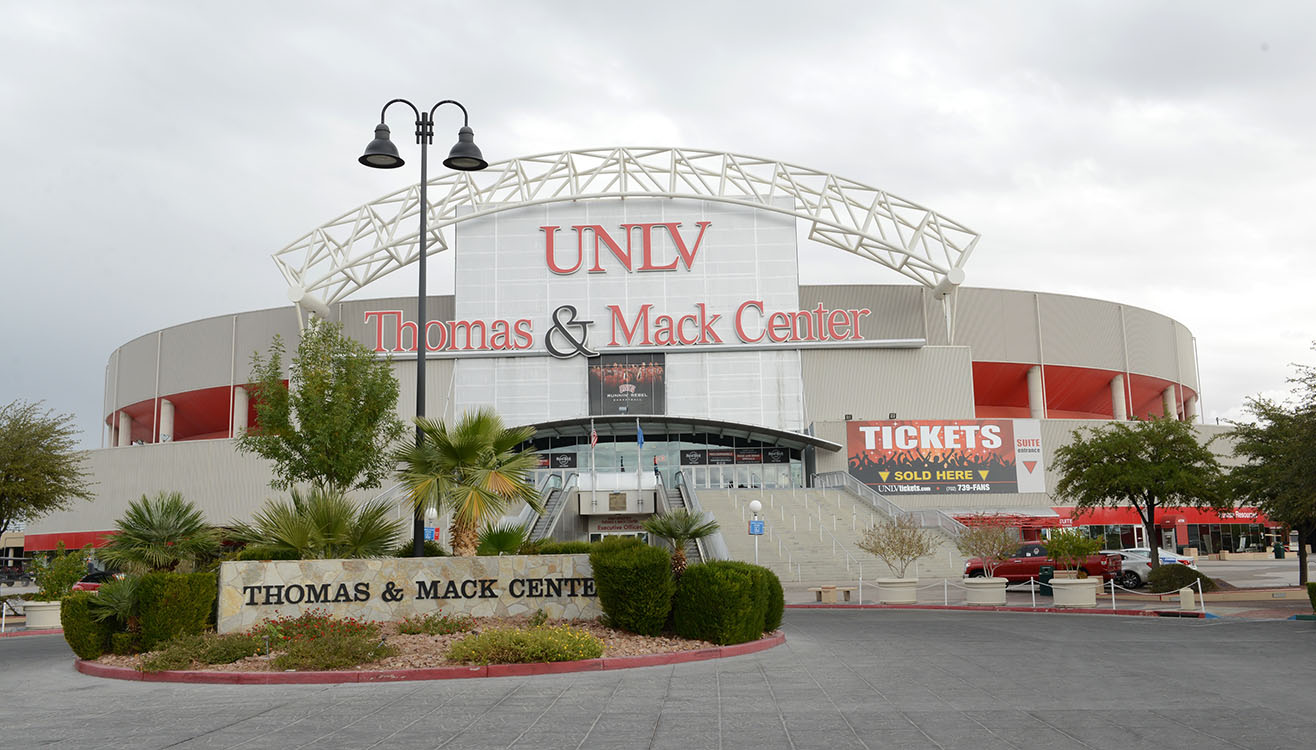 UNLV and Las Vegas will take center stage as one of four host cities for a debate during the 2016 election season. The Commission on Presidential Debates announced that Las Vegas will host the presidential candidates on October 19, 2016. The debate will take place at the Thomas & Mack Center on the UNLV Campus.
"UNLV is honored to be a host venue for a presidential debate, as we believe it will bring a unique energy to one of the most diverse campuses in the country," said UNLV President Len Jessup.  "A core mission of a university is to educate future leaders and hosting a presidential debate will allow students to experience the political process first-hand and to better understand how public policy impacts their lives."
Jessup and Las Vegas Convention and Visitors Authority (LVCVA) President/CEO Rossi Ralenkotter are co-chairs of the Las Vegas 2016 Presidential Debate Committee.
"We are excited that Las Vegas has been chosen to host a presidential debate and we look forward to showcasing our destination," said Rossi Ralenkotter, president/CEO of the LVCVA. "Las Vegas is the No. 1 convention city in North America for 21 consecutive years because we know how to get business done, and we are confident that our experience and commitment to customer service will make this event a great success."
UNLV partnered with the LVCVA and submitted an application in March of 2015 to host a debate.  In April, the Commission on Presidential Debates announced that Las Vegas was one of 16 sites under consideration.  During the summer, UNLV and the LVCVA hosted commission staff for an on-site survey of the proposed debate venue and campus.
Las Vegas has previously hosted primary debates, presidential speeches, and been long considered for political conventions by both parties. As an early caucus state, Nevada has played a key role in the election process already this year, and hosting a presidential debate will continue to increase the global visibility of both Las Vegas and the state.  The debate attracts nearly 3,500 media representatives from around the world and can generate at least $50 million in publicity for UNLV and Las Vegas, according to data from 2012 presidential debate sites.
Joining Ralenkotter and Jessup on the Las Vegas 2016 Presidential Debate Committee are Charles Bowling, President & Chief Operating Officer, Mandalay Bay, MGM Resorts International; Randy Garcia, CEO and Chief Investment Officer, Investment Counsel Company of Nevada; Sheriff Joe Lombardo, Las Vegas Metropolitan Police Department; George Markantonis, President & Chief Operating Officer, The Venetian, The Palazzo, and Sands Expo & Convention Center; Kristin McMillan, President & CEO, Las Vegas Metro Chamber of Commerce; Shaundell Newsome, Founder, Sumnu Marketing; Kevin Page, Board of Regents, Nevada System of Higher Education; Sig Rogich, President, The Rogich Communications Group; Rob Roy, Founder & CEO, Switch; Keith Smith, President & CEO, Boyd Gaming; Donald D. Snyder, Presidential Advisor for Strategic Initiatives, UNLV; Virginia Valentine, President, Nevada Resort Association; Billy Vassiliadis, CEO & Principal, R&R Partners; Rosemary Vassiliadis, Clark County Director of Aviation, McCarran International Airport; Radha Chanderraj, Principal, Chanderraj Law Offices; and Maurice Wooden, President, Wynn Las Vegas and Encore.
ABOUT UNLV
UNLV is a doctoral-degree-granting institution of 29,000 students and 3,000 faculty and staff and ranks as the second most diverse university in the nation for undergraduates. Founded in 1957, the university offers more than 220 undergraduate, master's and doctoral degree programs. UNLV is located on a 332-acre campus in dynamic Southern Nevada and is classified in the category of Research Universities (high research activity) by the Carnegie Foundation for the Advancement of Teaching.  For more information, go to www.unlv.edu.