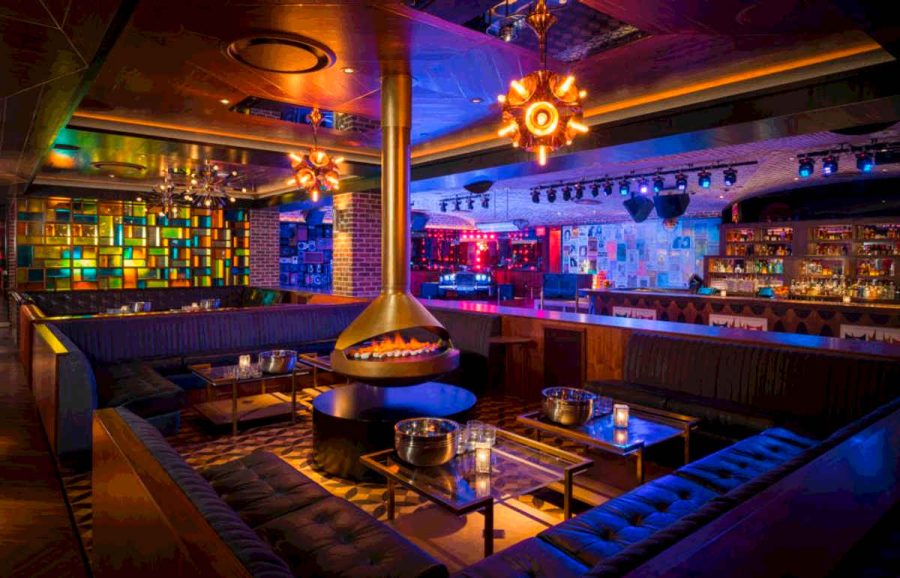 On the Record at Park MGM – An Exquisite Nightlife Experience with a Record Store
Address: 3772 S Las Vegas Blvd, Las Vegas, NV 89109, United States
Hours of Operation:
Wednesday: 10:00 PM – 4:00 AM
Friday: 10:00 PM – 4:00 AM
Saturday: 10:00 PM – 4:00 AM
Introduction: On the Record at Park MGM is not your average nightlife venue. It is an extraordinary destination that seamlessly blends music, art, and culture into an unforgettable experience. This remarkable establishment features not only vibrant club spaces and an enchanting atmosphere but also houses an impressive record store, adding a touch of nostalgia and charm to your night out in Las Vegas. For music enthusiasts and those seeking a one-of-a-kind adventure, On the Record is a must-visit destination.
Venue Atmosphere: Enter through the clandestine entrance of On the Record and step into a world where vintage aesthetics meet modern allure. The venue is divided into three distinct areas—an inviting speakeasy-style entrance, a lively main club space, and a captivating outdoor patio. The meticulous design and attention to detail create an ambiance that is simultaneously glamorous and welcoming. Throughout the venue, you'll discover a captivating array of vinyl records, vintage memorabilia, and stunning artworks, immersing you in a truly captivating atmosphere.
Record Store Highlights: On the Record proudly hosts an exceptional record store within its premises, offering a carefully curated selection of vinyl records. Whether you're an avid collector or a casual listener exploring the timeless charm of analog music, the record store at On the Record will captivate your senses. Here are some highlights of the record store experience:
Diverse Vinyl Collection: The record store showcases an extensive and diverse collection of vinyl records encompassing various genres such as rock, pop, jazz, hip-hop, and more. Whether you're on the hunt for rare gems or seeking out your favorite albums, you're bound to find something that sparks your interest and transports you back in time.
Expert Staff: The passionate and knowledgeable staff members are always at hand, ready to assist you in finding that perfect record. They can provide recommendations, share intriguing anecdotes about the artists and albums, and offer insights into the music industry. Their expertise enhances your visit to the record store, making it a truly enriching and memorable experience.
Listening Stations: Immerse yourself in the magic of music by taking advantage of the record store's listening stations. These stations allow you to preview albums before making a purchase, giving you the opportunity to discover new artists, explore different genres, or rediscover beloved classics.
Drink Highlights: On the Record boasts an impressive lineup of handcrafted cocktails, meticulously prepared by their skilled mixologists. Whether you prefer timeless classics or innovative creations, the drink menu offers a tantalizing selection. Here are some drink highlights to whet your appetite:
Record Breaker: A signature cocktail that combines premium spirits with a refreshing blend of citrus and herbal notes, creating a harmonious and vibrant drink that is sure to delight your senses.
Vintage Remix: A contemporary twist on the classic Old Fashioned, the Vintage Remix features top-shelf whiskey, homemade bitters, and a hint of orange zest, resulting in a rich and sophisticated libation that pays homage to the past.
Vinyl Margarita: This playful and modern take on a margarita incorporates fresh ingredients, premium tequila, and a touch of creativity, resulting in a delightful and tangy cocktail that hits all the right notes.
Menu Highlights: On the Record takes pride in offering a delectable menu that combines contemporary American cuisine with delightful small bites. From savory appetizers to mouthwatering entrees, the culinary offerings are crafted with precision and flair. Here are some menu highlights to tantalize your taste buds:
Truffle Fries: Crispy fries topped with shaved Parmesan and drizzled with truffle oil, creating a decadent and savory appetizer that is perfect for sharing with friends.
Kobe Sliders: Miniature Wagyu beef sliders served on soft brioche buns, complemented with caramelized onions and a house-made special sauce, resulting in a succulent and indulgent treat that will satisfy your cravings.
Ahi Tuna Poke Bowl: Fresh Ahi tuna marinated in a flavorful blend of soy, sesame oil, and spices, served on a bed of sushi rice with avocado, seaweed salad, and a zesty ginger soy dressing, offering a delightful fusion of flavors.
Contact Information: To learn more about On the Record, explore their record store, and plan your visit, you can reach out to them through the following channels:
Unleash your inner music aficionado and embark on a journey through time and sound at On the Record's remarkable record store. With its captivating atmosphere, extensive vinyl collection, expert staff, superb cocktails, and mouthwatering menu offerings, this venue offers a unique and immersive experience that will transport you to the golden era of music.