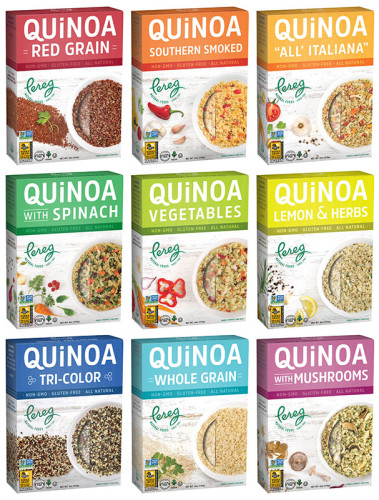 PEREG GOURMET OFFERS EXTENDED LINE OF QUINOA VARIETIES, PROVIDING THE PERFECT SIDE DISH TO ENHANCE ANY MEAL WITH FLAVOR & COLOR
NINE VARIETIES IN NEW, 6 OZ BOXES ARE:
▪GLUTEN FREE     ▪NON-GMO VERIFIED    ▪100% WHOLE GRAIN CERTIFIED  
▪VEGAN                  ▪LOW SODIUM                ▪MADE IN THE USA
▪CERTIFIED KOSHER BY THE OU & CRC    ▪PRE-WASHED
 Clifton, NJ, FEB 1, 2016 — Quinoa is the one of the world's most popular "superfoods."  It is loaded with protein, fiber and minerals, and is naturally gluten-free. It is also one of the only grains that provides the nine essential amino acids our bodies can't produce on their own. Lucky for us, it's easy and quick to prepare on the stovetop or in the microwave.
Pereg Gourmet, a leading producer of quinoa, offers an extensive, all natural line of quinoa and quinoa blends in convenient 6 oz. boxes that are sure to enhance every meal with flavor, color and good nutrition.  They are made in the USA, and 100% suitable for vegan, low sodium, non-GMO, lactose and gluten-free diets.
Pereg Quinoa is conveniently pre-washed and comes in nine delicious varieties including: All' Italiana, Lemon & Herbs, Mushroom, Red Grain, Southern Smoked, Spinach, Tri-Color, Vegetable and Whole Grain. The flavored quinoa mixes are pre-seasoned – just add water & boil. The Red Grain, Tri-Color, and Whole Grain White are delicious served plain or with one's own added seasonings.
Pereg's newly redesigned packaging of this premium quinoa line provides delicious flavors in new, vibrantly colored boxes with serving suggestions and recipe ideas, all at affordable prices.
According to the government's dietary guidelines for healthy eating, consumers should eat at least 3 ounces of whole grains per day. The most direct way to meet the whole grain recommendation is to choose 100% whole grain foods for at least half of all grains consumed. The relative amount of whole grain in food can be inferred by the placement of the term whole grain in the ingredients list. The whole grain should be the first ingredient.
To that end, Pereg is proud to offer its new Seal of Approval from the Whole Grains Council wholegrainscouncil.org for its quinoa products: mixes and blends, plain quinoa, red quinoa and tri-color quinoa (in all packaging varieties), quinoa flour, quinoa pasta and quinoa pops cereal.
Consumers should look for the black and gold Whole Grain Stamp, which makes finding true whole grains simple.  Each "stamped" product guarantees consumers get 44g or more of whole grain goodness per serving, making it easy to be sure they get the recommended three or more servings of whole grain each day.
All Pereg products are kosher certified by both the Orthodox Union (OU) and CRC, are dairy and lactose-free as well as all natural, with no additives or preservatives. Pereg Gourmet's nine varieties of all-natural, ready-to-cook quinoa are available at select stores nationwide, in Canada, and online at www.pereg-gourmet.com.
Pereg Gourmet was established in 1906, and remains a family-owned business, based in Clifton, NJ. They first became known for their vast variety of pure and natural spices and spice blends, more than 60 in all, from traditional favorites to exotics from around the culinary world. In addition to spices and quinoa products, Pereg also produces flavored basmati rice, couscous, farro, salad toppings, and alternative flours, among other fine foods.
See and sample Pereg products to discover why they are the Spice of Life! Follow Pereg on FB Twitter @PeregGourmet, and Instagram @PeregNatural
 Photo: Pereg Gourmet (www.pereg-gourmet.com) offers an extensive line of all-natural ready-to-cook quinoa in nine varieties, including its new Southern Smoked variety.