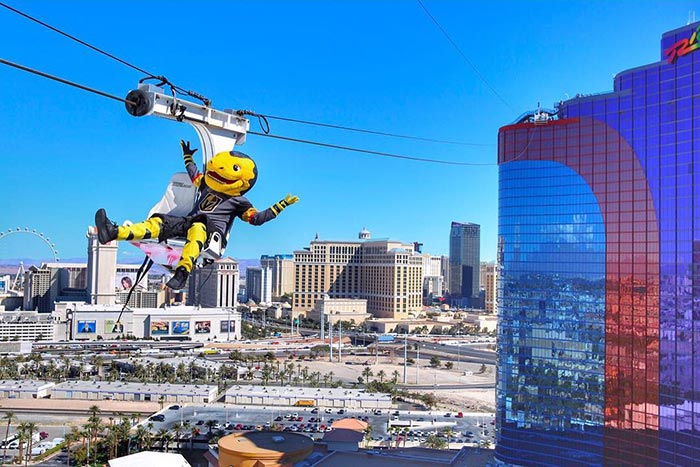 Las Vegas offers several thrilling zip line experiences that cater to different preferences. Here is an extensive list of zip line attractions in Las Vegas:
SlotZilla at Fremont Street Experience: Located in downtown Las Vegas, this zip line allows you to soar over the vibrant Fremont Street. You can choose between two options: the lower "Zipline" or the upper "Zoomline," which includes a horizontal "Superman" flying position.
Flightlinez Bootleg Canyon: Situated in Boulder City, just outside Las Vegas, Flightlinez offers a zip line adventure through the stunning desert landscape of Bootleg Canyon. The tour consists of a series of four separate zip lines.
VooDoo Zip Line at Rio All-Suite Hotel and Casino: This exhilarating zip line launches from the 50th floor of the Rio hotel tower, taking riders on a wild ride to the Ipanema Tower, covering a distance of about 800 feet.
Skyline Zipline at The LINQ Promenade: The LINQ Promenade, located on the Las Vegas Strip, offers the Skyline Zipline, a thrilling ride that lets you zoom 12 stories above the lively outdoor entertainment district.
Flightlinez Bootleg Canyon Night Flight: This unique zip line experience at Bootleg Canyon takes place after dark, offering a completely different perspective of the canyon and the city lights of Las Vegas.
Red Mountain Zip Line: Located in nearby Boulder City, Red Mountain Zip Line offers a scenic adventure with four separate zip lines that take you through the picturesque Mojave Desert.
Rio Zip Line at Voodoo Lounge: This zip line starts from the Voodoo Lounge, located on the 51st floor of the Rio All-Suite Hotel and Casino. It travels over the rooftop pool area, providing a fantastic view of the Las Vegas skyline.
X-Scream at Stratosphere Tower: While not strictly a zip line, X-Scream is an extreme ride that propels you headfirst off the Stratosphere Tower, offering a thrilling sensation of flying over the Las Vegas Strip.
Bootleg Canyon Flightlines Full Moon Zip Tour: This unique experience takes place once a month during the full moon. It offers a chance to zip line under the moonlit sky, adding a touch of magic to the adventure.
Zipline at the Grand Canyon: Although not directly in Las Vegas, many companies offer zip line tours near the Grand Canyon, such as Grand Canyon West's Zip Line at Hualapai Ranch. These tours allow you to zip line across stunning canyons and enjoy breathtaking views.
Remember to check with each venue for availability, age restrictions, weight limits, and any other relevant details before planning your zip line adventure in Las Vegas. Safety precautions, such as wearing helmets and harnesses, are typically provided by the operators.