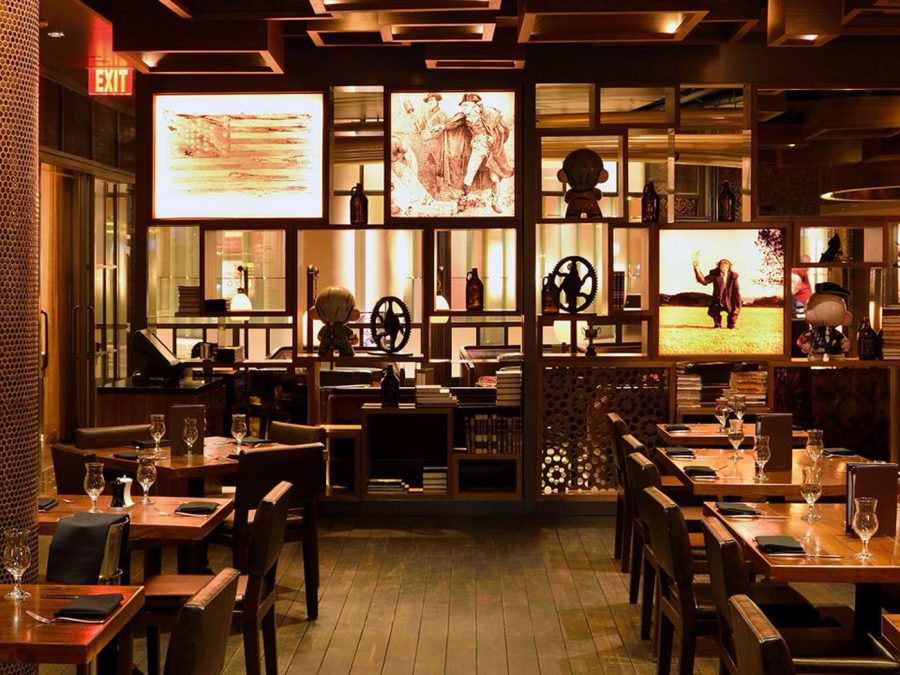 Public House Sports Bar – Venetian, Las Vegas
Address: 3355 S Las Vegas Blvd, Las Vegas, NV 89109, United States
Contact Information:
Phone: +1 (702) 414-3200
Website: www.venetian.com/restaurants/public-house.html
Email: reservations@venetian.com
Hours of Operation:
Monday – Thursday: 11:00 AM – 12:00 AM
Friday – Sunday: 11:00 AM – 1:00 AM
Introduction: The Public House Sports Bar, located inside the renowned Venetian Resort in Las Vegas, is a vibrant and exciting destination for sports enthusiasts and casual diners alike. With its prime location on the Las Vegas Strip, this upscale sports bar provides a welcoming atmosphere, delicious food, and an extensive selection of beverages, making it a popular choice for locals and tourists looking to enjoy a game or unwind after a long day of exploring the city.
Ambiance and Decor: As you step into the Public House Sports Bar, you'll be greeted by a modern and stylish interior that perfectly blends elements of a traditional sports bar with contemporary design. The space features a spacious layout with a mix of comfortable seating options, including high-top tables, booths, and a large central bar area. The bar is equipped with multiple flat-screen TVs strategically placed throughout the venue, ensuring that you won't miss a single moment of your favorite sports events. The overall atmosphere is lively and energetic, creating a perfect setting for cheering on your team or enjoying a casual night out with friends.
Menu: The menu at the Public House Sports Bar showcases a fusion of American comfort food classics and innovative dishes, all crafted with high-quality ingredients. Whether you're craving a juicy burger, mouthwatering wings, or a hearty steak, you'll find an array of options to satisfy your appetite. Some signature dishes include the Public House Burger, Beer-Battered Fish and Chips, Nashville Hot Chicken Sandwich, and the mouthwatering Prime Rib Dip. Additionally, the bar offers a variety of shareable appetizers, salads, and delicious desserts to complete your dining experience.
Beverage Selection: True to its name, the Public House Sports Bar boasts an impressive selection of beverages to quench your thirst while watching the game. The bar features a wide range of draft and bottled beers, including both popular domestic brands and a curated selection of craft brews. Cocktail enthusiasts will also be delighted by the bar's creative mixology, offering a variety of handcrafted cocktails, signature drinks, and classic favorites. For those seeking non-alcoholic options, the bar provides an assortment of refreshing mocktails, soft drinks, and specialty coffee.
Sports Viewing Experience: Public House Sports Bar is dedicated to providing an exceptional sports viewing experience. The bar's numerous high-definition TVs ensure that you'll have a clear view of the game from anywhere in the venue. Whether it's football, basketball, soccer, or any other major sporting event, you can count on the bar to showcase a wide range of games simultaneously, catering to a diverse crowd of sports enthusiasts. The enthusiastic staff members are knowledgeable about various sports and will gladly assist in tuning into your preferred game or providing recommendations based on your interests.
Events and Specials: The Public House Sports Bar frequently hosts special events and promotions to enhance the overall experience for its patrons. From game-day specials to themed nights and live entertainment, there's always something exciting happening at the bar. The venue often collaborates with breweries, sports teams, and local organizations to offer unique experiences and exclusive offers. It's advisable to check the bar's website or contact their staff for the latest information on upcoming events and specials.
Private Events and Group Reservations: In addition to regular dining and sports viewing, the Public House Sports Bar offers private event spaces and group reservations for those looking to host a memorable gathering. Whether it's a corporate event, birthday celebration, or bachelor/bachelorette party, the bar can accommodate groups of various sizes, providing personalized service and tailored menus to suit your specific needs. It's recommended to reach out to their dedicated event planning team for inquiries and bookings.
Conclusion: The Public House Sports Bar inside the Venetian Resort offers an exceptional sports bar experience in the heart of Las Vegas. With its stylish ambiance, delectable menu, extensive beverage selection, and dedication to providing an unforgettable sports viewing experience, it is an ideal destination for sports enthusiasts and casual diners alike. Whether you're looking to catch a game, enjoy delicious food, or unwind with friends, this vibrant sports bar is sure to exceed your expectations and leave you with lasting memories of your time in Las Vegas.