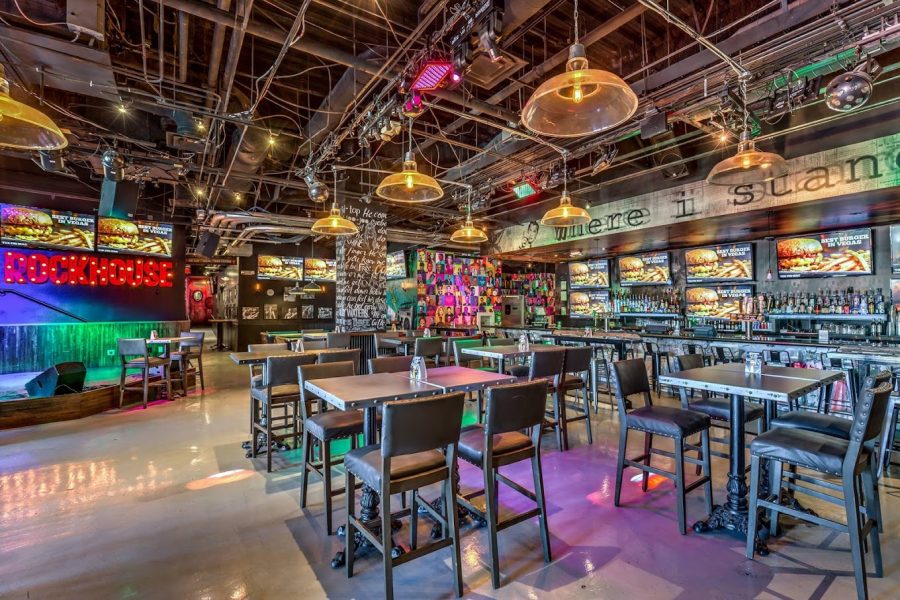 Rockhouse Sports Bar at Venetian – Extensive Profile
Contact Information:
Introduction: Rockhouse Sports Bar is a vibrant and energetic venue located within the renowned Venetian Resort in Las Vegas. With its lively atmosphere, extensive drink selection, delicious food offerings, and state-of-the-art sports viewing experience, Rockhouse has become a favorite destination for sports enthusiasts and nightlife lovers alike.
Venue and Atmosphere: As you step into Rockhouse, you'll be greeted by a stylish and contemporary interior that combines the ambiance of a classic sports bar with a touch of Las Vegas excitement. The bar features a variety of seating options, including comfortable booths, high-top tables, and an expansive main bar area. The venue is adorned with multiple high-definition screens strategically placed throughout, ensuring that every seat offers an excellent view of the sports action.
The atmosphere at Rockhouse is electric, with a mix of upbeat music, friendly staff, and an enthusiastic crowd. Whether you're looking to catch a game with friends, enjoy a night out, or even host a private event, Rockhouse provides an ideal setting to have a memorable experience.
Hours of Operation:
Sunday to Thursday: 10:00 AM – 2:00 AM
Friday and Saturday: 10:00 AM – 3:00 AM
Menu Highlights: Rockhouse Sports Bar is renowned for its mouthwatering menu that caters to various tastes and preferences. Here are some of the menu highlights:
Signature Burgers:

Rockhouse Burger: Angus beef patty topped with cheddar cheese, bacon, lettuce, tomato, and pickles.
Southwest Burger: Spicy jalapeno-infused patty topped with pepper jack cheese, avocado, chipotle mayo, lettuce, and tomato.
Veggie Burger: House-made veggie patty served with lettuce, tomato, onion, and your choice of cheese.

Appetizers and Shareable Plates:

Loaded Cheese Fries: Crispy fries smothered in melted cheese, bacon bits, and green onions, served with ranch dressing.
Buffalo Chicken Nachos: Crispy tortilla chips loaded with buffalo chicken, cheese, jalapenos, pico de gallo, and sour cream.
Rockhouse Sampler: A generous platter featuring a combination of chicken tenders, mozzarella sticks, potato skins, and onion rings, accompanied by various dipping sauces.

Wings:

Classic Buffalo Wings: Traditional buffalo-style wings served with celery sticks and blue cheese dressing.
Spicy BBQ Wings: Tangy barbecue sauce infused with a hint of spice, perfect for those who enjoy a flavorful kick.
Sweet Asian Wings: Sticky and sweet Asian-inspired wings garnished with sesame seeds and green onions.

Pizzas:

Margherita Pizza: Traditional pizza topped with fresh mozzarella, tomatoes, basil, and a drizzle of olive oil.
Meat Lovers Pizza: Loaded with pepperoni, sausage, bacon, and ham, all smothered in melted cheese.
Veggie Supreme Pizza: A medley of fresh vegetables including bell peppers, onions, mushrooms, and black olives, topped with cheese.
Conclusion: Rockhouse Sports Bar at Venetian is a premier destination in Las Vegas for sports lovers, offering an exciting atmosphere, top-notch sports viewing experience, and a diverse menu to satisfy every craving. Whether you're looking to cheer on your favorite team, enjoy delicious food, or simply have a great time with friends, Rockhouse is the place to be. Visit Rockhouse Sports Bar at Venetian and experience the perfect blend of sports, entertainment, and exceptional hospitality.