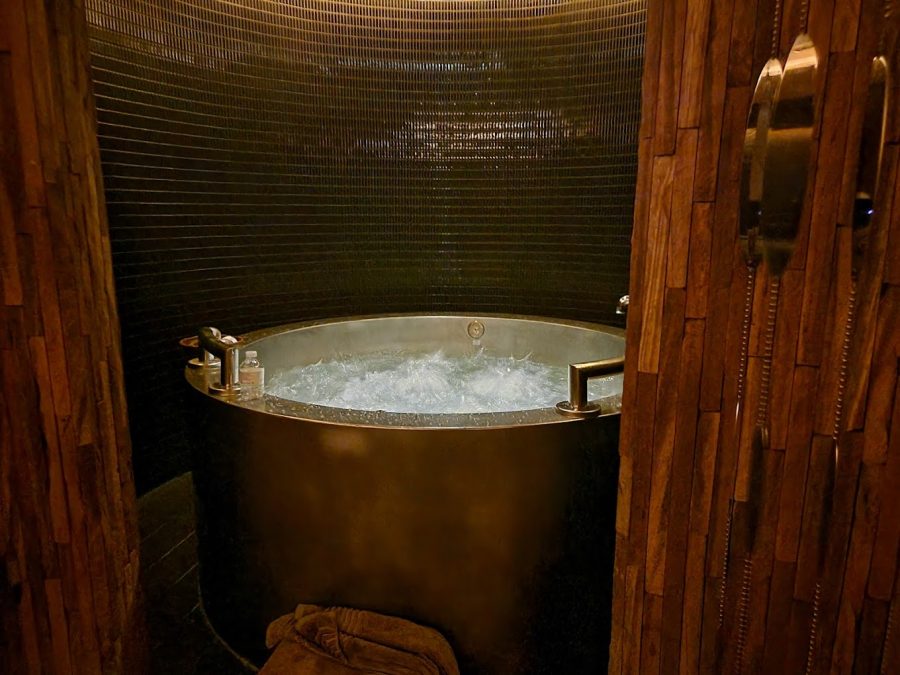 Sahra Spa & Hammam at The Cosmopolitan, Las Vegas: A Luxurious Oasis of Tranquility
The Sahra Spa & Hammam at The Cosmopolitan stands as a shimmering jewel of relaxation and rejuvenation. Offering a respite from the exhilarating energy of Vegas, this world-class spa invites guests to embark on a journey of wellness and indulgence like no other. With its opulent amenities, expert therapists, and serene ambiance, Sahra Spa & Hammam redefines the spa experience in Las Vegas.
Address and Contact Information
The Cosmopolitan of Las Vegas 3708 Las Vegas Blvd S Las Vegas, NV 89109
Phone: (702) 698-7171
https://www.cosmopolitanlasvegas.com/resort/spa
A Desert Oasis of Serenity
As you step into Sahra Spa & Hammam, you're instantly transported to a tranquil desert oasis. Designed with a blend of contemporary elegance and Moroccan-inspired aesthetics, the spa exudes an air of exotic sophistication. Natural stone walls, warm earthy tones, and intricate tilework create an atmosphere that is both calming and captivating.
Spa Amenities
Sahra Spa & Hammam boasts a remarkable array of amenities that cater to every facet of relaxation and well-being:
Hammam Ritual: Begin your journey with the traditional Moroccan Hammam experience, a time-honored practice of purification and relaxation. The Hammam room at Sahra Spa & Hammam is a mosaic masterpiece, featuring a heated stone slab where guests recline as they receive a cleansing and invigorating treatment.
Treatment Suites: Choose from an extensive menu of massages, facials, and body treatments, all administered in luxuriously appointed treatment suites. These private sanctuaries are designed for ultimate comfort and feature high-quality products to enhance your experience.
Outdoor Desert Garden: After your treatment, unwind in the outdoor desert garden, complete with a serene plunge pool and a refreshing waterfall. This tranquil oasis provides a perfect setting for quiet contemplation.
Relaxation Lounge: Before or after your treatment, relax in the soothing lounge area. Sip on herbal tea and enjoy healthy snacks as you let the spa's ambiance wash over you.
Fitness Center: Maintain your fitness routine with state-of-the-art equipment and complimentary fitness classes.
Signature Treatments
Sahra Spa & Hammam offers a diverse range of treatments that blend modern techniques with ancient traditions. Some of their signature offerings include:
Desert Stone Massage: Experience deep relaxation as warm stones are skillfully incorporated into your massage, melting away tension and stress.
Moroccan Ritual: Immerse yourself in a traditional Moroccan ritual featuring the Hammam experience, followed by a massage and facial to leave you feeling renewed and revitalized.
Diamond Radiance Facial: Indulge in a luxurious facial that utilizes diamond dust-infused products to reveal radiant, glowing skin.
Sahra Detox Ritual: Detoxify and rejuvenate with this comprehensive package, which includes a body wrap, massage, and facial.
Exceptional Service
Sahra Spa & Hammam prides itself on delivering a personalized and exceptional experience. Highly trained therapists are dedicated to tailoring treatments to each guest's unique needs, ensuring that every visit is a memorable one.
Reservations and Specials
To secure your spot in this haven of tranquility, it's advisable to make a reservation in advance. Additionally, be sure to check the spa's website for seasonal specials and packages that offer great value for your wellness journey.
Conclusion
Sahra Spa & Hammam at The Cosmopolitan in Las Vegas offers an unparalleled escape into a world of relaxation and rejuvenation. With its opulent amenities, expert therapists, and serene ambiance, this spa stands as a testament to the city's commitment to luxury and well-being. Whether you're a Las Vegas local or a visitor seeking respite from the excitement of the Strip, Sahra Spa & Hammam promises a truly unforgettable spa experience. Come and discover the oasis of serenity that awaits you at The Cosmopolitan.
For more information and to make reservations, please call (702) 698-7171. Your journey to relaxation and rejuvenation begins here.