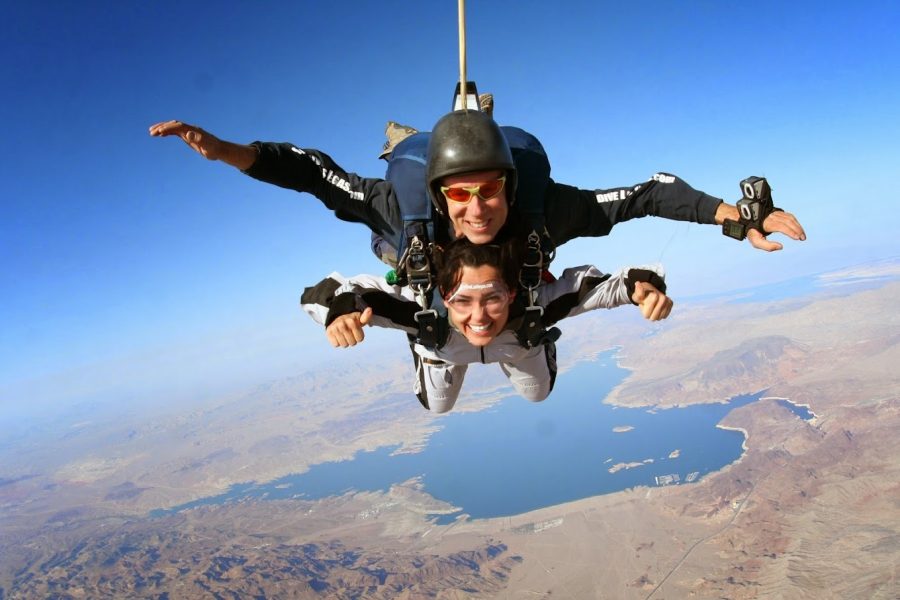 Skydive Las Vegas in Boulder City: Soar Above the Desert Thrills
If you're seeking an adrenaline-pumping adventure in the heart of the Nevada desert, look no further than Skydive Las Vegas in Boulder City. This premier skydiving center offers an unparalleled experience for thrill-seekers and adrenaline enthusiasts. With its stunning desert backdrop and professional team, Skydive Las Vegas promises an unforgettable skydiving experience that will leave you breathless and craving more.
Address: Skydive Las Vegas is conveniently located at: 1401 Airport Rd, Boulder City, NV 89005
Hours of Operation: Experience the exhilaration of freefall and breathtaking views of the surrounding desert landscapes during the following hours:
Monday to Friday: 8:00 AM – 5:00 PM
Saturday and Sunday: 7:00 AM – 6:00 PM
Contact Information: For inquiries, reservations, and any other information, get in touch with Skydive Las Vegas through the following channels:
Soaring Above Expectations: Skydive Las Vegas Experience
Skydiving Options: Skydive Las Vegas offers a range of skydiving experiences to cater to every level of adventurer. From tandem jumps for first-timers to advanced solo jumps for experienced skydivers, there's a thrill waiting for everyone. Tandem jumps involve being harnessed to a highly-trained instructor, ensuring safety while allowing you to focus solely on the breathtaking experience.
Professional Team: Safety is paramount at Skydive Las Vegas. Their team of experienced instructors and staff members is dedicated to providing top-notch training and guidance throughout your skydiving journey. All instructors are certified by the United States Parachute Association (USPA) and possess a wealth of experience, ensuring that you're in capable hands from start to finish.
Unforgettable Views: One of the most captivating aspects of skydiving with Skydive Las Vegas is the mesmerizing scenery that unfolds beneath you. As you plummet through the sky, you'll witness panoramic views of the Nevada desert, the Colorado River, and the Hoover Dam. The breathtaking vistas add an extra layer of awe to an already heart-pounding experience.
Awe-Inspiring Facilities: The facilities at Skydive Las Vegas are designed to enhance your overall experience. The center boasts a comfortable and welcoming atmosphere, complete with a dedicated viewing area for friends and family to witness your incredible adventure. The professional and friendly staff are always ready to address any questions or concerns you may have.
Memories to Last a Lifetime: To immortalize your daring feat, Skydive Las Vegas offers video and photo packages that capture every exhilarating moment of your skydiving experience. Relive the rush and share the memories with loved ones for years to come.
How to Get There: Directions to Skydive Las Vegas
Skydive Las Vegas is conveniently accessible from Las Vegas and other neighboring cities. From Las Vegas, follow these easy directions:
Head southeast on I-515 S/US-93 S/US-95 S.
Take exit 61 for Galleria Drive in Henderson.
Turn right onto Galleria Dr.
Continue onto W Lake Mead Pkwy.
Turn left onto Airport Rd, where you'll find Skydive Las Vegas.
Unleash Your Inner Daredevil: Book Your Skydive Today
Whether you're seeking to conquer your fears, celebrate a milestone, or simply experience the ultimate thrill, Skydive Las Vegas in Boulder City is the ultimate destination for an unforgettable skydiving adventure. With its stunning desert vistas, experienced team, and commitment to safety, Skydive Las Vegas promises an exhilarating experience that will remain etched in your memory forever. Book your jump today and let the desert winds carry you to new heights of excitement!