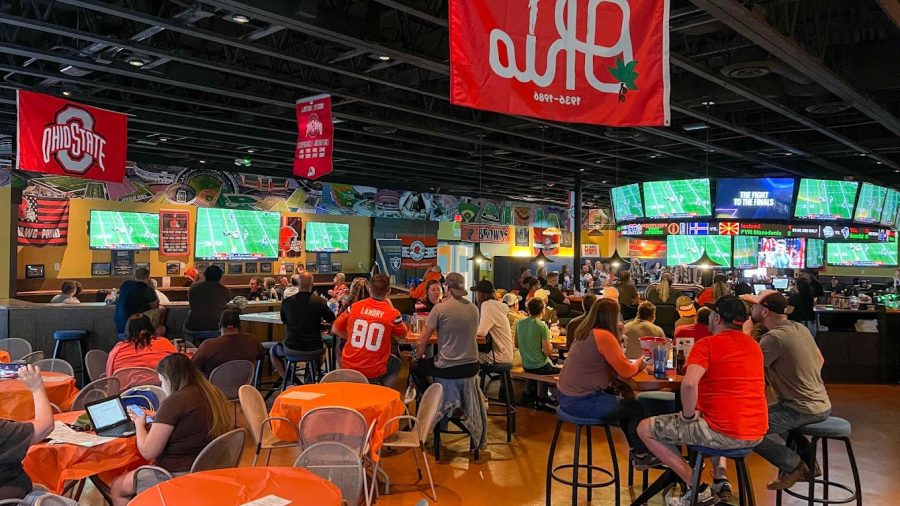 The Sporting Life Bar: A Haven for Sports Enthusiasts in Downtown Vegas
Introduction:
Located in the heart of Downtown Las Vegas, The Sporting Life Bar is a vibrant and bustling establishment that caters to sports enthusiasts from all walks of life. With its lively atmosphere, impressive selection of beverages, delectable menu offerings, and a multitude of high-definition screens broadcasting live sports events, this bar has become a go-to destination for locals and tourists alike. Whether you're a die-hard fan of football, basketball, baseball, or any other major sport, The Sporting Life Bar is the ultimate spot to catch all the action and revel in the camaraderie of fellow sports aficionados.
Aesthetics and Atmosphere:
Upon entering The Sporting Life Bar, guests are greeted by a dynamic and visually striking environment. The interior design seamlessly blends elements of modernity and nostalgia, creating a space that exudes both comfort and excitement. The bar features a captivating blend of exposed brick walls adorned with sports memorabilia, vintage signage, and state-of-the-art audiovisual equipment. The lighting scheme is carefully crafted to ensure optimal viewing of the screens while maintaining an inviting ambiance throughout the venue. The ample seating options, including comfortable booths, high-top tables, and a spacious bar area, accommodate groups of various sizes, providing an inclusive and convivial atmosphere for patrons.
Unparalleled Sports Viewing Experience:
The Sporting Life Bar prides itself on offering an unparalleled sports viewing experience. With an impressive array of high-definition screens strategically placed throughout the venue, guests are guaranteed an unobstructed view of their favorite sporting events from any vantage point. The screens range in size, ensuring that every seat is the best seat in the house. Whether it's a nail-biting playoff game, a championship match, or a highly anticipated sporting event, The Sporting Life Bar brings the action to life, creating an immersive environment that makes patrons feel like they're part of the game.
Extensive Beverage Selection:
Complementing the thrilling sports experience, The Sporting Life Bar boasts an extensive beverage selection that caters to every taste. From ice-cold beers on tap to handcrafted cocktails and a curated list of wines and spirits, there is a libation for every preference. The bar takes pride in its selection of local craft beers, offering a taste of the Las Vegas brewing scene to its patrons. Knowledgeable bartenders are always on hand to provide recommendations, ensuring that guests find the perfect drink to accompany their sports-watching experience.
Delectable Menu Offerings:
Beyond its exceptional sports viewing and drinks, The Sporting Life Bar offers a delectable menu that goes far beyond typical bar fare. The kitchen is helmed by a team of talented chefs who are dedicated to elevating classic comfort food to new heights. Guests can indulge in an array of mouthwatering dishes, including gourmet burgers, flavorful wings, savory sliders, and irresistible appetizers. Vegetarian and vegan options are also available, catering to a diverse range of dietary preferences. The culinary offerings at The Sporting Life Bar are carefully crafted to satisfy cravings and provide sustenance for hours of sports enjoyment.
Unrivaled Sports Events and Specials:
In addition to its day-to-day operations, The Sporting Life Bar is renowned for its unrivaled sports events and specials. The bar hosts a variety of themed nights, game-day parties, and viewing events that draw in crowds of enthusiastic sports fans. From Super Bowl extravaganzas to March Madness watch parties, these events create an electric atmosphere that amplifies the thrill of watching sports with a community. The bar also offers game-day specials, such as discounted drinks, appetizer platters, and merchandise giveaways, ensuring that patrons are treated to a memorable and rewarding experience.
Impeccable Service and Hospitality:
At The Sporting Life Bar, impeccable service and hospitality are paramount. The staff is trained to deliver attentive and friendly service, ensuring that every guest feels welcomed and well taken care of. Whether you're a regular or a first-time visitor, the bar's team goes above and beyond to create a memorable experience for everyone. From quick recommendations on the best dishes and drinks to providing insights and updates on ongoing games, the staff's knowledge and enthusiasm contribute to the vibrant and inclusive atmosphere that defines The Sporting Life Bar.
Conclusion:
The Sporting Life Bar stands as a premier destination for sports enthusiasts in Downtown Las Vegas. Its captivating aesthetics, state-of-the-art screens, extensive beverage selection, delectable menu offerings, and vibrant atmosphere make it a haven for those seeking an immersive sports experience. Whether you're looking to cheer on your favorite team, catch up on the latest sports highlights, or simply enjoy the camaraderie of fellow fans, The Sporting Life Bar is a must-visit establishment that promises excitement, delicious fare, and unforgettable memories.