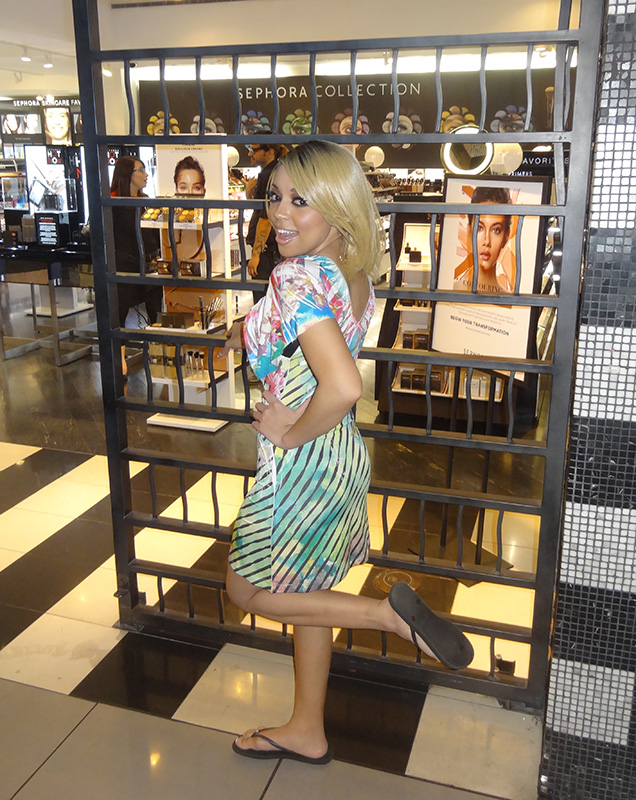 Here's an extensive and detailed profile of 25 great shopping stores in Las Vegas:
The Forum Shops at Caesars Palace: This upscale shopping mall features over 160 high-end stores, including luxury brands like Gucci, Louis Vuitton, and Versace. It also houses a variety of restaurants and entertainment options.
Fashion Show Mall: Located on the Las Vegas Strip, Fashion Show Mall is one of the largest shopping centers in the city. It offers a wide range of retailers, from popular fashion brands like H&M and Forever 21 to high-end stores like Neiman Marcus and Saks Fifth Avenue.
The Grand Canal Shoppes at The Venetian: Inspired by the streets of Venice, this shopping mall offers a unique experience with its indoor canals and gondola rides. It features designer boutiques such as Jimmy Choo, Burberry, and Tory Burch.
Miracle Mile Shops at Planet Hollywood: With over 170 stores, this mall has something for everyone. It showcases popular brands like Victoria's Secret, Sephora, and Urban Outfitters, as well as a range of dining and entertainment options.
The Shops at Crystals: Located in the CityCenter complex, this luxury shopping destination features high-end designer stores, including Prada, Gucci, and Dolce & Gabbana. The architectural design of the mall itself is a work of art.
Downtown Container Park: This unique shopping center is built from shipping containers and offers a mix of boutiques, art galleries, and restaurants. It has a laid-back atmosphere and is known for its live entertainment and events.
Town Square Las Vegas: A popular outdoor shopping center, Town Square offers a mix of big-name retailers like Apple and H&M, as well as smaller boutique shops. It also has a movie theater, restaurants, and a children's play area.
Las Vegas North Premium Outlets: Bargain hunters will enjoy this outlet mall, which features discounted prices on designer and brand-name products. It has over 150 stores, including Calvin Klein, Nike, and Michael Kors.
Las Vegas South Premium Outlets: Similar to its northern counterpart, this outlet mall offers great deals on a variety of brands. It features stores like Coach, Levi's, and Polo Ralph Lauren.
The LINQ Promenade: Located between The LINQ Hotel and Flamingo Las Vegas, this open-air shopping and dining district offers a lively atmosphere. It features a range of stores, including souvenir shops, fashion boutiques, and specialty stores.
Town Center at Summerlin: Situated in the affluent Summerlin neighborhood, this outdoor mall offers a mix of high-end retailers, including Nordstrom and Macy's, along with boutique shops, restaurants, and a movie theater.
Galleria at Sunset: Located in Henderson, just outside of Las Vegas, this regional mall features over 130 stores. It offers a variety of shopping options, from major department stores like JCPenney and Dillard's to specialty shops and eateries.
Tivoli Village: This Mediterranean-style shopping center features a mix of upscale boutiques, art galleries, and gourmet restaurants. It has a relaxed ambiance and hosts regular community events and festivals.
The Boulevard Mall: One of Las Vegas' oldest shopping malls, The Boulevard Mall offers a mix of retailers, including department stores like Macy's and JCPenney, as well as smaller shops and a food court.
The District at Green Valley Ranch: Located in the Green Valley Ranch area of Henderson, this outdoor shopping center offers a pedestrian-friendly environment with a variety of shops, restaurants, and a movie theater.
Antique Alley Mall: If you're a fan of antiques and vintage items, this mall is a must-visit. It houses multiple vendors selling unique collectibles, furniture, clothing, and more.
Las Vegas Farmers Market: This outdoor market operates at different locations throughout the week, offering a variety of fresh produce, artisanal products, and crafts. It's a great place to support local businesses and enjoy a vibrant atmosphere.
ABC Stores: With multiple locations throughout Las Vegas, ABC Stores are convenient spots for purchasing snacks, beverages, souvenirs, and other essentials. They offer a wide selection of items at affordable prices.
Bonnie Springs Ranch: Located just outside of Las Vegas in Red Rock Canyon, Bonnie Springs Ranch is a Western-themed attraction featuring a gift shop with Western-themed souvenirs, clothing, and cowboy gear.
Ethel M Chocolate Factory and Cactus Garden: In addition to offering factory tours and chocolate tastings, this attraction has a store where you can purchase a variety of gourmet chocolates, including their famous pecan brittle.
Las Vegas North Antiques and Collectibles Mall: This massive antique mall houses numerous vendors selling a wide range of antiques, vintage items, and collectibles. It's a treasure trove for antique enthusiasts.
Las Vegas South Antiques and Collectibles Mall: Similar to its northern counterpart, this antique mall offers an extensive collection of unique and collectible items. It's a great place to find vintage furniture, clothing, and décor.
Las Vegas Chinatown Plaza: This vibrant shopping center is a hub for Asian culture and cuisine. It features a variety of Asian grocery stores, restaurants, and specialty shops where you can find Asian gifts, clothing, and more.
Meadows Mall: Situated in Northwest Las Vegas, Meadows Mall offers a mix of retailers, including popular brands like Macy's, Dillard's, and JCPenney. It also has a food court and entertainment options.
The Antique Mall of America: Located on the outskirts of Las Vegas, this massive antique mall boasts over 52,000 square feet of space filled with antiques, collectibles, vintage clothing, and home décor items.
These are just a few of the many great shopping stores and destinations in Las Vegas. Whether you're looking for luxury brands, bargain deals, unique souvenirs, or antiques, Las Vegas offers a diverse and exciting shopping scene for every taste and budget.