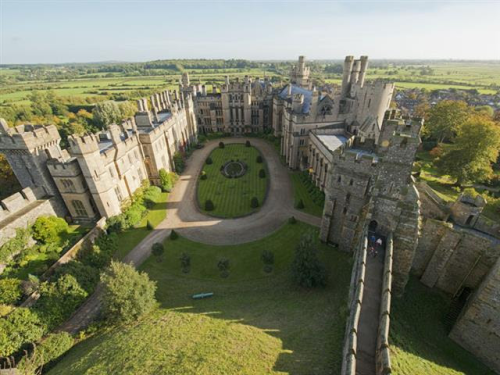 Where to Watch a Shakespeare Play: 11 Unusual Venues
Within a globe of willow trees…
Llanwrthwl, mid-Wales
Despite being born in England to a predominantly English family, Wales and the Welsh figured prominently in Shakespeare's life and works. The Willow Globe in Llanwrthwl, Wales – a scaled-down, organic version of London's Shakespeare's Globe made out of carefully woven willow that creates a lush, green theatre space in the summer months – is an ideal place to catch a Shakespeare play. Performances take place from April to September and are produced by artistic directors Susanna Best and Philip Bowen, whose extensive professional experience includes years with the Royal Shakespeare Company, the English Shakespeare Company, the Royal Opera House and the Old Vic. www.willowglobe.co.uk.
In an old watermill…
West Berkshire, south England
Arguably one of Britain's prettiest theatres, The Watermill Theatre in Bagnor, west Berkshire (around 90 minutes' drive from London), is housed in – you've guessed it – a converted mill. It was restored by a theatre enthusiast and purchased by new owners in 1981, who then developed it into a renowned production house specialising in Shakespeare and musical theatre. In 2016, from 25 February to 2 April, you can catch a special performance of Romeo and Juliet here. www.watermill.org.uk/romeo_and_juliet
Among tropical plants in a botanical garden…
Glasgow, Scotland
Scotland's biggest and best-loved festival of Shakespeare, Bard in the Botanics, takes place in the unique setting of Glasgow's Botanic Garden. Depending on the play, actors act out lively performances either outside in the grounds or amid tropical plants and flower displays inside the Kibble Palace glasshouse. Since the first festival, Bard in the Botanics has staged more than 50 productions of Shakespeare's work and it is a highlight of Glasgow's summer event calendar. The 2015 season included productions of Love's Labour's Lost, The Merchant of Venice, Richard II and A Midsummer Night's Dream. www.bardinthebotanics.co.uk
In the shipyard where the Titanic was built…
Belfast, Northern Ireland
Combine two British legends in one and experience The Belfast Tempest – one of the largest Shakespeare productions Belfast will have ever seen performed on the site where the famous, ill-fated RMS Titanic was designed and built more than a century ago. As part of Britain's 2016 global celebrations in honour of the 400th anniversary of Shakespeare's death, between 20 – 23 April this very special Shakespeare performance will debut at the T13 – a cultural space and former shipbuilding warehouse – on Queen's Island, located at the Belfast docks and Titanic Quarter. Grab your blanket, your cushion and your supplies and climb on board for a truly extraordinary version of The Tempest – Shakespeare's last play – featuring a 200-strong professional cast of choirs, dancers, actors from around the world. www.terranovaproductions.net/belfast-tempest.
In a university college garden…
Cambridge, east England
The Cambridge Shakespeare Festival has been running for 27 years, performing over eight weeks each summer in July and August to audiences totalling 25,000. Performances take place in the beautiful gardens of the historic Cambridge University Colleges, which makes for a unique theatre experience. Prior to the performance, you can picnic in this idyllic setting, before sitting back to enjoy an evening of spectacular theatre performed in full period costume with live Elizabethan music. www.cambridgeshakespeare.com
With a medieval castle as a backdrop…
Arundel Castle, West Sussex, south England
What better background for a dramatic Shakespeare performance than a gothic-looking medieval castle? The Collector Earl's Garden at Arundel Castle in West Sussex, two hours' drive south of London, is a natural surrounding as Shakespeare intended for his plays. Performed in beautiful Elizabethan costumes by a cast of Britain's finest professional Shakespearean actors, the shows included live music, hilarious comedy and tragedy. In August 2015, in their sixth year as a touring theatre company, and by popular acclaim, GB Theatre returned to Arundel to perform William Shakespeare's Twelfth Night and Much Ado About Nothing. www.arundel.eighthday.modxcloud.com/whats-on/shakespeare.html
In a bookshop…
The Norrington Room, Blackwell's Bookshop, Oxford, south central England
See Shakespeare come alive in the basement of an iconic Oxford book shop when Creation Theatre company returns in 2016 to transform The Norrington Room's three miles of bookshelves into a theatre for its performance of King Lear (12 February – 19 March). It will be the first production of a new six-year partnership with Blackwell's Bookshop, located right in the heart of Oxford opposite the Sheldonian Theatre. www.creationtheatre.co.uk/show-three
Overlooking the Atlantic Ocean…
Penzance, Cornwall, south-west England
Carved into a clifftop above Porthcurno Bay in Cornwall, the Minack Theatre's dramatic location has drawn visitors for generations. With the Atlantic Sea lapping at the shore below you and the horizon stretching out in front, this is a truly unique location to enjoy a Shakespeare play. The theatre's summer season runs from May until September and 2016's Shakespeare highlights are due to include performances of As You Like It (6 – 10 June), A Winter's Tale (11 – 5 July) and The Merry Wives of Windsor (22 – 26 August). www.minack.com
In a secret garden…
Nottingham, central England
The Lace Market Theatre will be hosting a special Shakespeare season in 2016. Highlights include Shakespeare performances in two of Nottingham's secret gardens; on 21 April enjoy Twelfth Night in the secret garden at Bromley House Library and a performance of Julius Caesar in the secret garden of historic Newdigate House. Both buildings are in the heart of the city, but their gardens are hidden gems. One ticket will gain entry to both performances, with refreshments served al fresco in the gardens. The Lace Market Theatre will also be putting on a week-long production of Midsummer Night's Dream (18 – 23 April 2016). www.lacemarkettheatre.co.uk
In the grounds of a historic country mansion…
Holkham Hall, Norfolk, east England
Head north of Cambridge to reach Holkham Hall, a majestic historic country house and one of England's finest examples of the Palladian revival style of architecture. This family-friendly venue invites guests to lay down a rug and enjoy a picnic while they enjoy an outdoor Shakespeare performance. For 2016 it will be one of Shakespeare's best-loved comedies, Much Ado About Nothing, that graces the stage on 31 August, performed in the open air by The Lord Chamberlain's Men, an all-male cast with Elizabethan costume, music and dance.www.holkham.co.uk/events/theatre/much-ado-about-nothing
In a pub garden…
Across London and southern England
For two very British experiences in one, head to a pub garden for Shakespeare performed by theatre companyPermanently Bard. In summer 2015 the company brought its energetic performance of Romeo and Juliet to a series of pub gardens in the south of England and London area. Audiences can order an Elizabethan picnic basket and enjoy being outdoors with a pint of ale or a glass of wine. www.permanentlybard.co.uk