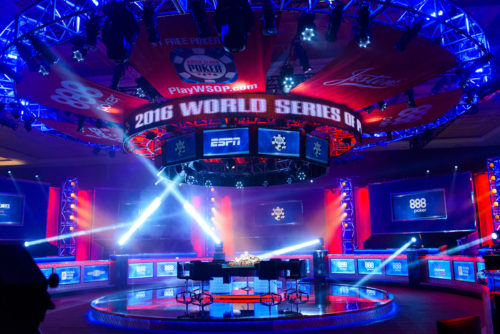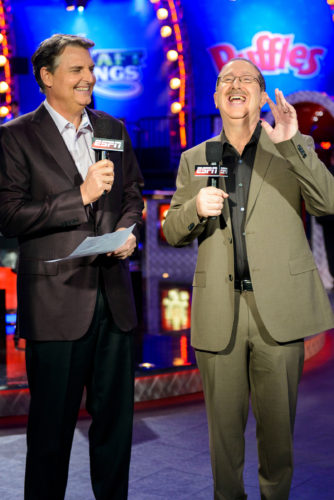 Photo Credits — Jayne Furman/WSOP
WORLD SERIES OF POKER® & POKER CENTRAL® INK NEW FOUR-YEAR
LANDMARK DEAL AND EXTEND ESPN RELATIONSHIP
WSOP® MAIN EVENT™ TO AIR LIVE DAILY FROM JULY 8-17, 20-22
May 15, 2017 – Poker Central® has acquired the global television and digital media rights to the annual summer World Series of Poker (WSOP) in Las Vegas. Poker Central and ESPN have reached an agreement to expand programming from the tournament including live event coverage and original episodes throughout the year. The agreement marks the first time ESPN will air same-day coverage of the WSOP from day one of the Main Event to the conclusion of the final table, a model which will continue through 2020.
Beginning with the 2017 WSOP, several notable changes will take place because of this agreement:
• Ten consecutive days of WSOP Main Event live coverage on ESPN/ESPN2 starting Day 1A (July 8)
through Day 7 (July 17)
• Continuation of event through July 22 with off days on July 18 & 19 for the final nine players
• Three-day live* WSOP Main Event final table coverage on ESPN/ESPN2 July 20-22
• The elimination of the "November Nine" format with play now finishing in the summer
Under the terms of the new deal, ESPN will telecast an estimated 40 hours of live* WSOP Main Event coverage each July, plus a commitment of original packaged shows totaling 130 hours annually. Any coverage not aired by ESPN will be streamed exclusively through Poker Central's digital distribution channels.
"ESPN has been our home since 2002 and we're delighted to extend the relationship into the next decade," said Ty Stewart, executive director, WSOP. "Having every day live coverage of the WSOP Main Event is truly a huge commitment on behalf of ESPN and Poker Central and we look forward to delivering to our faithful audience wall- to-wall action from the outset for the very first time."
"We are thrilled to add the preeminent poker brand, the World Series of Poker, to our growing portfolio of poker- related content," said JR McCabe, chief digital officer, Poker Central. "We have major plans to reinvent the WSOP offering to greatly expand how, when and where fans of the game of poker can watch and engage with the game."
"The World Series of Poker has been a longstanding staple of ESPN programming," said Dan Ochs, director of programming and acquisitions, ESPN. "We are pleased to reach an agreement to continue to carry the sport's most prominent event and modernize our coverage with the new same day live coverage throughout July each year."
As part of the agreement, Poker Central will offer sponsorship opportunities and commercial inventory. The planned schedule of WSOP live coverage on ESPN/ESPN2 in 2017 will look as follows (all times ET):
July 8 July 9 July 11 July 12
July 14 July 15
Day 1A Day 1B Day 2A/B Day 2C
Day 4 Day 5
ESPN2
4 PM – 8 PM
ESPN2
2 PM – 6 PM
ESPN
8 PM – 11 PM
ESPN
8 PM – 10 PM
ESPN2
8 PM – 11 PM
ESPN2
2 PM – 4 PM
July 16 July 17 July 19 July 20
July 21 July 22
Day 6 Day 7 Off Day Day 8
Day 9 Day 10
ESPN2
2 PM – 6 PM
ESPN2
7 PM – 9 PM
ESPN2
Final Table Preview Show 10 PM – 11 PM
ESPN2
Nine to Six Players
9 PM – TBD
ESPN
Six to Three Players
9 PM – TBD
ESPN
Three Players to Winner
9 PM – TBD
Poker Central is planning a comprehensive live streaming schedule for the 2017 World Series of Poker and will announce further details prior to the start of the WSOP in late May. Periods of the WSOP Main Event not broadcast by ESPN will be included in that schedule.
*30-minute delay per gaming regulations
About the World Series of Poker
The World Series of Poker® is the largest, richest and most prestigious gaming event in the world, having awarded more than $2.4 billion in prize money and the prestigious gold bracelet, globally recognized as the sport's top prize. Featuring a comprehensive slate of tournaments in every major poker variation, the WSOP is poker's longest- running tournament in the world, dating back to 1970. In 2016, the event attracted 107,833 entrants from 107 different countries to the Rio All-Suite Hotel & Casino in Las Vegas, and awarded more than $221 million in prize money. In addition, the WSOP has formed groundbreaking alliances in broadcasting, digital media and corporate sponsorships, while successfully expanding the brand internationally with the advent of the World Series of Poker Europe in 2007 and the World Series of Poker Asia-Pacific in 2013 and the WSOP International Circuit Series in 2015. For more information on the World Series of Poker, please visit
www.wsop.com.
About Poker Central®
Poker Central is the ultimate destination for fans of poker tournaments, cash games, and lifestyle away from the tables. Available globally direct-to-consumer via OTT as well as through network television distribution, Poker Central delivers poker's most premier live events when and where you want them. Poker Central content also goes off the felt, allowing fans to Get in the Game® with peeks behind-the-scenes into
the lavish VIP lifestyle of the game's most notable high rollers, virtual journeys to exotic poker destinations around the globe, and the latest news on the game's celebrity players. For more information, visit www.pokercentral.com and find Poker Central on Facebook, Twitter, and YouTube.
About ESPN
ESPN, Inc., is the world's leading multinational, multimedia sports entertainment company featuring a portfolio of more than 50 multimedia sports assets. The company is comprised of eight U.S. 24-hour television networks (ESPN, ESPN2, ESPNEWS, ESPNU, ESPN Classic, ESPN Deportes, Longhorn Network and the SEC Network) and five HD simulcast services (ESPN, ESPN2, ESPNU, ESPNEWS and ESPN Deportes). Other businesses include ESPN Events, ESPN International (24 networks, syndication, radio, digital), ESPN Radio (broadcast, satellite, digital, a growing category led by ScoreCenter),digital services (ESPN.com plus a variety of sport-, college-, and market-specific sites; multi-screen WatchESPN and ESPN3; plus mobile TV and video, apps, alerts and messaging), ESPN The Magazine, consumer products and espnW. Based in Bristol, Conn., ESPN is 80 percent owned by ABC, Inc., which is an indirect subsidiary of The Walt Disney Company. Hearst holds a 20 percent interest in ESPN.