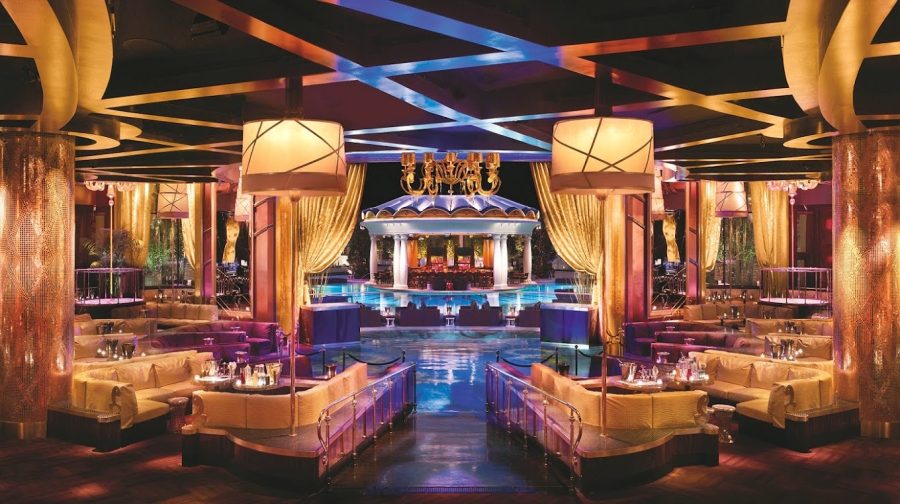 XS Nightclub, located at the renowned Wynn Las Vegas, is an extravagant and upscale nightlife destination that has established itself as one of the premier entertainment venues in the city. With its opulent design, state-of-the-art sound and lighting systems, world-class DJs, and vibrant atmosphere, XS Nightclub offers an unforgettable experience for partygoers seeking an extraordinary night out in Las Vegas.
Overview: XS Nightclub opened its doors in 2008 as part of the luxurious Wynn Las Vegas resort and has since become a staple in the city's nightlife scene. Designed by the acclaimed architect Roger Thomas, the venue boasts an impressive 40,000 square feet of space that includes both indoor and outdoor areas. It features a sophisticated and modern aesthetic with lavish touches, including gold accents, plush furnishings, and striking artwork, creating an ambiance of refined elegance.
Interior Design: Upon entering XS Nightclub, guests are greeted with a grand entrance that leads them to the main club floor. The interior encompasses a central dance floor surrounded by VIP tables and seating areas, offering multiple vantage points for patrons to enjoy the pulsating energy of the venue. The club's high ceilings, adorned with mesmerizing LED screens and kinetic light sculptures, create a dynamic visual experience that complements the music and enhances the overall atmosphere.
Outdoor Area: XS Nightclub's outdoor space, known as the Encore Beach Club, is a magnificent extension of the indoor venue. It features a sprawling pool area with cabanas, daybeds, and a vibrant party atmosphere. The pool is surrounded by lush greenery, palm trees, and a variety of water elements, including fountains and waterfalls, which contribute to a tropical oasis feel. The outdoor stage hosts live performances and DJ sets, creating an immersive experience that seamlessly combines music, dancing, and poolside revelry.
Music and Entertainment: XS Nightclub is renowned for hosting world-class DJs and performers, making it a favorite destination for electronic dance music (EDM) enthusiasts. A diverse lineup of renowned artists and top-tier talent graces the decks at XS, delivering electrifying performances and creating an energetic atmosphere that keeps the dance floor alive throughout the night. The club embraces a wide range of genres, including EDM, house, hip-hop, and more, catering to a variety of musical tastes.
VIP Experience: XS Nightclub offers an exceptional VIP experience, with a range of exclusive services and amenities for those seeking a more elevated night out. VIP guests have access to private tables and bottle service, providing a dedicated space to enjoy the festivities while receiving personalized attention from attentive staff. The club offers a variety of VIP options, including elevated VIP areas, intimate skyboxes overlooking the dance floor, and luxurious cabanas in the outdoor section, each equipped with its own private pool.
Special Events and Collaborations: XS Nightclub frequently hosts special events and collaborations with renowned brands and artists, adding an extra layer of excitement and uniqueness to the experience. From celebrity-hosted parties to themed events and holiday celebrations, there is always something extraordinary happening at XS. The club's collaborations with world-famous artists and producers have resulted in unforgettable performances and exclusive shows, further solidifying its reputation as a must-visit destination for nightlife enthusiasts.
Guest Experience: The XS Nightclub team is committed to providing a seamless and exceptional guest experience from start to finish. The staff members are highly trained and attentive, ensuring that patrons feel welcome and taken care of throughout their visit. The club's strict adherence to quality control and service standards guarantees that guests can enjoy their night with utmost comfort and satisfaction.
Overall, XS Nightclub at Wynn Las Vegas offers a lavish and unforgettable nightlife experience that combines stunning design, cutting-edge technology, world-class entertainment, and exceptional service. Whether it's dancing to the beats of renowned DJs, lounging in luxurious VIP areas, or soaking up the vibrant atmosphere in the outdoor pool area, XS Nightclub consistently delivers an extraordinary evening of entertainment and indulgence.