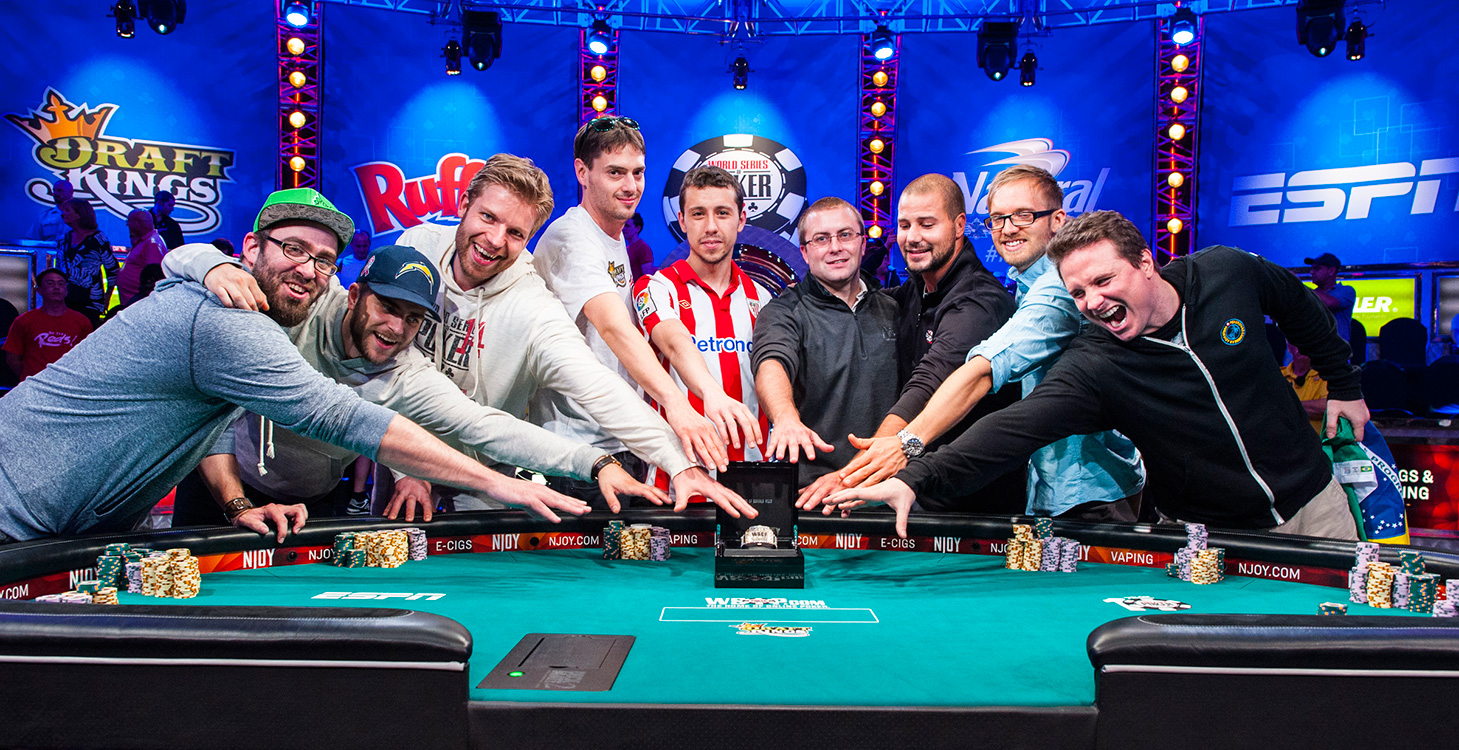 2014 World Series of Poker Main Event Final Table Fact Sheet
| | | | | |
| --- | --- | --- | --- | --- |
|  Seat # | Player Name | Age | Town | Chip Count |
| 1 | Billy Pappaconstantinou | 29 | Lowell, Massachusetts, USA | 17,500,000 |
| 2 | Felix Stephensen | 23 | Oslo, Norway, now living in London, England | 32,775,000 |
| 3 | Jorryt van Hoof | 31 | Eindhoven, Netherlands | 38,375,000 |
| 4 | Mark Newhouse | 29 | Las Vegas, NV (from Chapel Hill, North Carolina) | 26,000,000 |
| 5 | Andoni Larrabe | 22 | Basque, Spain, now living in London, England | 22,550,000 |
| 6 | William Tonking | 27 | Flemington, New Jersey, USA | 15,050,000 |
| 7 | Daniel Sindelar | 30 | Columbus, Nebraska, USA, now living in Las Vegas | 21,200,000 |
| 8 | Martin Jacobson | 27 | Stockholm, Sweden, now living in London, England | 14,900,000 |
| 9 | Bruno Politano | 31 | Fortaleza, Ceara, Brazil | 12,125,000 |
The conclusion of poker's richest and most prestigious poker tournament, the 45th annual World Series of Poker Main Event. Featuring the November Nine – the final nine players of 6,683 participants in the $10,000 No-Limit Texas Hold'em World Championship. These nine players are vying for the most coveted prize in poker – the WSOP Championship Bracelet and the winner's prize of $10,000,000.
WHERE: The Penn & Teller Theater at the Rio® All-Suite Hotel and Casino in Las Vegas, NV.
WHEN: Monday, November 10th and Tuesday, November 11th on ESPN, ESPN2 & ESPN Play on the 10th will begin with all nine participants. On November 11, the final two players face off.
ESPN2 will carry live coverage of the final table on Monday, November 10th at 8:00 PM ET/5:00 PM PT. Coverage continues until 2 players remain. ESPN will carry coverage of the finale on Tuesday, November 11th at 9:00 PM ET/6:00 PM PT.
PRIZE The final nine will play for a total of $28,480,121 (45.3% of prize pool). The payout schedule is as follows:
POOL:
1st Place: $10,000,000 2nd Place: $5,145,968 3rd Place: $3,806,402 4th Place: $2,848,833 5th Place: $2,143,174 6th Place: $1,622,080 7th Place: $1,235,862 8th Place: $947,077 9th Place: $730,725
The Main Event total prize pool in 2014 is $62,820,200. A total of 693 players cashed in the event; payout for 693rd place was $18,406. Players from 87 different countries participated in 2014.
UPON RETURN: The event resumes with 1 hour, 35 minutes, 24 seconds left in Level 35, with antes 50,000 and blinds at 200,000 and 400,000. Newhouse has the button. The small blind will
be in Seat 5 with Larrabe and Tonking will be the big blind in Seat 6.
The 2014 World Series of Poker attracted 82,360 entrants from 110 different nations competing for $227,712,923 in prize pools over the 65-event, 51-day extravaganza.