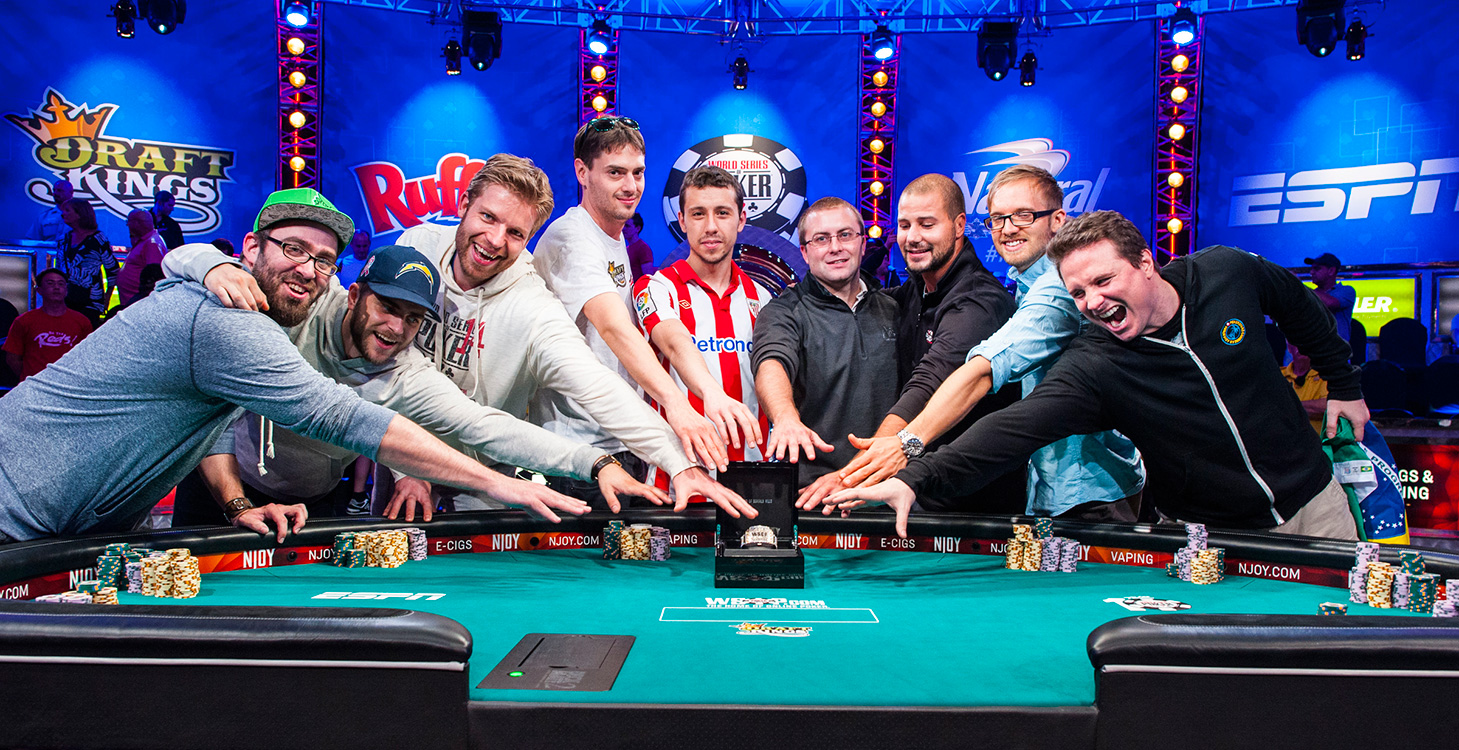 Final Table Set at 2014 World Series of Poker Main Event "November Nine" Features Players from Six Nations Including First-Timer Brazil
Players Return November 10th & 11th to Battle over $28 Million in Prize Money & to Crown Poker's World Champion Who Will Win $10 Million
LAS VEGAS (July 15, 2014) – The 45th annual World Series of Poker (WSOP) $10,000 No-Limit Hold'em Championship – commonly referred to as the Main Event – is down to its final nine players. The "November Nine" – a diverse and international group – is all that remains of the massive field of 6,683 players from 87 different nations who entered the iconic tournament seeking poker's most coveted title and a top prize of $10 million. The final nine players represent six countries – Brazil, Netherlands, Norway, Spain, Sweden and the United States. The players will return to the Rio All-Suite Hotel and Casino on Monday, November 10 to vie for poker's ultimate trophy – a WSOP gold bracelet – and the lion's share of the Main Event's $62,820,200 total prize pool. The winner will receive a guaranteed first-place prize of $10,000,000, with the other eight players sharing another $18,480,121. The November Nine and their respective seat assignments and chip counts are as follows:
Seat 1 – Billy Pappaconstantinou – 17,500,000
Perhaps the most unlikely final tablist this year is 29-year-old world foosball champion "Billy Pappas" Pappaconstantinou from Lowell, Massachusetts. He is a 29-year-old professional foosball player who is playing the WSOP Main Event for the first time. In fact, Billy has no previous WSOP experience. In total, he has earned $16,379 in live poker tournaments, mainly from a $500 buy-in event at the 2010 World Poker Finals where he took 8th place and won $15,341. But Pappaconstantinou is no stranger to long grueling hours of extreme tension and focus and credits his experience playing professional foosball as benefitting his deep run in the WSOP Main Event. The single Pappaconstantinou jetted into the WSOP Main Event from a European foosball tournament, and has plans to return back to Europe for another foosball event later this month. He is a five-time U.S. foosball champion and is a world-recognized champion in foosball hoping to add his name to the legendary list of poker world champions.
Seat 2 – Felix Stephensen – 32,775,000
Stephensen is a 23-year-old originally from Oslo, Norway now living in London, England. This is his second year in a row playing the WSOP Main Event, but he has no previous WSOP cashes or earnings. This is the only event he entered at the 2014 WSOP. He has only $22,118 in career live earnings, but the young poker pro finds himself at the biggest final table in poker. His highest previous finish was a 12th place finish at the 2009 Norwegian Championships in Nottingham, UK.
Seat 3 – Jorryt van Hoof – 38,375,000
Netherlands makes back-to-back WSOP Main Event final tables, with van Hoof's deep run here following last year's seventh place finish from Michiel Brummelhuis. van Hoof is a 31-year-old from Eindhoven with only three previous WSOP cashes and $27,956 in earnings. Worldwide, Jorryt has won $358,580 in live poker tournaments. van Hoof played only one other WSOP event this summer, failing to cash. He has never cashed in the WSOP Main Event but he will enter the final table as the chip leader with 38,375,000 – 19.1% of the chips in play.
Seat 4 – Mark Newhouse – 26,000,000
Newhouse has made history, becoming the first-ever November Niner to make back-to-back WSOP Main Event final tables. (The November Nine concept dates back to 2008, where the final table has been paused until November). Newhouse finished in 9th place in 2013, collecting $733,224. He has already guaranteed himself at least $730,725, but has positioned himself for a deeper run this year. Newhouse becomes the first player since Dan Harrington in 2003-2004 to make back-to-back Main Event final tables. The big difference is Newhouse has participated in field sizes of 6,352 in 2013 and 6,693 this year, where Harrington faced 839 in 2003 and 2,576 in 2004. Thus, Newhouse has outlasted 13,029 in the past two Main Events, while Harrington outlasted 3,410. The 29-year-old Las Vegas resident (originally from Chapel Hill, North Carolina) has $906,093 in career WSOP earnings, with eight previous WSOP cashes. Newhouse has had a rough 2014 WSOP, entering 17 previous bracelet events without cashing before his deep run here in the Main Event. The former Appalachian State student is single, and has participated in the WSOP Main Event every year since 2006. His total live poker tournament winnings are $2,776,172.
Seat 5 – Andoni Larrabe – 22,550,000
Larrabe is a 22-year-old Spaniard poker professional from Basque, now living in London, England, and is the youngest player remaining in the field and the first Spaniard to make the WSOP Main Event final table since Carlos Mortensen won the event in 2001. The poker professional went to school at San Viato in Spain, but now calls London, England home. Andoni has $20,068 in career WSOP earnings via three WSOP cashes but has won a tournament in the Bahamas in 2013, good for $218,710. In total, Larrabe has $341,266 in career poker earnings, impressive for someone just 22 years old. The WSOP Main Event was the sixth event Larrabe entered this summer, and it will be the first one he cashes in. Last year marked the first time Larrabe participated in the WSOP Main Event.
Seat 6 – William Tonking – 15,050,000
Another inexperienced WSOP player is 27-year-old William Tonking, from Flemington, New Jersey, who came into this Main Event with $13,421 in career live poker earnings via three previous WSOP cashes. This is Tonking's first time to cash in the WSOP Main Event, after playing it previously in 2008 and 2013. He played two WSOP events this summer, including the Main Event, and has now cashed in both. He finished 77th out of 1,475 entrants in Event #58 on July 1. Tonking has $93,306 in live poker tournament earnings. The former University of South Carolina student is single and makes his living as an online cash game player.
Seat 7 – Daniel Sindelar – 21,200,000
Sindelar is a 30-year-old poker professional originally from Columbus, Nebraska now living in Las Vegas, who has 17 previous WSOP cashes and more than $227,791 in earnings in WSOP events. He has career earnings of $527,779. The former University of Nebraska student is an avid golfer who played the WSOP Main Event the past six years, this year becoming his first time to cash. The single Sindelar played 19 WSOP events this summer, cashing in four of them.
Seat 8 – Martin Jacobson – 14,900,000
Jacobson enters this final table as the only one with more than $1 million in career WSOP earnings, with $1,224,706 in 15 previous cashes. The 27-year-old originally from Stockholm, Sweden now living in London, United Kingdom finished in 6th place during last year's $111,111 One Drop High Roller event, collecting $807,427 in the process. This summer, Jacobson has played 27 events, with the Main Event his third cash. In total, the Swedish poker professional has $4,807,316 in worldwide tournament winnings – also the most of anyone remaining. This is the first time he has cashed in the WSOP Main Event. Jacobson becomes the first Swedish-born player at the WSOP Main Event final table since 2006, when Erik Friberg finished 8th and collected $1,979,189. So a seventh place or higher finish puts Jacobson in the Swedish record books at the WSOP, but he will need a fifth place or better finish to take home the largest amount for a Swedish-born player in the Main Event.
Seat 9 – Bruno Politano – 12,125,000
The first Brazilian ever to make the WSOP Main Event final table, Politano is from Fortaleza, Ceará, Brazil and will start play as the shortest stack remaining. The 31-year-old single Administrator plays poker as a hobby with just three cashes on his WSOP resume entering the Main Event, totaling $25,404. He has now cashed in three of ten events entered in the 2014 WSOP. Originally from Sao Paolo, Politano has $110,054 in worldwide poker earnings. He has never cashed in the Main Event previously.
51-year-old Luis Velador finished in 10th place, just one spot away from the November Nine. Velador, from Corona, California is a two-time WSOP gold bracelet winner and was the last remaining WSOP gold bracelet winner in the field. He went all-in with pocket fours pre-flop and was called by Newhouse with pocket fives. Velador got no help from the community cards and was our 2014 WSOP Main Event final table bubble boy, but he does collect tenth place prize money of $565,193.
In addition to the first-place prize of $10,000,000, prize money for the remaining eight spots is as follows*:
2nd place: $5,145,968 3rd place: $3,806,402 4th place: $2,848,833 5th place: $2,143,174 6th place: $1,622,080 7th place: $1,235,862 8th place: $947,077 9th place: $730,725
When play resumes November 10, the players will pick up with 1 hour, 35 minutes and 24 seconds remaining in Level 35. The antes will be 50,000 and blinds will stand at 200,000 and 400,000. Comprehensive WSOP Main Event television coverage will begin airing Sunday, September 28 at 9 p.m. Eastern on ESPN. Coverage will continue in two-hour blocks each Sunday at 9 p.m. culminating with Main Event Final Table coverage on November 10-11, 2014.
The 2014 Main Event capped the largest-ever WSOP in terms of entrants and prize pool in the 45-year history of the event. A total of 82,360 players from 110 countries entered the 65 events on this summer's WSOP schedule, generating a total record prize pool of $227,712,923. The 2014 Main Event was the fifth-largest in the tournament's illustrious history, drawing 6,683 players from 87 nations. The average age of entrants in the event was 39.28 years old, with the oldest entrant, William Wachter age 93, and the youngest, Zachary Zaffos, 21 years old, 1 day. 282 females – or 4.2% comprised this year's field. California's Maria Ho was the last female standing for the second time in her career, finishing in 77th place good for $85,812
*The final nine players each received ninth-place prize money upon reaching the final table; the remainder of the prize pool will be placed in an interest-bearing account to be added to the prize pool on a percentage basis for the final eight finishers.
ABOUT THE WSOP
The World Series of Poker (WSOP) is the largest, richest and most prestigious gaming event in the world, awarding millions of dollars in prize money and the prestigious gold bracelet – globally recognized as the sport's top prize. Featuring a comprehensive slate of tournaments in every major poker variation, the WSOP is poker's longest running tournament in the world, dating back to 1970. In 2014, the event attracted a record 82,360 entrants from 110 different countries to the Rio in Las Vegas and awarded more than $227 million in prize money. In addition the WSOP has formed groundbreaking alliances in broadcasting, digital media and corporate sponsorships, while successfully expanding the brand internationally with the advent of the World Series of Poker Europe. For more information on the World Series of Poker, please visit http://wsop.com.