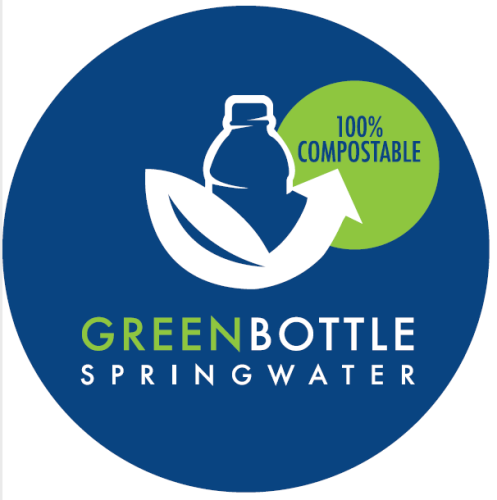 From our friends at Totally Green Bottles & Caps — an exciting announcement —
"Is the world ready to reduce its dependence on plastic water bottles? We think so!
After over a decade of research and development, Totally Green Bottles & Caps has created the world's first 100% compostable water bottle, cap, and label.
With the help of industrial composters, these bottles compost within 85 days or less. (In a backyard or landfill, twice this.) Since they are made from plant-based materials, they pose absolutely no harm or toxicity to the Earth. They may also be safely incinerated as clean-burning fuel.
Our compostable bottles offer a bold and better alternative to PET plastic bottles. Our bottles are made from plants—not oil. Unfortunately PET plastic bottles are nearly everywhere, and pose numerous threats to the environment. PET plastic takes between 450 – 1000 years to decompose. Most PET bottles end up in a landfill, eventually contaminating lands and groundwater.
William Horner, Founder and President of Totally Green Bottles & Caps, believes that the bottled water marketplace is long overdue for a 100% compostable bottle, cap, and label. In the new global ecosystem and economies that are continually embracing sustainability, this product represents another positive paradigm shift.
Our "Green Bottle Spring Water" samples will be available February of 2017.  Deliveries will begin at various "closed-loop" sites around the USA in March 2017.  This groundbreaking product will also be formally announced in Washington, D.C.
We've maintained this vision for a long time. In 2008, our bottles were a part of Speaker Nancy Pelosi's "Green the Capitol Initiative" at the House of Representatives. However, a compostable cap had not yet been developed, and as it turns out, the compostable cap is the key to widespread industrial composters' acceptance. Now we have the cap. We've added a compostable label, complete with compostable adhesive, so now the entire water bottle is 100% compostable.
The bottles are available only at "closed loop" facilities. The collection of empty bottles will occur on site, and be taken to the nearest industrial composter to be used in various agriculture and horticulture contexts, including landscaping, crops, gardening, erosion control, potting soil, and much more. There may also be sites where the "empties" will be burned since these plant bottles emit zero toxicity to the environment.
We've done comprehensive tests with leading composter companies, like Full Circle Compost in Northern Nevada, and passed with flying colors. We will soon post various composting certifications on our website, including from BPI (Biodegradable Products Institute). You can already see the successful incineration tests posted on our blog.
The State of California has a sustainability goal of 75% recycling, composting or source reduction of solid waste by 2020, following the legislation of AB 341, http://www.calrecycle.ca.gov/75percent/. New York City is on a similar track, with a goal of diverting 75% or more of the City's solid waste from landfill by 2030; composters are helping achieve these sustainability goals, http://www.nyc.gov/html/planyc/html/sustainability/waste-recycling.shtml. Sustainable efforts and even zero waste initiatives are happening across the U.S., large cities and small towns alike. Many  countries outside the USA are far more advanced in their sustainability efforts than we are. But most of the world community understands that plastic water bottles are an environmental problem.  Up to now, people have had few alternatives.
Is the world ready for Green Bottle Spring Water?  We believe so!"
Contact us for more information and/or to order free sample bottles:
Brendan Magone, Director of Public Relations
webmaster@totallygreenbottlesandcaps.com
brendanmagone@gmail.com
702-985-2920