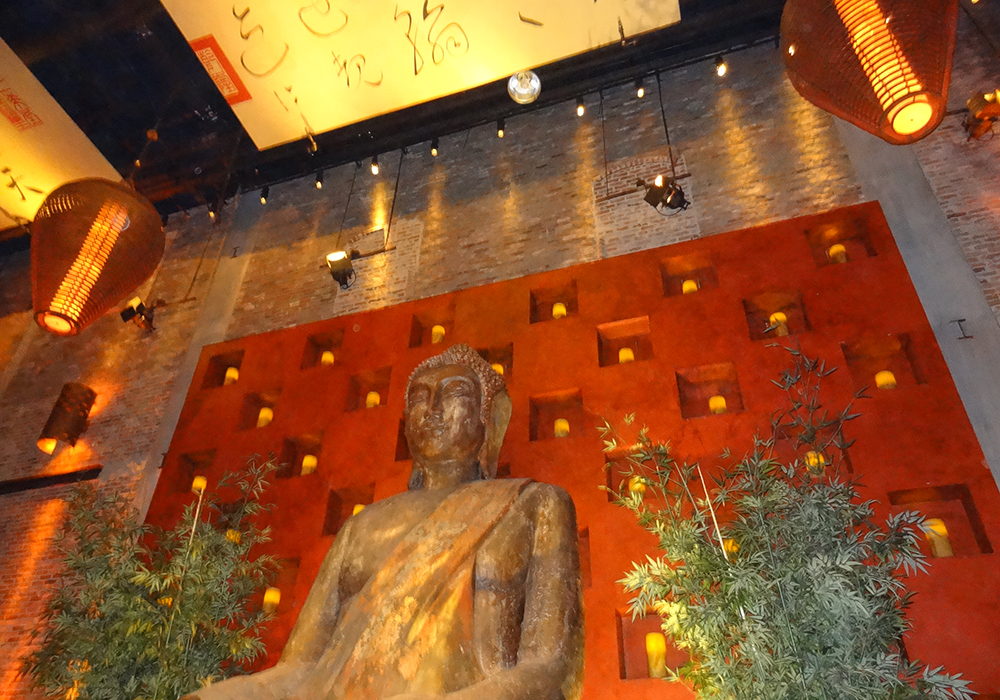 Here are detailed profiles of 25 top restaurants in Las Vegas, known for their culinary excellence, unique experiences, and diverse cuisine:
Joel Robuchon – Located at the MGM Grand, Joel Robuchon offers an unforgettable fine dining experience. The restaurant boasts three Michelin stars and features French haute cuisine in an elegant setting, with exquisite dishes prepared by skilled chefs.
Guy Savoy – Situated in Caesars Palace, Guy Savoy is a renowned French restaurant with two Michelin stars. The menu showcases Chef Guy Savoy's innovative and contemporary approach to French cuisine, with exceptional service and a sophisticated atmosphere.
Picasso – Nestled within the Bellagio, Picasso combines exquisite food with an extraordinary view of the resort's iconic fountains. With a menu inspired by the Mediterranean region and the genius of Pablo Picasso, the restaurant has earned two Michelin stars.
é by José Andrés – Tucked away in The Cosmopolitan, é offers an exclusive and intimate dining experience. The restaurant accommodates only eight guests at a time, providing a personalized tasting menu of avant-garde Spanish cuisine crafted by celebrated chef José Andrés.
Joël Robuchon – The MGM Grand is also home to Joël Robuchon, an opulent restaurant showcasing the legendary French chef's culinary expertise. With multiple Michelin stars, the menu features a combination of classic French dishes and innovative creations.
Le Cirque – Located in the Bellagio, Le Cirque is an elegant French restaurant that captivates guests with its theatrical atmosphere. With a menu that marries classic French cuisine with modern influences, Le Cirque has received critical acclaim.
Twist by Pierre Gagnaire – Situated in the Waldorf Astoria, Twist offers a unique and artistic dining experience. Helmed by Chef Pierre Gagnaire, the restaurant presents a fusion of French cuisine with innovative twists, complemented by stunning panoramic views of the Las Vegas Strip.
Aureole – Found in Mandalay Bay, Aureole showcases contemporary American cuisine with global influences. One of its distinctive features is the four-story wine tower, where "wine angels" gracefully retrieve bottles for guests. The restaurant is known for its creative dishes and upscale ambiance.
Raku – A hidden gem off the Strip, Raku is a renowned Japanese izakaya-style restaurant. With a focus on robata-grilled skewers, sushi, and sashimi, Raku offers an authentic and delightful dining experience, highly regarded by locals and visitors alike.
étoile Cuisine et Bar – Situated in the iconic Paris Las Vegas, étoile brings a taste of France to the desert. With its chic Parisian ambiance, the restaurant offers classic French cuisine, including favorites like escargot, foie gras, and expertly prepared seafood dishes.
Carbone – Located in ARIA Resort & Casino, Carbone pays homage to the Italian-American dining experience of mid-20th century New York. The restaurant's vibrant atmosphere, attentive service, and traditional Italian dishes make it a popular choice for both locals and tourists.
Cut – Situated within The Palazzo, Cut is celebrity chef Wolfgang Puck's modern take on the classic steakhouse. Offering a selection of prime beef, as well as other enticing dishes, Cut provides a luxurious dining experience in a contemporary setting.
Bazaar Meat by José Andrés – Found in the SLS Las Vegas, Bazaar Meat is a carnivore's paradise. Created by Chef José Andrés, this unique steakhouse features an array of meat options, from traditional cuts to unconventional delicacies, all served in a vibrant and theatrical environment.
Jaleo – Another culinary venture by José Andrés, Jaleo brings the flavors of Spain to The Cosmopolitan. With a lively atmosphere and a menu featuring tapas, paella, and an extensive selection of Spanish wines, Jaleo offers a vibrant and authentic dining experience.
L'Atelier de Joël Robuchon – Located in the MGM Grand, L'Atelier is a Michelin-starred restaurant that showcases the artistry of Joël Robuchon. With its unique counter-style seating and an open kitchen, guests can observe the skilled chefs prepare exquisite French dishes with precision and flair.
é by José Andrés – The Cosmopolitan is also home to another exclusive dining experience by José Andrés. Similar to its namesake, this intimate restaurant provides a personalized tasting menu that combines avant-garde techniques with culinary creativity, resulting in an unforgettable gastronomic adventure.
Sage – Found in ARIA Resort & Casino, Sage offers a contemporary twist on American cuisine with a focus on seasonal ingredients. The restaurant boasts a sophisticated ambiance, an extensive wine list, and a menu featuring innovative dishes that highlight complex flavors and textures.
Chica – Located in The Venetian, Chica celebrates the vibrant flavors of Latin American cuisine. Created by celebrity chef Lorena Garcia, the restaurant offers a fusion of traditional and modern dishes from countries such as Venezuela, Peru, Brazil, and Mexico, all served in a lively and colorful setting.
Raku Sweets – A sister establishment to Raku, Raku Sweets is a dessert haven. Situated in Spring Valley, this Japanese-style dessert shop offers an array of tantalizing sweet treats, including delicate pastries, unique ice cream flavors, and traditional Japanese desserts.
Beauty & Essex – Nestled within The Cosmopolitan, Beauty & Essex is a trendy restaurant that combines fine dining with a vintage pawn shop setting. With an eclectic menu featuring globally inspired dishes, guests can indulge in a memorable dining experience surrounded by antiques and hidden surprises.
Costa di Mare – Found in Wynn Las Vegas, Costa di Mare showcases the best of Italian coastal cuisine. The restaurant sources the freshest seafood and offers an extensive array of dishes inspired by the Mediterranean region, providing guests with an immersive culinary journey.
Estiatorio Milos – Situated in The Venetian, Estiatorio Milos presents a Greek fine dining experience. With an emphasis on fresh, high-quality ingredients and simple preparations, the restaurant offers a variety of Mediterranean-inspired seafood dishes and traditional Greek specialties.
Bavette's Steakhouse & Bar – Located in Park MGM, Bavette's offers a vintage-style steakhouse experience with a contemporary twist. The restaurant exudes an intimate, speakeasy-like ambiance and serves prime cuts of beef, classic cocktails, and comforting, flavorful dishes.
Mizumi – Found in Wynn Las Vegas, Mizumi is an elegant Japanese restaurant featuring a picturesque waterfall and serene garden views. The menu showcases traditional Japanese cuisine with a modern twist, including sushi, sashimi, and robatayaki, complemented by an extensive sake collection.
Restaurant Guy Savoy – The Caesars Palace is home to another exquisite dining destination by Guy Savoy. With its sophisticated atmosphere and a menu that highlights refined French cuisine, the restaurant has garnered critical acclaim and is cherished by discerning diners.
Please note that the rankings and availability of these restaurants may vary over time, so it's always advisable to check their current status, reservations, and operating hours before visiting.