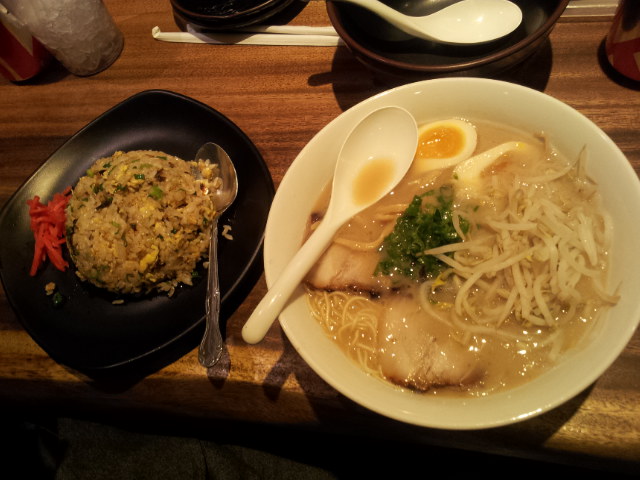 Here's an extensive and detailed profile on the 20 best Asian restaurants in Las Vegas Chinatown:
Raku: Raku is a highly acclaimed Japanese restaurant known for its authentic and innovative dishes. The menu features a variety of grilled skewers (Yakitori), sashimi, and other traditional Japanese delicacies. The emphasis on high-quality ingredients and skilled preparation makes Raku a must-visit for Japanese cuisine enthusiasts.
Chada Thai & Wine: Chada Thai & Wine offers a unique fusion of traditional Thai cuisine and an extensive selection of wines. The menu showcases a range of vibrant and flavorful Thai dishes, including classic curries, stir-fries, and noodle dishes. The knowledgeable staff can help you pair your meal with the perfect wine to enhance your dining experience.
Monta Japanese Noodle House: Monta Japanese Noodle House specializes in hearty and authentic Japanese ramen. Their rich and flavorful broth, tender noodles, and perfectly cooked toppings create a comforting and satisfying bowl of ramen. Whether you prefer traditional tonkotsu or spicy miso ramen, Monta is known for its consistently delicious offerings.
Pho Kim Long: Pho Kim Long is a popular Vietnamese restaurant renowned for its aromatic and delicious pho. The menu features a variety of pho options with different cuts of meat, as well as other Vietnamese specialties like spring rolls, banh mi sandwiches, and vermicelli bowls. The generous portion sizes and affordable prices make it a go-to spot for Vietnamese cuisine.
Aburiya Raku: Aburiya Raku offers a unique dining experience with its focus on Japanese charcoal-grilled dishes. The menu showcases a range of expertly grilled meats, seafood, and vegetables, all prepared with precision and attention to detail. The cozy and intimate atmosphere adds to the overall enjoyment of the meal.
Shang Artisan Noodle: Shang Artisan Noodle is known for its hand-pulled noodles and delectable Northern Chinese cuisine. The menu features a variety of noodle dishes, dumplings, and stir-fries, showcasing the bold flavors and textures of the region. The noodles are made fresh in-house, and the skilled chefs ensure every dish is packed with authentic flavors.
Sweets Raku: Sweets Raku is a dessert haven that specializes in exquisite Japanese desserts. The menu offers an array of artfully crafted sweet treats, including delicate pastries, beautifully plated desserts, and refreshing shaved ice creations. Sweets Raku is a paradise for those with a sweet tooth and an appreciation for culinary artistry.
Big Wong Restaurant: Big Wong Restaurant is a local favorite for its no-frills Cantonese-style dishes. The extensive menu includes classics like roast duck, BBQ pork, and crispy fried noodles. The restaurant's casual and lively atmosphere adds to the charm, making it a popular spot for authentic Cantonese cuisine.
Hobak Korean BBQ: Hobak Korean BBQ is a go-to destination for Korean barbecue enthusiasts. The restaurant offers a wide selection of marinated meats, which guests can grill at their table. Alongside the barbecue, the menu includes traditional Korean side dishes (banchan) and other Korean specialties. The interactive dining experience and flavorful dishes make it a great choice for Korean cuisine lovers.
Soho Japanese Restaurant: Soho Japanese Restaurant is known for its contemporary Japanese cuisine with a fusion twist. The menu combines traditional Japanese flavors with modern culinary techniques, resulting in innovative and visually stunning dishes. From sushi and sashimi to creative rolls and hot dishes, Soho offers a diverse and memorable dining experience.
District One Kitchen & Bar: District One Kitchen & Bar is a trendy Vietnamese eatery that offers a modern take on traditional Vietnamese cuisine. The menu features a range of dishes, from classic pho and banh mi to modern interpretations of Vietnamese street food. The stylish ambiance and creative culinary offerings make it a popular spot for both locals and visitors.
Sparrow + Wolf: Sparrow + Wolf is a contemporary Asian-American restaurant that showcases a fusion of flavors from various Asian cuisines. The menu highlights creative and bold dishes that incorporate locally sourced ingredients. With its emphasis on seasonality and culinary artistry, Sparrow + Wolf delivers a unique dining experience.
Yui Edomae Sushi: Yui Edomae Sushi is a high-end sushi establishment known for its omakase experience. The skilled sushi chefs curate a personalized tasting menu featuring the freshest and highest quality seafood, sourced both locally and from Japan. The intimate setting and attention to detail create a memorable sushi dining experience.
ShangHai Taste: ShangHai Taste offers a taste of authentic Shanghainese cuisine. The menu features an array of traditional dishes such as xiaolongbao (soup dumplings), scallion pancakes, and braised pork belly. The flavors are rich and distinctive, capturing the essence of Shanghainese culinary traditions.
Chubby Cattle: Chubby Cattle is a unique hot pot restaurant that combines Mongolian, Tibetan, and Chinese influences. The interactive dining experience allows guests to choose their ingredients from a conveyor belt and cook them in a simmering pot of flavorful broth at their table. The wide selection of meats, seafood, and vegetables ensures a customized and enjoyable hot pot experience.
Ichiza: Ichiza is a casual Japanese pub-style restaurant known for its extensive menu of small plates and izakaya-style dishes. The menu includes favorites like yakitori skewers, takoyaki (octopus balls), and sushi rolls. The lively atmosphere and shared plates make Ichiza a great spot for a fun and relaxed dining experience.
China Mama: China Mama is a family-owned restaurant specializing in homestyle Chinese cuisine. The menu offers a variety of regional dishes from different parts of China, including Sichuan, Hunan, and Guangdong. From spicy mapo tofu to flavorful hand-pulled noodles, China Mama delivers authentic and comforting Chinese flavors.
Pho Thanh Huong: Pho Thanh Huong is a casual Vietnamese eatery renowned for its flavorful pho and Vietnamese dishes. The menu features an array of options, from beef and chicken pho to rice plates and stir-fries. The generous portion sizes and affordable prices make it a popular spot for a satisfying Vietnamese meal.
Kung Fu Thai & Chinese Restaurant: Kung Fu Thai & Chinese Restaurant offers a blend of Thai and Chinese cuisines, showcasing the best of both culinary traditions. The menu includes classic Thai dishes like Pad Thai and green curry, as well as Chinese favorites such as Kung Pao chicken and Mongolian beef. The diverse menu and friendly atmosphere make it a crowd-pleasing option.
Raku Sweets: Raku Sweets is an extension of the popular Raku restaurant, specializing in Japanese-style desserts. The menu features an assortment of delicate pastries, Japanese-style cheesecakes, and matcha-flavored sweets. The attention to detail and quality ingredients ensure a delightful and satisfying dessert experience.