AnestasiA Vodka put in some serious research at the Liquor Library recently. Tasting research, that is. I dropped in to check out the Liquor Library and another AnestasiA tasting. Travelers and visitors were pouring off planes into baggage claim, and AnestasiA kept pouring refreshing, smooth vodka for any one who wanted a drink. As it turns out, many did!
This is the most festive library I've ever visited.
I also chatted with Liquor Library staff. Great folks. They say the store is doing extremely well since opening last fall, and for good reason. Only in Vegas can you purchase—and taste—liquor like this while waiting for your bags. They have cool lively tastings every week. So official regulations say you can't drink or walk around with alcohol in the airport…but guess what, everyone does! It's Vegas.
Liquor Library even has a DJ booth for busy nights.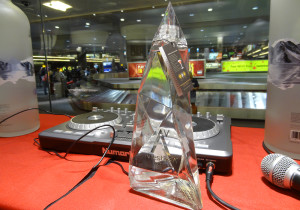 AnestasiA Vodka proved a hit. People loved the x5 distilled, x5 filtered, pure refreshing taste. And it's American-made, in Bend, Oregon, so that's another aspect to feel good about. Wait, one more, it's naturally gluten-free!
And then there's the aesthetic—the bottle is gorgeous. I bought my first bottle three weeks ago, and can't bring myself to throw it away. It decorates my apartment like modern art. In the picture below, it sits on the top shelf of their display window.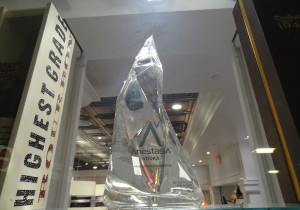 On your next trip to Las Vegas, make sure to swing by the Liquor Library after landing. Then pick up some AnestasiA Vodka to start your trip in style!
Full Slideshow Here:  https://lasvegastoppicks.com/photos-of-anestasia-vodka-at-liquor-library/
Read about their introduction into TAO Restaurant & Nightclub, Las Vegas:  https://lasvegastoppicks.com/anestasia-vodka/