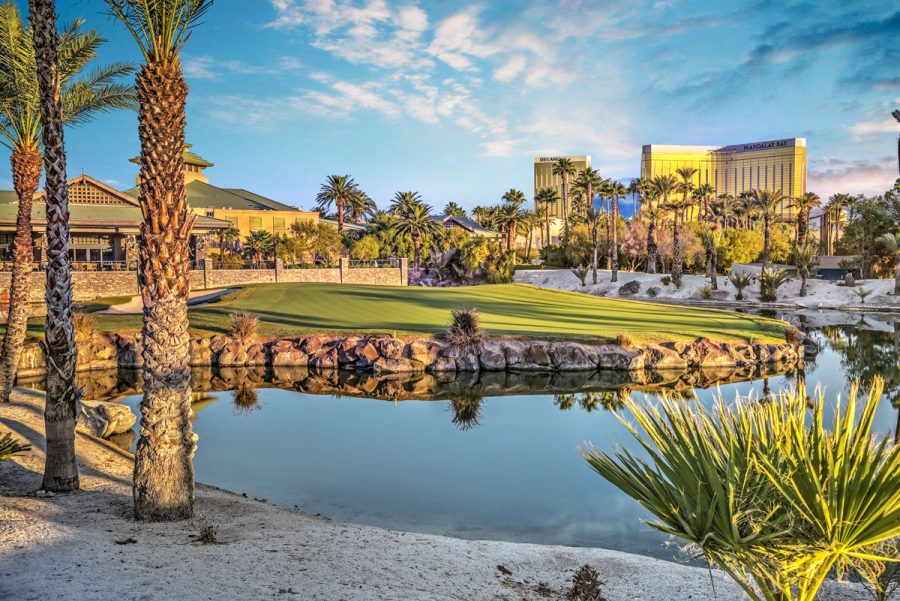 Bali Hai Golf Club, Las Vegas: Where Golf Meets Tropical Paradise
Address: Bali Hai Golf Club 5160 Las Vegas Blvd. South Las Vegas, NV 89119
Phone Number: (702) 450-8000
https://balihaigolfclub.com/
Introduction: Situated in the heart of the dazzling Las Vegas Strip, the Bali Hai Golf Club is a golfer's haven that offers a truly unique and captivating experience. Known for its captivating tropical-inspired design and challenging layout, this 18-hole championship golf course is a must-visit for both dedicated golfers and visitors seeking an extraordinary golfing adventure.
A Tropical Paradise in the Desert: Bali Hai Golf Club lives up to its name, as it recreates the ambiance of a lush, exotic tropical haven right in the midst of the Nevada desert. With over 4,000 majestic palm trees, vibrant blooms, and serene lagoons, the course's aesthetics are nothing short of breathtaking. The meticulously manicured fairways provide a striking contrast to the surrounding arid landscape, making each round of golf a visual delight.
Championship-Quality Golf: Designed by renowned golf course architect Brian Curley and landscaping artist Lee Schmidt, Bali Hai Golf Club offers a challenging and memorable golfing experience suitable for players of all skill levels. The course spans an impressive 7,002 yards from the championship tees and boasts a par of 71. Its impeccable maintenance and pristine conditions guarantee that golfers experience top-tier play.
The Iconic 16th Hole: One of the standout features of Bali Hai Golf Club is the famed 16th hole, often referred to as the "postcard hole" due to its stunning visual appeal. This par-3 hole requires golfers to tee off from an island surrounded by a picturesque lagoon, with the Las Vegas Strip skyline serving as a breathtaking backdrop. It's a challenging yet awe-inspiring experience that golfers will cherish forever.
Exceptional Clubhouse and Amenities: The clubhouse at Bali Hai Golf Club exudes luxury and provides a warm welcome to golfers and guests alike. Following a round of golf, you can unwind at Cili Restaurant & Bar, which serves delectable cuisine with an Asian twist and boasts a splendid patio overlooking the course. The pro shop offers a wide selection of golfing attire and equipment, with a knowledgeable staff ready to assist with all your golfing needs.
Professional Instruction: For those eager to enhance their golfing skills, Bali Hai Golf Club offers professional instruction from experienced PGA-certified instructors. Private lessons, group clinics, and golf schools are available, ensuring that golfers of all levels can improve their game.
Tournaments and Events: Bali Hai Golf Club is a sought-after destination for golf tournaments, corporate events, and weddings. Its stunning backdrop and top-notch facilities make it a premier choice for those looking to host a memorable event in Las Vegas.
Membership and Packages: While Bali Hai Golf Club welcomes the public, they also offer various membership options and packages tailored to frequent golfers seeking to fully embrace the course and its amenities. These memberships offer exclusive perks and access to special events.
Conclusion: Bali Hai Golf Club in Las Vegas transcends the typical golf course experience; it's a destination where golfers can immerse themselves in a tropical paradise while enjoying a challenging round of golf. With its exceptional design, world-class amenities, and breathtaking surroundings, it has rightfully earned its reputation as one of the top golfing destinations in the Las Vegas area. Whether you're a seasoned golfer or a first-time visitor, Bali Hai Golf Club promises an unforgettable golfing adventure that seamlessly combines natural beauty with championship-level play.